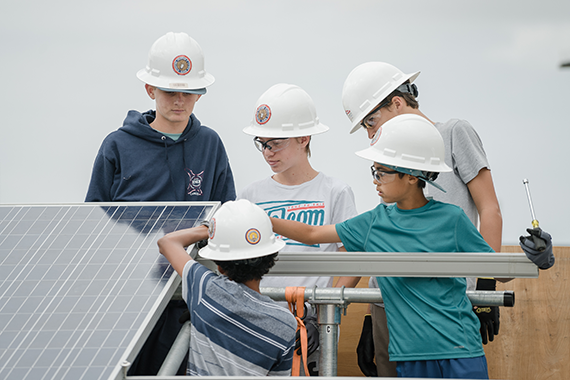 Community
Double Peak Innovation and Technology Program
$1,000 to Double Peak, $500 to you!
This is a win / win!
As a proud supporter and partner of Double Peak Innovation and Technology Programs, when you purchase a Solar or a Solar + Battery System, you will receive a $500 Digital Gift Card and Baker will donate $1,000.
This donation will support:
Innovation Lab: students dive into technology, coding, robotics, circuitry, 3d printing and more!
Makerspace: students go through the Design Thinking Process to build prototypes to help solve real world or curricular Design Challenges.
Engineering: DPS's K-5 teaches engineering through Engineering is Elementary curriculum as well as other STEM/STEAM challenges, Mystery Science, and other engineering lesson platforms
Innovation Elective: 7-8 students may elect to take a yearlong elective where they engage with medical device design, skateboard manufacturing, and renewable energy through project based learning.
Contact our team now
We're on hand to chat through your needs, suggest solutions and provide quotes.
*Offer available for participants who sign contract between September 19, 2017 to December 31, 2022. Must be a resident of San Diego County. Participant must mention this offer supporting Baker Alliance Program – Double Peak K-8 before contract signing. This offer cannot be combined with any other offer. A $500 Digital Gift Card will be emailed to the homeowner and $1000 will be sent to Double Peak K-8 within 30 days of receipt of a signed completion certificate and/or final payment. Some restrictions apply.