Lights On for Marines in 29 Palms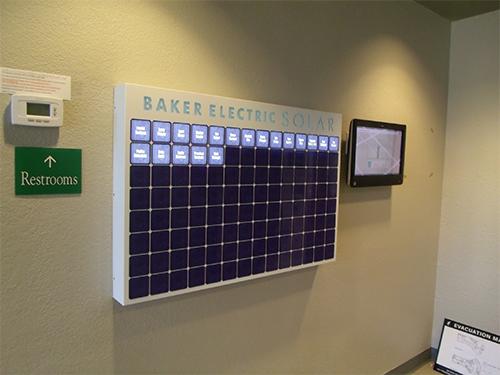 It's exciting to send a shout out to our military — especially when the good news spotlights our Marines during the month of November, on the heels of Veteran's Day. The long and short of it is — our company teamed up with a number of quality companies to bring solar energy to the new Bachelor Enlisted Quarters (BEQs) complex at the U. S. Marine Corps Air Ground Combat Center in Twentynine Palms. Registered LEED Platinum, the new complex almost achieved Net Zero Energy, with a 92% energy offset.
It was an honor to be selected as the subcontractor for all of the electrical and solar construction for the BEQ-9 Project. It included three 4-story BEQs (576 two-person rooms), a landmark projection tower, 500-seat outdoor amphitheater and 706-space 4-story parking garage. The 464,000 square feet solar installation consisted of four separate solar array structures, featuring 4,680 SunPower® E19/318 Solar Panels — generating on-site "lights on" solar electric power.
We partnered with Davis-based Blue Oak Energy, a full-service photovoltaic systems engineering firm, in the design / build of the 1.5 megawatt system. The installation reduces energy costs for the military base while providing premium desert shading for two parking areas, the amphitheater and recreational park. We coordinated multiple trades and added a second crew shift to ensure the installation was completed on time, just over two months from start to finish for the above ground installation.
"Blue Oak Energy enjoyed partnering with Baker Electric on this very unique NAVFAC project," said Tobin Booth, president and CEO of Blue Oak Energy.  "The success of this job demonstrates the efficiency and creativity that results from a close collaboration between engineering and construction."
Our hats and hearts go out to our military — with special appreciation to our Marines just 146 miles northeast of our corporate headquarters!
Link to online release: http://www.prweb.com/releases/solar/energy/prweb8963456.htm
Go Green and Save Some Green
Interested in learning more about the benefits of solar? Give us a call at (877) 543-8765. We've completed thousands of residential, commercial and utility-scale solar projects throughout Southern California and would love to provide you with a free quote or site assessment.
It's no secret that solar energy is better for the planet than traditional power sources. Solar systems generate electricity without emitting any harmful greenhouse gases into the atmosphere. It works by converting light into an electrical current, which is known as the "photovoltaic effect." You can harness the power of the sun for your home or business by installing solar panels that save you big off of your electric bill.
Going solar isn't just "green" in the sense that it's good for the environment – it can also save you lots of green, too. Switching to this renewable power source is an excellent way to protect yourself from rising electric rates and gain the energy independence you've always wanted. Solar gives you the freedom to run your air conditioning, heat your swimming pool and do that extra load of clothes without worry of receiving a high electric bill at the end of the month.