Solar Installation for Junior Achievement is a Win-Win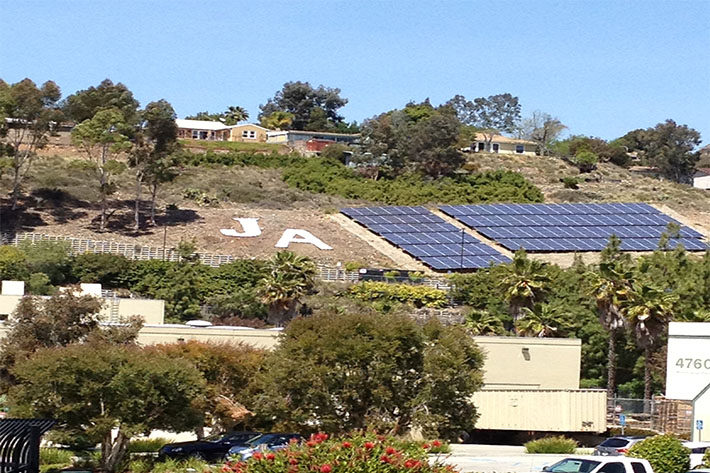 Junior Achievement educates K-12 students about entrepreneurship, work readiness, and financial literacy. The organization uses experiential, hands-on programs to help students understand and master the knowledge and skills they'll need as adults.
As a means to save the organization money while at the same time create a solar education tool, Junior Achievement contracted with Baker Electric Solar to install a 90.72 kilowatt (kW) PV system featuring 378 Sharp® 240 watt ground-mounted solar modules and nine SMA Sunny Boy inverters. The solar installation will provide over 70 percent of the annual electricity for the 25,000 square foot facility. The JA project was self-funded, and Baker Electric Solar helped the organization recover nearly one-third of the cost with the California Solar Initiative rebate program.
The installation achieves two of the nonprofit's goals in going solar. The first is to save money — with over $1.1 million in savings projected over the life of the system. The second is to use the system as a solar educational tool for the more than 13,000 students, plus parents, teachers and vendors, who visit JA's San Diego location annually.
Baker Electric Solar added a kiosk in the lobby of JA BizTown. The kiosk features an electricity output monitoring display. Students easily see the impact of the equipment — converting the sun's rays into electricity.
As Baker production crews were working outside, BES and Baker Electric, Inc. employees served inside as JA classroom volunteers in Escondido schools. General Manager, Brian Miliate, taught the Junior Achievement "Success Skills" program to approximately 25 juniors and seniors at Orange Glen High School over seven weeks. I covered the "Our Community" program for 20 Rose Elementary second graders over five weeks. An additional 14 Baker Electric team members also served as volunteer teachers. More than 94 Baker Electric volunteer hours were logged for JA education. All of our solar team made it a point to share their industry knowledge with their students!
At Baker, we truly believe the children are our future. Our volunteerism and PV Project with Junior Achievement is living proof!
If you are interested in volunteering with JA, call (619) 683-5155 or visit www.jasandiego.org.
Go Green – Save Some Green
Interested in learning more about the benefits of residential solar? Give us a call at (877) 543-8765 for a free quote today! Going solar isn't just the "green" thing to do – it also saves you some major green off of your electric bill. When you purchase your solar system through Baker, you reach your ROI in five to seven years and get to enjoy close to free electricity for the remaining life of your system. At Baker, we don't do cookie cutter. Every solar system we sell is custom designed to meet our customers' unique energy needs for the next 25+ years.
Not surprisingly, solar is significantly better for the environment than traditional power sources. That's because solar systems don't produce harmful greenhouse gases – they simply covert the energy in sunlight into electricity. When you make the switch to solar, both the planet and your wallet will thank you, and you'll enjoy all the green you're saving.