San Diego Solar Panels: Sports Stadiums Getting In The Green Game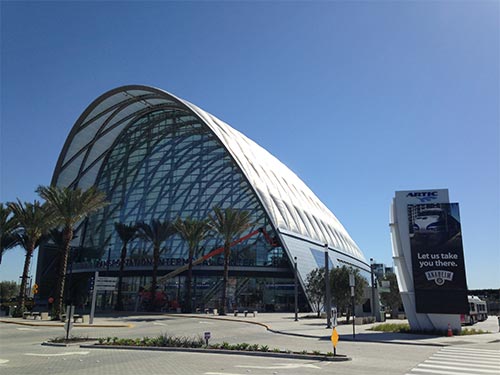 While the NFL's MetLife Stadium, home of the New York Giants and Jets, certainly shows off an impressive display of solar power, so, too, are other NFL stadiums around the country getting in the 'green' game. In fact, solar San Diego aficionados are impressed with the increasingly more common use of solar power to light up the night sky at all kinds of sporting events. Indeed, San Diego solar panels have become commonplace on homes and businesses around southern California. Yet, there just may come a day in the very near future when they provide power for local sports stadiums in solar San Diego's own backyard, similar to northern California's AT&T Park stadium in San Francisco.
The MetLife Stadium Pioneer
New York's MetLife Stadium is the NFL's largest so it's no wonder they have charged ahead as the league's green leader by installing 1,350 solar panels. These panels produce an astonishing 350,000 kilowatt hours of energy, provide 10% of energy requirements on game days, and produce 25 times the energy necessary to operate the stadium's LED lights for night games.
Undoubtedly serving as a high-profile solar-powered iconic display, the solar panels are hard to miss. Sitting on top of the MetLife stadium, the solar panel array is both powerful and impressive as a physical feature in its own right, as it rings the stadium. Plus, as panel costs drop, the likelihood of more stadiums getting into the green game will increase. NRG Energy's CEO, David Crane, commented recently that since the cost of solar panels has "dropped tremendously," it will be easier for companies to see substantial ROI far more rapidly than in the past.
Not To Be Outdone…
As solar San Diego enthusiasts can attest, the solar industry is expanding at an exponential rate. This is also true, of course, for other NFL stadiums not to be outdone by the MetLife example. The Washington Redskins FedEx Field has installed 8,000 solar panels and the Seattle Seahawks' CenturyLink Field has installed 3,750 solar panels.
For their part, the New England Patriot's Gillette Stadium is installing a combination rooftop and canopy display totaling nearly 3,000 panels, which will be shared by the stadium and Patriot Place's outdoor shopping area next door. This array will produce approximately 1.1 million kilowatts of power annually, providing 60% of outdoor energy and shopping/dining needs. And, Philadelphia Eagles' Lincoln Financial Field recently announced plans to make their stadium the most "eco-friendly facility in the NFL."
 Go Green – Save Some Green
Not only is solar energy significantly better for the environment than traditional power sources, it can also save you a lot of green on your electric bill. Interested in learning more about the benefits of residential or commercial solar? Then give us a call today at (877) 543-8765. One of our expert solar energy consultants can provide you with a free solar quote for a custom designed solar system. At Baker Electric Solar, we don't do cookie cutter. Each one of our systems is designed to meet our customer's energy needs for the next 25+ years.