Baker Electric Solar Celebrates a Bright Diamond Anniversary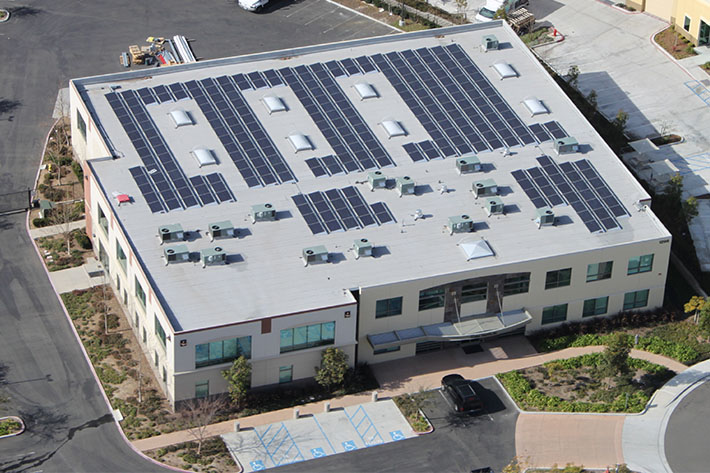 Baker Electric Solar is a Baker Electric Inc. family company. It has the history, the backing and the diversification of its parent, a local home and business electrical contractor founded in 1938. Yes, things were different in 1938. Franklin D. Roosevelt was President of the United States. The average cost of a new house was $3,900. Wages were $1,730 per year. A gallon of gas was 10 cents. Your loaf of white bread cost 9 cents and a pound of hamburger rung up at 13 cents. Imagine a new car for $763!
Baker Electric Inc.'s diamond anniversary sheds light on the achievements of the local electrical contracting business — surviving and thriving for 75 years. Current President Ted Baker's great grandfather Leroy Neville Baker acquired Dietrich Electric on April 4, 1938 for $4,800. Over the four generations of family leadership, the company weathered more than 10 recessions. Yet, each Baker leader – LeRoy, Neville, Kent and Ted instilled a gold standard for customer service, a quality work ethic and pride in performance and craftsmanship.
"Our people create our heritage, our success and our future. It's humbling to consider the efforts of so many have made Baker Electric Inc. and Baker Electric Solar the companies they are today," said Ted Baker.
In keeping with the company vision, "Baker is a place where careers are made, lives are enriched and successes are celebrated," the 75th year-long commemoration began with a fun and festive Setenta (seventy) y Cinco (five) de Mayo Happy Hour celebration in the company headquarters' pre-fab warehouse area. More than 100 employees represented Baker Electric, Inc. and Baker Electric Solar at the three-hour event. Employee events throughout 2013 will continue to recognize and honor the history and future of the Baker family of companies.
About Baker Electric Inc.
As one of the top electrical companies in Southern California and a fourth-generation, family-owned business, Baker Electric has experienced success and longevity by building strategic relationships with public entities, private developers, general contractors, subcontractors and vendors. Our philosophy is to provide cost-effective solutions that meet and exceed the needs of our clients on every project.
Baker performs a wide variety of electrical, low voltage, solar, maintenance and technology services in many markets. At Baker we make your vision, objectives and goals our own.
Go Green and Save Some Green
Interested in learning more about going solar? Give us a call at Baker Electric Solar at (877) 543-8765. One of our expert solar energy consultants will provide you with a free quote for your home solar system or site assessment for your business.
It's no secret that solar energy is better for the environment than traditional sources of power. But something that a lot of people don't realize is just how much switching to this renewable energy source can save on the cost of electricity. Going solar can eliminate monthly bill anxieties and give you the energy independence you've always wanted. At Baker, we don't do cookie cutter. Each and every one of the solar systems we install is custom designed to meet the unique needs of the customer.