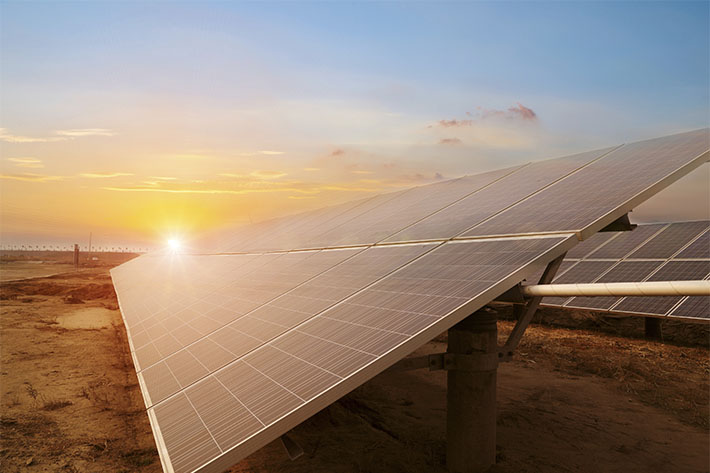 The harsh, intense sun of the California desert can be cruel and unforgiving, but to solar power technology companies, the area is an ideal location for generating electricity to power thousands of homes in the Golden State. As a leading San Diego solar installer, we at Baker Home Energy are closely following the developments of Ivanpah, which is being billed as the largest solar power project in the world.
Located in Nipton, California near the border with Nevada, Ivanpah is a joint project from BrightSource Energy, Google and NRG and was built by construction giant Bechtel.
The solar-thermal power system uses in excess of 300,000 mirrors, also known as heliostats, to capture and focus the energy of the sun. It is set to begin generating sufficient electricity to power 140,000 homes in California by the end of this year, according to a recent article at the National Journal.
The Ivanpah solar-thermal power system is an example of stimulus-funded projects that are designed to take advantage of government efforts to boost the nation's alternative energy infrastructure. Ivanpah was awarded a $1.6 billion loan from the Energy Department in April of 2011.
After the site begins to generate energy later this year, it is set to begin repaying the loan. Helping to pay down that loan is the 30 percent investment tax credit from the federal government. The Department of Energy negotiated the tax credit for the express purpose of enabling energy companies to repay their loans as soon as possible.
The project is the beneficiary of California's standard for alternative energy, which mandates that the state will generate 33 percent of its energy from renewable sources by the year 2020.
Renewable energy accounted for 12 percent of the electricity in the United States in 2012, and more than half of that comes from hydropower, the article notes. Only 1 percent of this electricity comes from solar power technology.
Clearly, California is leading the nation when it comes to solar power, and for good reason. Plenty of sunshine falls on the state every year, and firms like Baker Electric Home Energy are doing their part to bring more solar power to Southern California.
We are a San Diego solar company that many business owners and homeowners have come to rely on for their renewable energy needs. Customers find that in addition to lowering their carbon footprint, they stand to see greatly reduced electric utility bills every month when they install solar in San Diego. Switching to solar can eliminate your monthly bill anxieties and give you the freedom to use electricity the way you want.
Over 25 years, a 5 kW solar system is estimated to offset 298,108 pounds of carbon dioxide, 928 pounds of nitrogen oxide (which creates smog), 840 pounds of sulfur dioxide (which causes acid rain) and 57 pounds of particulates that cause asthma. In addition, to 470,407 miles driven in an average car, which is equivalent to 18,816 miles a year.
For more information on how we at Baker Electric Solar can help you save money and reduce your impact on the environment, please feel free to contact us to be your San Diego solar installer today.