Solar Santa Makes Rooftop Appearance at Nonprofit TERI Inc.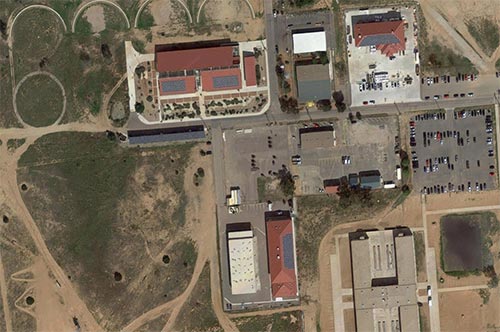 San Diego solar installer, Baker Electric Home Energy, brightened the holidays for nonprofit TERI Inc. with an 11.5 kW solar power system for the organization's TERI Marshall House in Vista. Residents heard the tap, tap, tapping of hammers and drills as a Baker Solar Santa (with elf assistants) installed 46 REC 250 solar panels on the home's rooftop Christmas Eve.
Actually Baker's Solar Santa came a few days earlier, so as not to disturb the residents' Christmas Eve activities. He'd checked his list twice and found out all were "nice," so with funding help through a CollectiveSun™ investment opportunity, the TERI Inc. PV system was installed on the home's comp shingle rooftop. Santa's solar panels and two Sunny Boy 5000 inverters will displace approximately 95 percent of the residence's electrical usage. Over the 25-year life of the system, TERI will realize $77,228 in savings – if electric rates increase, the ongoing gifts of the sun could be even more.
Founded in 1980, TERI Inc.'s mission is to change the way the world views and helps individuals touched by autism and special needs. Its goal is to improve the quality of life for children and adults with developmental and learning disabilities. As a private, nonprofit 501(c)(3) California Corporation, the agency serves more than 600 individuals.
CollectiveSun works exclusively with nonprofit organizations to help finance sustainable solar power projects. The company provides solar investment opportunities to investors who get paid back in full with annual principal and interest payments over a 10-year period. The TERI Marshall House project funding goal was set at $44,577, and TERI was pre-qualified for financing through CollectiveSun's solar power purchase agreement.
"The nonprofit category is one of the most underserved sectors in the solar market," said Baker Electric Solar's Head Elf, Andrew Berlin. "CollectiveSun's business model maximizes a nonprofit's benefits and helps them overcome the challenges of going solar. We're excited about being the installer of choice for TERI Inc., a community nonprofit we've believed in from the start. Our Baker team provided an in-kind donation for their electrical work when they moved into their current facility."
At the end of the holiday installation, Baker's beaming Solar Santa touched the side of his nose and gave a warm HO-HO-HO, as he announced that the TERI Marshall House is just the first in a series of solar installations the San Diego solar company will be doing for nonprofit housing!
For more information about nonprofits "Going Solar the Baker Way," call Baker Electric Solar at (877) 543-8765 or visit BakerHomeEnergy.com.
Interested in learning more about solar power for your home or business? Contact us today to see how much solar could save you. Not only is solar good for the environment, it's also good at saving you some green. Having a solar power system installed on your roof allows you to generate your own power, freeing you from your local utility and giving you the energy independence to use electricity the way you want to, without having to worry about a huge bill at the end of every month. So go green and save some green and get a free solar quote with Baker Electric Solar today!