Baker Electric Receives Safety Award for 3rd Year in a Row!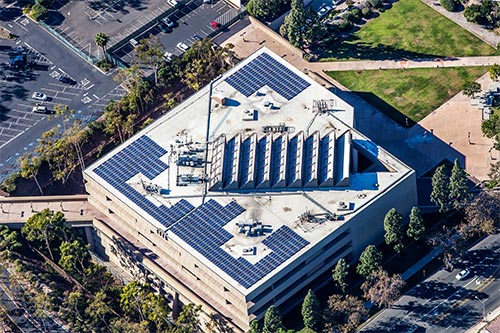 The San Diego construction safety awards were presented at the 2014 AGC San Diego Chapter Installation of Officers, Directors, AGC Membership Awards and Safety Awards event on Thursday, January 23, 2014 at the Hilton San Diego Bayfront. The purpose of the awards is to recognize construction companies who excel at safety performance.
San Diego solar company, Baker Electric Solar brings its parent company, Baker Electric Inc.'s 75-year electrical contracting history, backing and diversification to its local small business and residential solar panel San Diego customers. Both companies are "talking proud" with Baker Electric, Inc. receiving the 2013 Associated General Contractors of America (AGC), San Diego Chapter First Place Construction Safety Excellence Award (CSEA). The award was received in the Specialty Contractor Division – 500,001 to 700,000 work-hour category. Baker Electric has now won the first place award in this category for three consecutive years — 2011, 2012 and 2013.
Just imagine 700,000 hours of safety first on the job – not for just one year, but for three years in a row! It's also exciting to note, the current Baker Electric Inc. safety entry has moved on to the AGC national competition.
The CSEA program is the industry's elite safety excellence awards program for construction companies of all sizes and occupational divisions. The AGC recognizes companies who excel at safety performance and who have developed and implemented premier safety and loss prevention programs.
CSEA closely examined Baker Electric Inc.'s commitment to safety and occupational health management and risk control. Judges looked for evidence of Baker's management commitment, active employee participation, safety training, work site hazard identification and control, and safety program innovation.
"It's a distinct honor to receive the San Diego AGC Construction Safety Excellence Award for three consecutive years," said President Ted Baker. "At Baker Electric our strong health and safety culture is key for our employees continued safety and well-being, along with ensuring our company's profitability and sustainability. This award honors all of our management and employees who make safety their number one priority."
Baker Electric Inc. serves as both a prime and subcontractor and has completed multimillion dollar electrical construction contracts throughout Southern California's San Diego, Los Angeles, Orange, Riverside, San Bernardino, Ventura and Imperial Counties, as well as projects in Central and Northern California. Baker Electric Inc.'s public and private sector projects span commercial, industrial, high tech, manufacturing, education, military, hospitality, gaming, power generation and residential developments.
For more information about Baker Electric Inc. visit http://www.baker-electric.com.
Go Green – Save Some Green
Interested in learning more about the benefits of residential or commercial solar? Then give us a call today at (877) 543-8765 for a free solar quote. Solar power allows you to generate your own electricity, so you can have the energy independence you've always wanted. Installing solar on your home or business can help rid you of your monthly bill anxieties and allows you to use energy the way you want to, without having to worry about a hefty electric bill. If you've been wondering if solar is right for you, then reach out to us and we'll talk with you about how much it could save you.