Baker Electric Home Energy Hosts Escondido Rotary Luncheon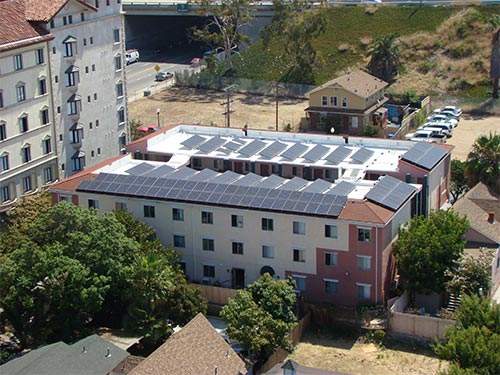 Solar Energy Education
Baker Electric Solar held a luncheon for members of the Escondido Rotary Club Tuesday. Fourteen of Escondido's finest leaders joined our Alliance Program Manager, Jeremy Johnson, for an informative meeting on residential solar. Topics covered included: how solar works, financing options, and the advantages of switching to solar.
Among the fourteen guests were two Baker Electric Solar customers. Mike Peters, Vice President of a local bank, said he couldn't be happier with his leased SunPower system from Baker. With a smile on his face, he pulled out his iPhone, opened his SunPower app, and showed me a graph of his solar energy generation. The other customer, Kevin Grangetto, of Grangetto Farm and Garden Supplies, said he loved his purchased, 28-panel, LG solar energy system. He also informed me that, beyond saving money at home, he's interested in getting solar at each of his nurseries as well.
It was great having customers in the group be able to share their Baker Electric Solar experience with the others. Hearing them brag about how much money they're saving each month was nice too!
Mike's no-money-down lease means he saw savings instantly. His system generates all his home's electricity needs and his lease payment is half of what his electric bill used to be. Kevin's purchased system meant money up front, so there's a period of time before the return on investment is complete (3-5 years), but not having an electric bill for the next 30+ years has its advantages!
Those are just two examples of how Baker Electric Solar can help make the switch to solar easy for our customers. We offer lease, pre-paid lease, financing, or cash purchase options.
Thank you to the Escondido Rotary Club for joining us!
Go Green and Save Some Green
Interested in learning more about the benefits of solar energy? Call us today at (877) 543-8765. We offer educational Solar 101 Lunch and Learns for your place of business. Baker offers your clients over 75 years of electrical contracting expertise with the Baker family of companies, a path toward energy independence, the best solar panels and home energy management solutions, award-winning service and support, and much more!
It's no secret that solar power is better for the environment than traditional energy sources. That's because solar systems generate electricity without emitting harmful greenhouse gases into the atmosphere. Solar panels use what's called the "photovoltaic effect" to convert light energy into an electrical current, which is then sent to an inverter that allows you to use that energy to power your home or business.
But solar isn't just good for the planet – it can save you big on your electric bills. Switching to solar gives you the energy independence to use electricity the way that you want to, without having to worry about receiving a big electric bill at the end of every month. Our expert solar energy consultants custom design every solar system we install, so your solar meets your energy needs for the next 25+ years.