Baker Electric Home Energy Wins Two Prestigious NECA Safety Awards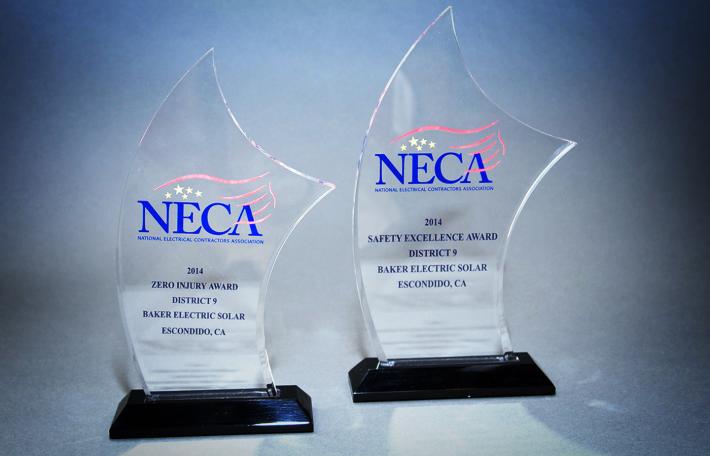 National Electrical Contractors Association (NECA) Safety Awards
Our team at Baker Electric Solar is proud to announce we recently received two National Electrical Contractors Association (NECA) safety awards! The honors were based on our safety performance in 2013. We received the California District 9 Safety Excellence Award and the region's Zero Injury Award in the 50,000 to 100,000 man-hour category. To put the work hours in perspective, man hours are calculated by multiplying the per-employee man hours by the number of employees on a job.
NECA is the voice of the $130 billion electrical construction industry that brings power, light, and communication technology to buildings and communities across the U.S. As a member of the NECA San Diego Chapter, we submitted our 2013 safety data to NECA and were recognized nationally by the Bethesda, Maryland-based organization.
With the best safety record in the 50,000 to 100,000 man-hour category, our Safety Excellence Award was based on a comparison of our 2013 safety performance data to the Bureau of Labor Statistics data, as well as comparing our statistics to the safety records of other District 9 electrical contractors. A cumulative score was established based on points achieved for having the lowest injury and illness rates and the insurance industries Experience Modification Rate (EMR).
In addition, we received the 2014 NECA Zero Injury Award based on our exemplary safety performance and the fact that we worked all of 2013 without any reportable incidents or fatalities.
NECA's Safety Excellence and Zero Injury Awards program is a prestigious safety recognition program focused on recognizing companies that excel in their safety and health programs. Awards are given to member companies that consistently have OSHA recordable injury and fatality rates at levels lower than the industry standard. In addition, the winning companies need to demonstrate how they implement internal company safety practices that go above and beyond required compliance.
In our entry, we documented our safety and loss prevention management practices — including risk controls, safety training, work site hazard identification and ongoing safety program innovations.
"It's a distinct honor to receive these two respected NECA safety awards," said Baker Electric Solar President Mike Teresso. "At Baker Electric Solar we are extremely proud of our health and safety culture. The safety and well-being of our employees, customers and suppliers is paramount. These awards are a testament to our management and employees who make safety their number one priority."
"On behalf of NECA, I would like to commend Baker Electric Solar for achieving the 2014 Zero Injury award. Your commitment to safety raises your company above the rest, and we congratulate you on this achievement," said NECA CEO John M. Grau. "This award recognizes your dedication to achieving the industry's highest safety standards and your commitment to providing the safest possible work environment."
Thinking of making the switch to solar? Use Baker Electric Home Energy – an award-winning solar energy installer that takes the safety of its personnel and its customers seriously. Call us today for a free quote and learn how you can start saving money!