Baker Electric Solar Wins EAR Award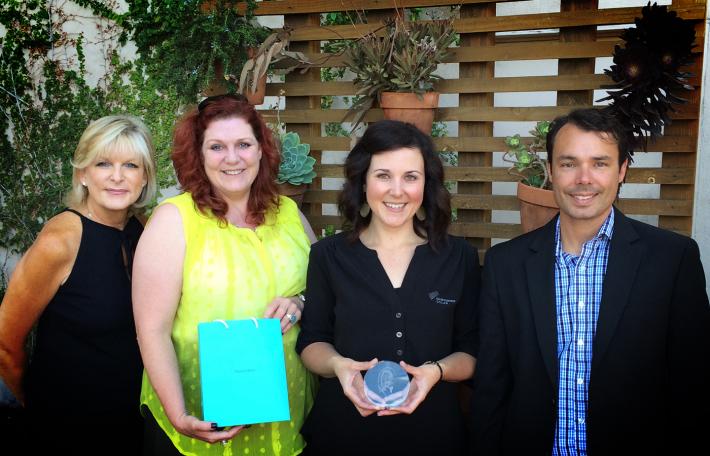 Baker Electric Solar and KOGO's LaDona Harvey a Winning Combination
We're beaming with pride over our 2014 EAR Award for Effective Advertising on Radio! Our Marketing Manager, Ashley Arant, accepted the award from the San Diego Radio Broadcasters Association (SDRBA) on June 13 for our radio endorsement campaign featuring local radio personality LaDona Harvey. She did an award-winning job of highlighting how we are a local and trusted company with an excellent reputation.
LaDona is a San Diego broadcast veteran and hometown favorite. She's been a radio news personality and anchor with AM 600 KOGO, San Diego's Breaking News & Traffic Station since 1998. As an award winning journalist, LaDona's won several awards from the Society of Professional Journalist and the San Diego Press Club.
As host of her own weekday noon to 3 p.m. show, LaDona shares her knowledge and opinions of local and national news with listeners – covering all of the relevant issues of the day. She does it with the credibility that San Diego radio listeners demand combined with a personality they love.
In one of our campaign commercials, nominated by Clear Channel Media + Entertainment, LaDona exclaims, "Paying summer power bills can be more painful than a bad sunburn – make the sun work for you . . . already looking into solar, make sure you get a second quote from Baker. They're the 2011 SunPower Dealer of the Year!"
The purpose of the San Diego EAR Awards is to recognize and celebrate effective advertising on radio. The SDRBA has honored local businesses using the radio medium since 1998. Locally written and produced entries were evaluated by a panel of 20 judges consisting of San Diego radio professionals. Judging focused primarily on tangible, specific results derived from the radio spot message and campaign, followed by creativity and execution of production.
Our radio campaign's objective focused on driving brand awareness in the radio news and talk category. We chose to continue our endorsement campaign with LaDona, and it proved to be a winning decision. LaDona did a great job emphasizing our 75-year history, integrity and award-winning status throughout the year-long radio flight.
Our award nomination documented our radio campaign's results: approximately 180 new solar inquiries, more than 100 solar consultations, resulting in 22 new solar customers, generating a sales impact of more than $830,000.
"Utilizing La Dona's familiarity with our company supported our reputation and helped build instant credibility with listeners," said Ashley Arant our marketing manager. "AM 600 KOGO listeners are a significant source of referrals for us – their impact is seen long after they decide to go solar. They continue to share their Baker solar installation experience with family and friends."
Cass Jacob, general sales manager for Clear Channel Communications, shared,"We all know that solar advertisers are numerous in the San Diego market. But Baker wanted to distinguish itself by telling consumers it has been in the area for 75 years, and has won many industry awards along the way. If our listeners heard that Baker had been a trusted service provider for multiple generations, they could certainly be trusted for solar installations. Those were the key points of our year-long campaign."
In closing, to take a hint from LaDona . . . "Summer's right around the corner, use the sun to your advantage, call Baker Electric Home Energy at 1-877-578-8080 or visit BakerHomeEnergy.com."