Your Homes Solar Energy Can Fuel Your Vehicle Too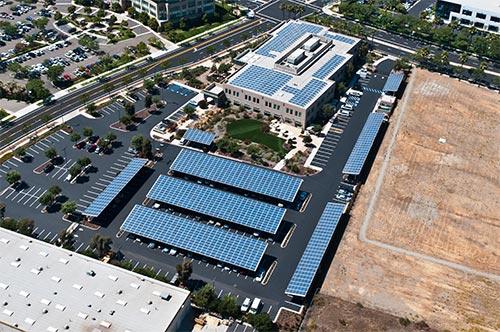 Solar + EV = Huge Savings
Homeowners who are interested in going solar have it easy when they live here in Southern California because the region gets so much sunshine throughout the year. San Diego is America's 8th sunniest major city! While most people seek out solar companies to install solar panels on their roof primarily for economic benefits, they also realize that they are doing their part to help the environment with this green technology.
Moreover, once you get accustomed to using less electricity generated from fossil fuels for your home, it's only natural to want to increase your savings by investing in an electric vehicle. All-electric vehicles produce zero emissions, making them a great fit for homeowners who have already begun going green with solar energy. In fact, electric vehicle owners are 6.6 times more likely to have a solar installation at home than other households, noted a recent article at Time.
In the United States, there are approximately 500,000 solar energy rooftop installations and 250,000 electric vehicles, according toTime, and the number of people adopting solar energy solutions is continuing to increase.
The continued growth of residential solar coupled with the adoption of electric vehicles by peoples all around the world has motivated advances in battery technology. Battery prices still need to decrease before electric power becomes competitive with gasoline for vehicles, Time noted, but with more electric vehicles hitting the roads and more residents adopting solar panels, prices should continue to go down because of the economy of scale that comes with more mass production.
You can keep an eye on how much it will cost you to drive a car powered by electricity compared with gasoline on a state-by-state basis by visiting the government's eGallon website.
Even if now is not the right time for you and your family to start driving electric vehicles, knowing that you can charge them with your own home-based charging station fed by the sun should give you the peace of mind that comes from knowing your fuel bills will continue to go down thanks to clean, renewable energy.
The Baker team of professionally trained electricians has installed more than 80,000,000 watts of solar energy throughout Southern California and hundreds of EV charging stations in San Diego. Our solar installation experts will be happy to consult with you and come up with a customized solution for your home. To get the best solar panels and service San Diego has to offer, please contact Baker Electric Home Energy today!
Interested in learning more about the benefits of solar energy? Give us a call at (877) 543-8765 for a free quote. At Baker, we don't do cookie cutter. Every system we install is custom designed to meet our customer's needs for the next 25+ years. We do this by asking you questions about how you're using energy, if you plan on adding any electrical loads in the future (like a pool or electric vehicle) and if you'd like to be more generous with your AC use, etc.