Coastal Living Magazine 2014 Showhouse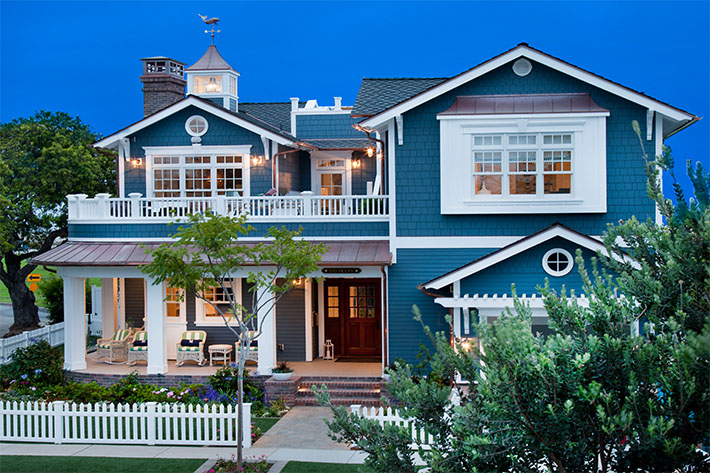 Coronado Dream Home
Baker Electric Solar recently took part in a design-build solar installation for the Coastal Living Magazine's 2014 Showhouse on Coronado Island in San Diego County. The $7 million, 4,500 sq ft ocean-view house will be featured in the October 2014 issue of Coastal Living.
I've visited the home twice now and have to say it's pretty incredible. A second-story outdoor patio area has stairs leading to a rooftop lookout with views of the beach to the west and downtown San Diego to the east. From this lookout, you can also see the 7.5 kW solar system we installed on the roof.
The inside of the home is amazing. It's beautifully furnished with decor from various vendors and has a really nice flow. There are plenty of ocean views – all rooms along the west side of the home, including the kitchen, living room and master bedroom all offer at least a sliver of ocean view.
I had the opportunity to speak with both the homeowner, Steve Madsen, and the builder, John OBrien of Flagg Coastal Homes. As a former contractor, Steve explained that he had worked with Baker Electric, Inc. in the past and was familiar with the strong work ethic of Baker. When the time came to decide on a solar company for the design-build, he said the choice was easy.
John said working with Baker Electric Solar was easy. It was his first time doing a design-build with solar and was happy with the process. He noted that when there were delays on his end, Baker did well to adapt to his timeline.
Solar System Specs
The Baker Electric Home Energy 7.5 kW solar system consists of 30 REC 250-watt solar panels with one, made in America, SMA Sunny Boy 7000-US inverter. A Quick Mount PV roof mount system was used on the composite shingle roof totaling a PV surface area of approximately 450 square feet.
Factoring in utility rate increases, the Coronado showhouse homeowners are projected to save more than $122,000 on energy over 20 years by offsetting more than 60 percent of their estimated energy needs with solar. The system will reduce CO2 emissions by more than eight tons annually which is the equivalent to not driving 27,000+ miles.
Open Tours
If you want to visit the Showhouse, tours happen Wednesday to Sunday every week until September 30. Tickets are $25. A portion of proceeds goes to the Navy SEAL Foundation. Tickets can be purchased at the Coronado Visitor Center or on the Coastal Living website. Tickets are not available at the Showhouse.
The Showhouse is located at 100 Ocean Drive in Coronado. When you visit, make sure to head up to the roof and check out the solar panel installation!
Are you interested in learning more about installing solar on your home? Contact us today! We'll always talk with you about your current energy consumption and your future goals so we can provide you with an estimate that's perfectly tailored to you. Switching to solar means you won't have to deal with steep electric rate increases, and you'll gain your own energy independence.