Expanding Our Operations Team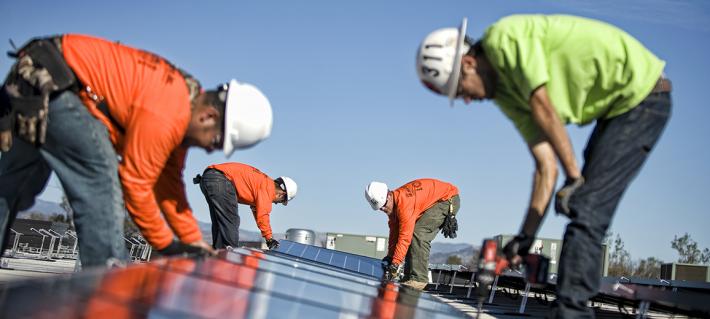 A Growing Team
We've experienced tons of growth over the past few years on our path to becoming the bestsolar energy company in Southern California. In May of 2014 we moved into our new 26K sq ft facility and are quickly filling up the space with the 15 new office employees we've hired this year.
We 're excited that so many people are making the switch to solar – and to meet the demand we've really focused on our operations this year.
Recently, there have been three big changes to our operations team leadership.
New Position – Director of Engineering
For the past four years, Keith Randhahn has been exceptional as our operations manager. He's been a great team leader and always delivers results. He's our go-to guy for any subject matter and is an expert in all things solar-related.
As a forward-thinking company, we are always looking at the future. We think about where the solar industry is heading and consider how homeowners are purchasing and consuming energy.When management got together to talk about our future as a solar company and what products and services we want to make available, Randhahn was identified as the ideal person for new product research and development.
Randhahn will maintain direct management of pre-construction and engineering but will also focus on new product development.
Speaking of Randhahn, Baker Electric Solar President Mike Teresso said, "Without his knowledge and dedication to the organization we would not be where we are today."
New Position – Director of Operations
With Randhahn's focus moving towards research and development of new products and services, and the need to button-down and continue to improve our operations, we brought in a new team member as director of operations – Jay Miller.
Miller brings to the table more than 25 years of experience in the electrical contracting industry. With the last 14 years having been in operations, he brings a wealth of knowledge and experience to his position here at Baker Electric Solar. Most recently, Miller was vice president of operations at Vista-based Independent Energy Solutions (IES), where he managed multiple solar PV system projects.
Prior to joining IES, Miller was with McBride Electric, a division of Critical Electric Supply Group, San Diego and Atlanta for 22 years. At McBride he held national accounts director of operations and national inventory and project manager positions.
As director of operations, Miller directs our engineering, project management, construction and installation, warranty and service, warehousing and procurement.
Jays operations experience will be critical as we continue to grow the business and expand our renewable energy offerings, said Mike Teresso, Baker Electric Solar president. We're looking forward to his leadership in reducing project delivery times, from contract signing through permission to operate (PTO). It's obvious from his career accomplishments that he brings Baker Electric Solar a strength in building teams, motivating people and achieving goals for our management, stakeholders and customers.
New Title-Field Operations Manager
Matt Reckling has been the leader of our installation teams for the past four years and has done an incredible job at decreasing our installation times and making sure our crews maintain the high standard of workmanship and etiquette we pride ourselves on providing to customers.
Reckling's title of area superintendent has been changed to field operations manager to better reflect the responsibilities he has taken on over the years.
Staying True
Among our explosive growth, our commitment to the Baker Way is always present. We'll never sacrifice quality to obtain a higher quantity. Our goal is to provide amazing hospitality to our customers every step of the way of their solar journey, while offering quality products at fair prices.
If you're interested in solar and how it can save you money, give us a call today and experience what thousands of other homeowners have by going solar the Baker Way!