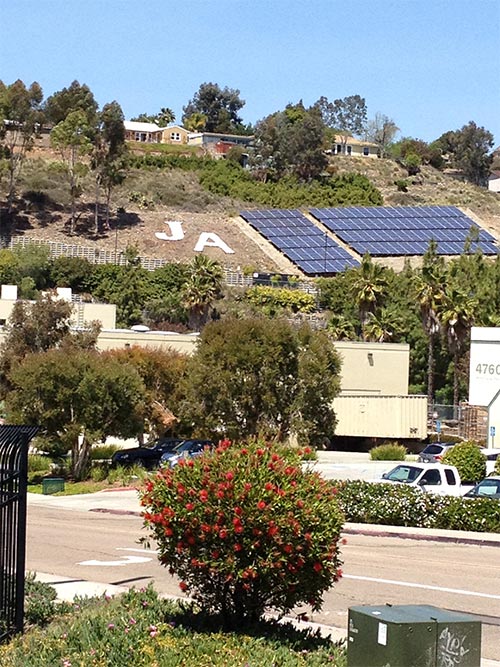 It may seem like we talk about SunPower a lot at Baker, and that's because we do! We love SunPower and as San Diego's first Elite Dealer, we're honored to have the great relationship with SunPower that we do.
What does it mean to be an Elite Dealer? Here are just a few examples of what we can offer that many of our competitors just can't when it comes to SunPower.
SunPower Solar Panels in Stock
While this may not seem like a big deal, trust me, it is. Many solar companies don't have the ability to maintain an inventory of expensive product like solar panels, let alone an inventory of SunPower panels. But at Baker Electric Home Energy, we do have that ability and maintain an inventory of thousands of SunPower modules. Having so many panels on hand means that they are ready to go to their new homes as soon as possible. Other solar companies may have to wait to get their hands on even a few dozen SunPower 345s.
Vast Product Knowledge
Our solar consultants have been designing solar systems using SunPower technology for years. They are experts in SunPower products and design custom solar solutions for every customer. Their familiarity with SunPower technology allows them to design the perfect system – not too big, not too small.
Consistent Quality
To obtain SunPower Elite Dealer status and maintain that status, we've had to complete SunPower Advanced Training, consistently achieve exceptionally high levels of customer satisfaction, and exceed a stringent set of performance standards for design, quality, and service.
Why SunPower?
You may be wondering – What's so special about SunPower? They've been industry leaders when it comes to quality, efficiency, technology and longevity for nearly three decades. SunPower's legacy began in the 1970s, when Dr. Richard Swanson of Stanford University began looking for ways to address the oil crisis. SunPower was officially launched by Dr. Swanson in April of 1985. SunPower panels are ranked #1 for durability and have the world record for efficiency. Their technology allows you to get 70 percent more power in the same amount space than conventional solar panels over the first 25 years.
If you're interested in purchasing or leasing SunPower solar panels for your home, look no further than San Diego's first Elite Dealer – Baker Electric Home Energy! Call us today at (877) 578-8080 to start the free assessment!
Go Green – Save Some Green
It's no surprise that solar energy is cleaner than traditional power generation. That's because solar systems don't produce any harmful greenhouse gases as they produce electricity. They use what's called the "photovoltaic effect" to convert light into electrical current.
Going solar doesn't just significantly reduce your carbon footprint, it also has the potential to save you big on your electric bill. Solar power gives you the energy independence to use electricity the way you want to. Rid yourself of your monthly bill anxieties and finally run your AC, heat your swimming pool or do that extra load of clothes without fear of rising electric rates.