Bringing Solar to San Diego and Beyond in 2014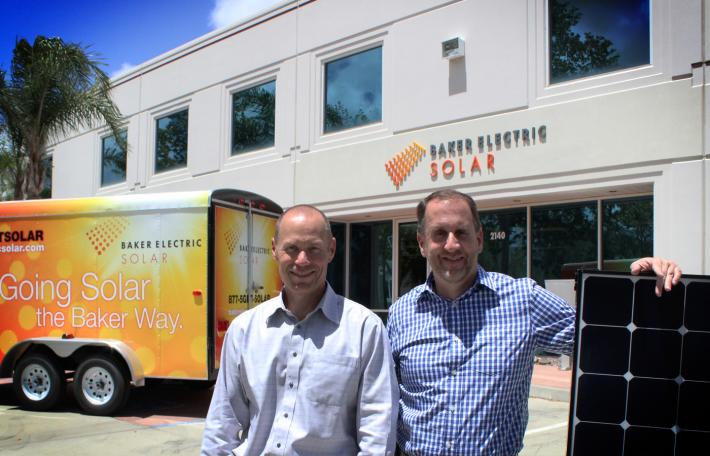 As this year wraps up and we start looking towards first quarter of next year, I thought I would write a post dedicated to highlighting our accomplishments in 2014. After all, this year marked an important season forBaker Electric Solar and was full of awards, growth and milestones as we continue to be the premiere solar company in San Diego.
Big Changes and Accomplishments
Service Area:While most of our business continues to come from our hometown of San Diego, we've also helped customers in Riverside, San Bernardino, and Orange Counties go solar.
New Building:Earlier this year, we moved out of our shared space with our sister company Baker Electric and into our own 26,000 square-foot building. We've already filledup the first floor and have expanded into the second. If you're curious about our operation, feel free to stop by for a tour.
New Website:We launched our new website this summer! It's responsive for use on mobile devicesand much more engaging than our previous site.
1000 Solar Installationsin 1 Year:It was a lofty goal, but we're on track toreach nearly1000 residential solar energy systems sold this year! It really is true when you hear that thousands of people have made the switch to solar energy.
250MillionWatts Contracted:Between residential and commercial solar jobs, Baker Electric Solar exceeded a total of250MW of contracted solar to date.
New Hires
In just residential solar operations, we brought on fifteen new office staff members to fill both existing and newly created roles. Every departmentreceived additional staff – marketing, operations, sales, engineering, and service. Our hiring wasn't limited to just office staff though, we also increased our total installation crew count byabout the same number.
Notable promotionsand hiresinclude: Keith Randhahn was promoted to director of engineering, Jay Miller was hired as director of operations, Cherri Ewing was hired as controller, and Ian Lochore was hired as director of residential sales.
Awards and Recognition
We won several awards this year and were recognized for our growth and commitment to excellence:
2013 Angie's List Super Service Award
San Diego Business Journals 2014 CFO of the Year Award
NECA Safety Excellence Award
NECA Zero Injury Award
EAR Award for Effective Marketing
San Diego Business Journals 2014 Fastest Growing Private Companies list
San Diego Business Journal's 2014 Best Places to Work list
Union Tribune's 2014 Best of San Diego Finalist
Solar Power World magazines 2014 Top 400 Solar Contractors in North America list (#91)
Solar Power World magazines 2014 Top 100 Residential list (#22)
Solar Power World magazines 2014 Top 100 California Contractor list (#26)
Solar Power World magazines 2014 TopEPCs (#47)
2014 BBB Torch Awards Finalist for Marketplace Ethics
And that sums up our 2014! We're excited about 2015 and what it holds – for us, our customers and the solar industry as a whole. If you didn't get solar this year, don't wait! Take advantage of the federal tax credit and get grandfathered in to the current, limited Net Energy Metering. Call or click to get started on your solar journey with San Diego's best solar company- Baker Electric Solar!