Solar Around The World: China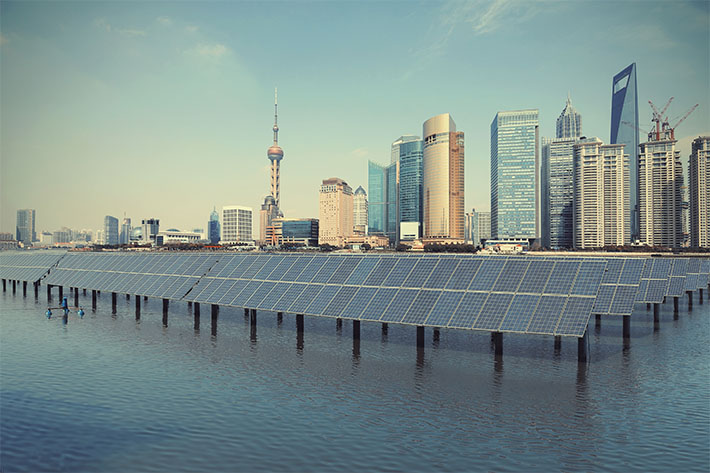 Since Baker Electric Home Energy is a San Diego solar installer, I tend to write about the solar industry in regards to Southern California and may not always look at the impact solar is making around the world. So… in this new series of blog posts, we're going to look at the various ways solar is being utilized around the world. This week, we're going to examine how China, who has largely been known as the world's largest carbon polluter, is quickly becoming one of the leaders in the solar market.
From January to June of 2013, China added an impressive 3.3 gigawatts of solar capacity, doubling the additions over the same period in 2012. To put this in perspective, this capacity is equivalent to the entire solar capacity of Australia – one of the sunniest places on earth and a leader in solar power. China's total solar capacity is second only to Germany, the leading country in solar power supply, and in 2013, China accounted for the largest proportion of global solar industry financing, at $23.5 billion, equivalent to the entire amount raised in Europe.
Much of the reason why the shift in solar power leaders has gone from Europe to Asia has to do with how China incentivizes solar power. This combined with the enormous size of their manufacturing industry has helped China dominate the solar market.
California solar incentives have been encouraging homeowners to go solar for many years. But what is China's main reason for increasing its solar capacity? Pollution. No surprise there – according to The Weather Channel, China holds the rank of 14th worst country for air pollution and is the world's biggest carbon dioxide emissions contributor.
Where is all this solar going in China? Well, it doesn't look too different than what's happening here in San Diego. In China, most of the land is state-owned so panels are being installed more and more on industrial and commercial buildings. While solar is becoming more and more viable to homeowners here in the US, China's target is less focused on single-family homes and more focused on large-scale buildings and businesses.
The future of solar in China seems both endless and vast. The Chinese government has recently announced to not only increase the country's renewable energy, but also plans on ending the use of coal inside Beijing by 2020 and capping carbon emissions by 2030.
Check in on the 27th to learn more about how solar power in India compares or contrasts with solar in San Diego. In the meantime, consider your role in making the United States a leader in residential solar and get a free quote now!
Switching to solar eliminates your monthly bill anxieties and allows you to use power the way you want. With solar, you generate your own electricity, lessening your dependence on your local utility and allowing you the energy independence you've always wanted. Stop living in fear of running your air conditioning, heating up the pool, running that extra load of clothes and turning on the lights. Go solar and say goodbye to counting kilowatts for good.