San Diego Solar Discovery Day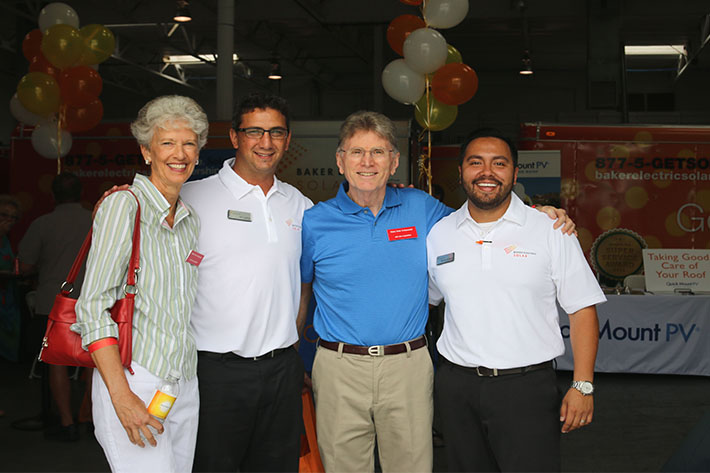 At Baker, we understand that going solar can be confusing to some homeowners. With all the choices and misleading information floating around, coming to a decision that you feel good about can be a challenge. We also think we can have fun while teaching people about going solar. And that's exactly what we did on Saturday, June 27 when we had our second Solar Discovery Day here at our 26K sq. ft. facility in Escondido.
Set inside our impressive warehouse, over eighty people joined us for food, fun and facts about solar. The day started out a little rainy, but the sun just couldn't stay away on a day dedicated to teaching people about harnessing the power of the sun!
Our friends from SunPower, LG, SMA America, Quick Mount PV, and Dividend Solar were present to answer questions and talk with people about different options available to homeowners considering solar.
Also available for answering questions was a group of customers elected as Solar Ambassadors for the event. Jim Signorelli and his wife Kay said of their experience with Baker: "The quality was just way over the top compared to the neighbors that had it done by somebody else. Everything was complete, friendly, no pressure. We've had it for a year now and not one SDG&E bill!"
Two of our other Solar Ambassadors, Dennis and Debra Holmes, won a Home Depot gift card and a DeWALT toolkit through our raffle. Dennis said he interviewed about five other companies and chose Baker because of the great panels we install and our industry-leading method of installation. "It's just a better system with better panels," they said, and the crews were "very efficient and very respectful" throughout their install.
When not chatting to a customer or industry representative, guests enjoyed amazing food and great giveaways. The event was catered by Mastiff Sausage Company and EscoGelato, and boy, it was delicious! The menu included pan roasted chicken with potatoes and fresh herbs, Mastiff classic bratwurst, cabbage, apple and cherry salad with macadamia nuts and nutmeg vinaigrette, fresh baked bread and butter, and strawberry crumble, passion fruit sorbet and stracciatella chocolate chip gelato.
We raffled off eleven different prizes, which included gift cards, LG Bluetooth headsets and even a new Blu-Ray Disc/DVD home theater system, among other prizes.
Didn't have a chance to join us for Solar Discovery Day? We'll be having another event later this year in October!
Interested in going solar The Baker Way? Get a free quote today, and make sure to stay tuned for our next big community event coming soon! Switching to solar allows you to gain energy independence and let go of your monthly bill anxieties. Not only is solar energy better for the environment than traditional power sources, it can also save you a substantial amount of green. At Baker Electric Solar, our first step is asking you questions about how you use energy, what your future goals are and if you plan on adding any electrical loads in the future (like a pool or electric vehicle) so that we can determine the right size system for you and your needs.