The San Diego Food Bank Shines with Solar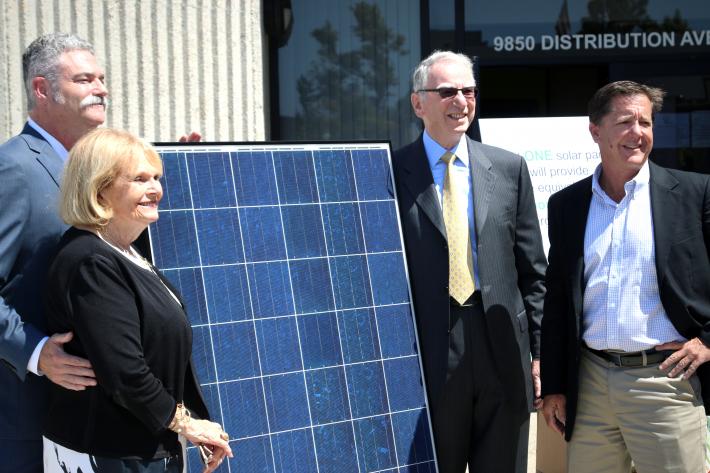 The Jacobs & Cushman San Diego Food Bank, the largest hunger-relief organization in San Diego County, recently went solar with Baker Electric Solar.  Joan and Irwin Jacobs took part in a ribbon cutting ceremony on Tuesday, July 28 honoring their $1 million contribution which enabled the Food Bank's 1,400-panel rooftop solar installation.  The solar project will yield $120,000 in annual savings and as a result provide 600,000 additional meals to San Diego's less fortunate. Baker is honored to have played a role in this impressive project.
The Food Bank receives food from a range of sources including locally-run food drives, the USDA, growers, retailers and wholesalers. Once the food arrives at their warehouse, they rely on volunteers to inspect and sort the food. The Food Bank then distributes food directly to non-profit organizations, families and individuals in need through their many sites within the county every month.
The hundreds of nonprofits that benefit from the Food Bank pick up food from the warehouse and distribute to soup kitchens, shelters, churches with feeding programs, schools, senior and disabled living facilities, and food pantries.
In addition to the significant cost savings realized by going solar, the Food Bank is moving toward their goal of becoming LEED certified.  LEED, or Leadership in Energy & Environmental Design, is a green building certification program that recognizes best-in-class building strategies and practices. To receive LEED certification, building projects must satisfy strict prerequisites and earn points to achieve different levels of certification.  Alternative energy solutions rank high in LEED points so moving to solar was an important step in the Food Bank's efforts to accomplish their goal.
The Food Bank's solar installation produces enough energy to power 125 family homes. It will also save the equivalent annual greenhouse gas emissions of 1,318,356 miles driven by an average passenger vehicle. And it will save the CO2 emissions equivalent of 594,747 pounds of coal.
Their 350kW system is comprised of 1,400 Hyundai 250W panels, 16 Sunny TriPower 20kW inverters, 1 Sunny TriPower 12kW inverter, and a Draker Monitoring system with an Advanced Kiosk screen.  Baker has donated a 65" LG flat screen TV that's displayed in the Food Bank's newly renovated volunteer center so they can showcase how much they're saving with their new state-of-the-art system.
If you're looking for a cool way to support the Food Bank and their efforts to help the hungry in San Diego, you should definitely plan on coming to The AimLoan.com San Diego Blues Festival at Embarcadero Marina Park North on September 26 and 27. This is one of the Food Bank's largest fundraisers, and it supports their mission to feed more than 320,000 San Diegans per month. This is the Food Bank's fifth annual San Diego Blues Festival. The family-friendly event will feature 18 national and local blues acts on two stages both days. It will also feature specialist food vendors, local craft beer and wine, and arts and craft booths. General admission tickets are $20 plus two cans of food to donate to the Food Bank. Children under 12 get in free. Head over to www.sdbluesfest.com to check out the lineup and purchase your tickets today!