Seven Years with Solar: Let's Check in with the Lundbergs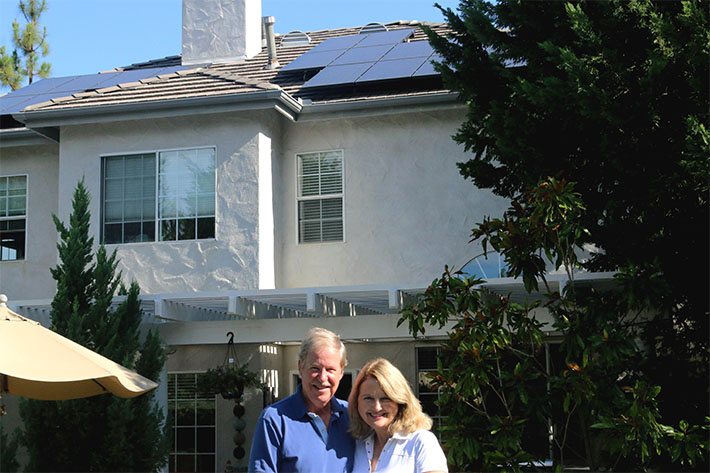 I was curious about how our early solar installations were performing years later, so I contacted the Lundbergs from Vista to find out. Derek and Debbie Lundberg bought their 21-panel SunPower® system from Baker back in 2008. Debbie's been loving her recent retirement (she'd been teaching for 40 years!) and now has even more time to enjoy the benefits of her family's solar system – like the ability to run the pool system whenever she wants without worrying about receiving a big electric bill at the end of the month. Debbie and Derek have been solar fans from day one and they're still delighted with the on-going value it's bringing to their lives.
Seven years ago solar installations weren't as widespread. So the Lundbergs are considered early adopters of a renewable technology that has since proven to be a critical component of the world's energy future. With a strong conviction in the viability of photovoltaic technology to save them money and help the planet, they jumped at the chance to install a solar system.
Seven years later their Baker Electric Home Energy system has never had to be serviced or repaired. It's running perfectly, giving them control of their energy usage and saving them money, just like it should. Derek and Debbie are very satisfied with the performance of their system and the energy it produces. Their family has always enjoyed more than enough electricity to meet their daily needs.
The Lundberg's roof needed some repair a couple years ago. They explained that while the roofers were up there, they checked the work Baker did and were amazed at the quality of the installation.
"The workers checked the roof around the panels to ensure there weren't any potential problems. They were very impressed with Baker's installation methods. They said everything was well done and there were no difficulties they could see, even after all these years."
Because a solar installation requires drilling holes into a roof, you want the assurance of knowing it's completed by experts using the right materials and proven installation procedures. Baker's double flashing is unique in the industry and ensures a solid, leak-proof fit. That installation technique and Baker's excellent 10-Year Roof Warranty gave the Lundbergs additional confidence that their selection of Baker was the right one.
Another thing the Lundbergs appreciated was Baker's careful estimation of their future electrical needs.
"Baker did a good job estimating what our current and future electrical needs were," Derek said. "At that time the kids were living at home so they adjusted for that. The kids are gone now but we've thought about getting an electric car. That was part of the design plan when we bought our system."
Living in arguably the sunshine capital of the US, Derek said he can't imagine why anyone would hesitate going solar in San Diego.
"We wanted to support the environment and make full use of an amazing renewable resource. I mean we're in Southern California, San Diego, with the sun how many months out of the year? Why not utilize it?"
In fact, over the last seven years the Lundbergs' system has reduced greenhouse gas emissions by 35 tons of CO2, which is equivalent to 1,398 trees planted!
But the Lundbergs haven't just enjoyed the quality of their system and how much they've helped the environment by going solar. Not surprisingly, they also love getting their tiny bill at the end of the year!
Interested in mitigating your environmental impact and cutting down on your electric bill like the Lundbergs? Get a free quote with us today! We'll talk with you about your family's energy needs and ensure that your system produces as it should, for years to come.