Find the Best Solar Companies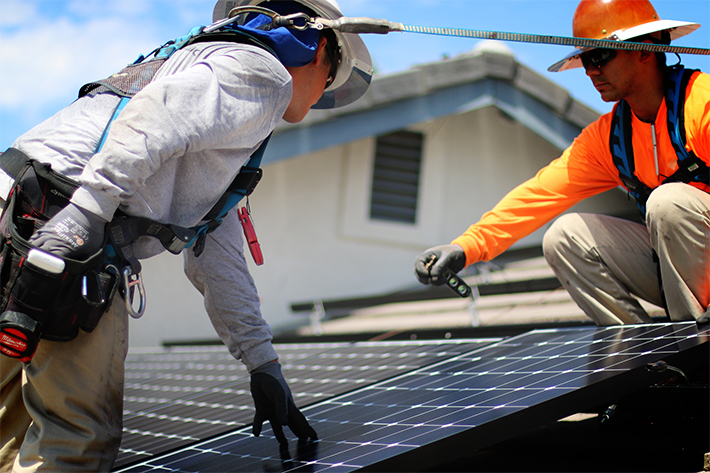 Hopefully, after careful research you've discovered that going solar can indeed slash your energy bill and help you gain long-term energy independence. Now what? Well, as you might expect, there are many solar providers out there. We at Baker Electric Home Energy suggest you take the extra time to compare solar companies and find the best one for you.
Of course we would expect that you will be doing some of your own research, and in that case, here are some of the things you should consider:
Licensed electricians
The best providers use experienced teams of licensed electricians committed to performing a professional and clean installation of solar roof panels, including the interconnection between your new home solar system and your local utility company. The work takes anywhere from one to five days, depending on the size of the installation, but typically is complete in two days.
Baker has produced a brief video that talks about how we handle the installation process using The Baker Way, renowned for its conscientiousness and attention to detail. Watch the Baker installation video >>
The best solar companies also only use in-house team members, rather than subcontractors. Subcontracting certain portions of any construction project is common practice, particularly in the field of residential solar power systems. The economics of this are easy to understand. Keeping skilled solar panel installers off the company payroll saves a significant amount of money, and cuts down on management overhead.
However, when it comes to installing solar roof panels, subcontracted labor can cause problems for your solar provider and you. Since they're not employed (nor typically supervised) by your provider, these workers may be less motivated to do an excellent job. Plus, should something go wrong, consumers can become frustrated when they look to the solar provider to rectify the situation.
Baker Electric Home Energy performs all work on your solar power system ourselves, using only workers employed by us. Be sure to ask your prospective solar provider if they do any subcontracting, and if they do, proceed with caution.
There are two licenses that your solar provider should have: a C-10 and C-46. A C-10 license is an Electrical Contractor license. Since a solar power system is a small generator, you'll want someone who knows what they're doing when wiring it up to your electrical panel and connecting it to the grid. The Contractors State License Board website defines an electrical contractor as someone who places, installs, erects or connects any electrical wires, fixtures, appliances, apparatus, raceways, conduits, solar photovoltaic cells or any part thereof, which generate, transmit, transform or utilize electrical energy in any form or for any purpose.
A C-46 is a Solar Contractor license. The Contractors State License Board website defines a solar contractor as someone who installs, modifies, maintains, and repairs thermal and photovoltaic solar energy systems. A licensee classified in this section shall not undertake or perform building or construction trades, crafts, or skills, except when required to install a thermal or photovoltaic solar energy system.
Look at licenses held when you compare solar companies. As you would expect, the best solar companies, like Baker Electric Home Energy, employ only licensed electricians, and conform strictly to all local, state and federal solar regulations. Baker Electric Home Energy holds both a C-10 and C-46 license.
Superior solar products and technologies
Since their introduction during the energy crisis of the 1970s, design improvements have enhanced both the performance and appearance of residential solar panels. There are significant differences between the high-end and low-end solar panels in terms of efficiency (electricity generation), durability (how long they will last), the manufacturing processes used to create them, cost and warranties.
It's a mistake to make a decision about which solar panels you will install on your home based on price alone. Instead, we encourage you to take all of the important factors into consideration and make a decision based on value.
At Baker Electric Home Energy, we carry only top-name solar products from SunPower®, LG and Qcells, because we understand that value starts with quality.
SunPower® deserves a special mention because their panels have earned a reputation for superior performance, reliability and aesthetics. Widely regarded as the best solar panels available, SunPower is a brand that you can trust. Baker Electric Home Energy has earned the designation of SunPower Elite Dealer, a highly coveted distinction. Learn more about SunPower® here >>
When it comes to other essential solar products—such as micro inverters, string inverters, and power optimizers, the best solar companies do not discriminate and use the finest technology for the particular application. More information on these technologies can be found here.
The best solar companies will also maintain an inventory of solar products to reduce lead times and speed the installation process for the homeowner. At Baker Electric Home Energy we go to great lengths to ensure our inventory is always well stocked and that our customers are never left waiting for important parts to arrive.
Roof mounting methods
Installing solar panels involves drilling dozens of holes into your roof, which makes many prospective solar customers think twice as they envision the possibility of roof damage and leaks.
But not all installation methods are the same. At Baker Electric Home Energy, we use a proprietary Quick Mount PV system to preserve the homeowner's solar investment and protect the roof from water damage.
This is a point that you must take very seriously. Click this link to watch a video explaining what you can do to ensure that your roof doesn't sustain serious damage due to the installation of solar panels.
Read the solar company reviews
Take some time to go onto sites like Yelp, Google, Facebook and BBB.org to read customer reviews and make sure that the solar company you're considering has a positive track record when it comes to customer satisfaction. You can find reviews provided by customers of Baker Electric Home Energy here:
Reading solar company reviews is something every homeowner should do before they choose a solar provider.
Years in business
Solar energy providers are no different than any other companies. The length of time they've been in business is often a good yardstick for measuring their quality, service and reputation. However, you should also consider the fact that mass-market residential solar energy systems have only been available for a relatively short period of time.
That makes companies with a longer history of providing energy solutions—such as Baker Electric Home Energy, who is built on over 75 years of energy experience, worth a closer look.
Number of installations
Like the number of years in business, the number of solar installations is also a good way to gauge a company's track record. As you look around for the best solar companies, be sure to determine not just how many residential installations they've completed, but commercial and utility projects as well. Experience in these other markets suggests that they possess a broader skillset than the average solar company.
In 2015, Baker Electric Home Energy celebrated its 4000th residential customer and over 30MW of residential solar installed. Also in 2015, the Baker family of companies celebrated a huge milestone in having 1GW of combined solar installed. That's one billion watts, or enough electricity to power 700,000 homes!
Referral program
If you've gotten this far in your journey, chances are good that you're a solar enthusiast and likely to talk about your experiences and discoveries with others. So why not be rewarded when you do?
The best solar companies offer lucrative referral programs that often provide cash or other incentives when you refer a friend, neighbor, family member or colleague.
Learn more about the Baker Electric Home Energy Referral Program >>
Community Involvement
If you're like many of today's consumers, it's important that the people you do business with give back to the community.
You'll be pleased to learn that Baker Electric Home Energy proudly takes an active role in our community, and has partnered with dozens of nonprofit organizations over the years through donations, sponsorships and volunteering.
Learn more about Baker's community involvement >>
Compare solar companies and win:  Baker can help
Solar companies abound as the benefits of harnessing the power of the sun dawn on more and more American consumers. Unfortunately, not all these companies are reputable, nor equipped to do the excellent work consumers expect and deserve.
Then don't hesitate to call one of our expert consultants at (760) 546‐6091 if you have additional questions. Or visit our contact page.