Advantages and Disadvantages of Microinverters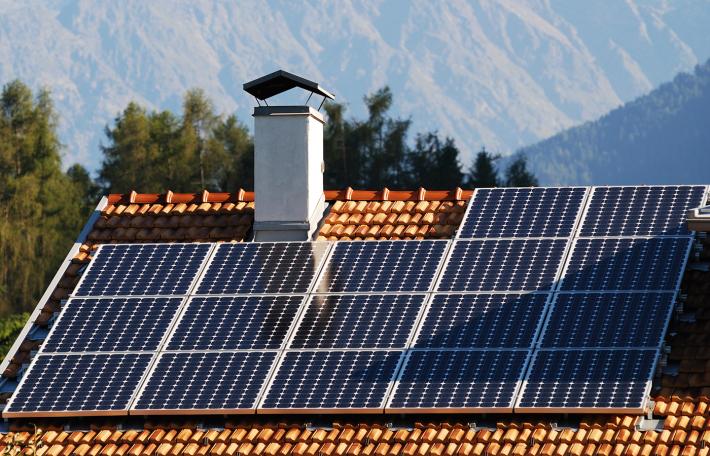 With a wide variety of available solar options, choosing a rooftop installation can be confusing.  Typically, solar panels are installed with string inverters but recently there has been a push for a new module-level power electronic (MLPE): microinverters.
So which is right for you? Baker Electric Solar has taken the leg work out of what can be time-consuming research and broken down the advantages and disadvantages of microinverters.
What are Microinverters?
Microinverters are a recent addition to the solar panel market, and rising in popularity over the industry standard string inverter. In 2013 alone, over half of U.S. solar installations used microinverters.
Microinverters are a type of inverter that can be attached to or on individual solar panels behind the railing at the array area; string inverters are typically connected to a wall away from the array area. Because the microinverter is joined to an individual solar panel, the panel can function independently to convert DC power to AC instantly.
Are Microinverters Better?
Microinverters can offer substantial benefits to homeowners contemplating switching to solar, more so than traditional string inverters. Here's a look at the advantages of microinverters:
The most significant advantage of microinverters is that they are designed to determine each system's optimal voltage and generate maximum peak power voltage or Vpp. Known as Maximum Power Point Tracking (MPPT), this feature allows the microinverter to track real-time solar intensity and cell temperature as it varies throughout the day.
Obviously, this translates to better value over time for homeowners. For instance, if a solar system is shaded, partially-shaded, or there is dirt or debris on the array, the installation may fail to produce maximum power. Microinverters offer a much more efficient solution since a single microinverter is connected to each separate solar module and is thus independently controlled. Therefore, the other modules not affected by shade or debris can still produce optimal power no matter what might be happening to their neighboring solar panels San Diego.
In comparison, however, string or central inverters are paired together so if shade or debris is on just one module of the system, the output of the entire solar installation can be drastically reduced.
Besides a more efficiently performing system, other benefits of microinverters include:
Monitoring: Microinverter systems are designed to allow for individual per-panel monitoring, which in turn can help to inform solar panel owners or solar panel installation companies in San Diego of under-performing systems so that they can do something about it rather than let potential under-performing panels go unnoticed.
Reliability: Most high quality microinverters have undergone rigorous testing in extreme weather conditions.
Enhanced Safety: Microinverters convert DC power to AC instantly, eliminating the exposure to high voltage DC electricity.
Longer warranties: Typically, microinverters have a 25-year warranty opposed to 5 years for string inverters.
Overall better value and investment over time.
Are There Drawbacks to Microinverters?
Some key factors that should be considered when researching microinverter solar panel installations include higher upfront costs and possible failure rates. With microinverters, there are many more system components in comparison to string or central inverters. For instance, a 5kW solar system with 250W panels consists of 20 inverters, meaning the inverters are theoretically twenty times more likely to have the same failure rate than with a single-point-of-failure string inverter. That said, if a single microinverter fails, the only solar panel affected is the one it's attached to as opposed to a complete system failure when a string inverter goes down. Also, since there are more components in a microinverter solar panel system, the initial trade-off of out of pocket costs will be slightly more expensive.
But this is where quality comes into play as there are both low and high quality microinverters. Choosing a high quality solar power system that can withstand extreme weather conditions can make all the difference in getting your money's worth from your solar panel installation. Furthermore, it is best to avoid poor quality microinverters as these systems are often associated with high failure rates. As always, you get what you pay for, and let the buyer beware. Do your research, ask questions about the quality and longevity and performance of the micro inverters, and insist on quality parts which will increase the value of your home, your sanity, and your satisfaction.
There are many benefits to microinverters, but is it important to consider your property and solar needs. If you're property has considerable shade, then microinverters can offer the best possible advantage. Additionally, for commercial solar, having the ability to monitor individual panels for optimal output can offer an exponential value over time.
Unfortunately, not all solar installation companies offer high quality microinverters, and customers looking to go solar need to make sure the company they choose is equipped to provide the best solar panel installations.
Still Confused? Baker Electric Solar Is Standing By To Help You!
Are you considering switching to solar and still have questions? As an experienced, reputable San Diego solar company, Baker Electric Solar Energy Consultants can help you decide which system is best for you. While some companies only offer one type of solar technology to everyone, we customize each high quality solar solution for your property and your budget.
For all of your solar energy and microinverter needs, trust Baker Electric Solar. Get started today!