Getting Started With Solar Panels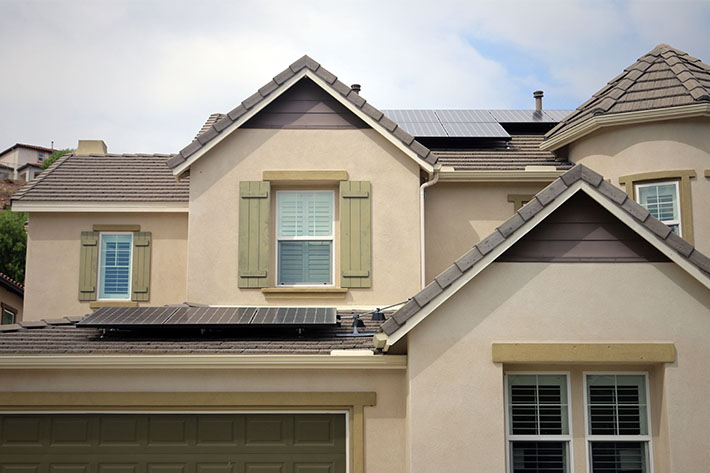 It's impossible not to notice the increasing number of solar panels covering the rooftops of many San Diego homes and businesses.
Solar panels convert the sun's light into electricity. Essentially, solar panel installation consists of grouping together solar cells (i.e. panels) to optimize the sun's power and generate electricity. Think of it as a natural alternative energy source that can harness the sun's energy in order to reduce electricity consumption.
Still, deciding on the best solar installation option for your property can be overwhelming. Here's what you need to know about getting started with San Diego solar installation:
Common Reasons for Going Solar
Saving money. Solar installations can keep your energy bills low, even eliminating your entire electric bill.
Increasing property value. Homes or properties that are solar efficient tend to sell for a higher resale price. A study funded by the Department of Housing and Urban Development found that for every $1 in reduced energy costs, homes sell for approximately $20 more. That means if your property saves $1,000 a year with solar energy, the the value increases by $20,000 in the market.
Helping the environment. San Diego residents are known for their environmental consciousness. Solar energy can decrease your household's carbon footprint by over 35,000 pounds of carbon dioxide annually. You would have to plant almost 90 trees each year to equal that amount of CO2!
How San Diego Solar Works
It's a simple process. Sunlight hits the solar panels and electricity goes out, allowing for DC power to convert to AC power for household use. Then the excess power goes to SDG&E's grid for credit. But not all solar energy systems are the same. Some of the choices available to you are:
Photovoltaic (PV). Produces electricity so you can power your home. Special solar cells harness sunlight, transform it into energy, then send that energy to an inverter, which converts it into electricity to power the home. With this type of system, you can save on electricity and when you generate more power than needed, it goes back to the grid, and SDG&E gives you credit for unused power!
Passive Thermal. Produces heated air so you can heat your home. Essentially, thermal technology replaces electric heating. It's a simple and cost effective way to take advantage of the sun's energy to eliminate the need for electricity and natural gas.
Thermal Hot Water. Produces hot water by using the sun's energy to directly heat liquid with no electricity involved. This is great option for San Diego homeowners as solar energy can be used to heat swimming pools!
What Does Going Solar Cost?
That depends on the size of your property and the system you choose. A larger solar installation will be more expensive since more panels are needed. This, along with labor costs all factor into the total cost of a San Diego solar installation.
Some starter solar panel systems can be as low as $2,000 and go up to $50,000 and higher depending on the type of property and solar panels. Typically, the average cost for a larger San Diego solar installation is around $20,000 and approximately $12,000 for a smaller system before rebates, subsidies and incentives.
State and local San Diego solar incentives lower installation costs even further. Right now, San Diego homeowners are eligible for a 30 percent federal tax credit through 2016.
Paying for Solar Energy
There are three ways to pay for solar panels, and not all of them require upfront payment. The ultimate out-of-pocket cost is dependent on whether you purchase the system outright or opt for solar loan financing or a lease agreement.
Lease agreement. In this type of agreement, the owner pays a leasing company – usually the solar installation company – a set monthly fee for the solar panels. Solar leases are a popular way to lower or cover the upfront costs of solar installation. Most San Diego solar leasing companies will factor in or incur the costs for repairs and maintenance.
Solar financing. With this option, you still have a set monthly payment but you also own the solar energy system. Customers with good credit can get low interest rates on a solar financing loan. If you do opt for solar financing, you should make sure that your monthly loan payment is less than your current monthly SDG&E bill to ensure that you're still saving money.
Permanent Installation. Purchasing a San Diego solar system outright is another alternative. Not only does this option come with considerable tax advantages, but it adds increased value to your property.
If you are considering going solar, you should be diligent in comparing payment options and choose the best financing method for your lifestyle and budget.
Who to Hire?
Installing solar panels that are exposed to elements such as wind, heavy rain, and lightning is not normally a DIY weekend project. To protect your roofline's rigidity and waterproofness it's best to leave solar installation to the professionals. Baker Electric Solar, one of the best solar companies in San Diego, can help you get started with solar panels while protecting your precious asset. Baker Electric Solar is recommended by customers, rebate and incentive programs, and more! Our goal is to make your San Diego solar installation project a positive and easy experience from start to finish.
Once you've decided to go solar, the next step is to get a quote for a solar panel installation from one of our professional Solar Energy Consultants.