San Diego Solar Will Help Lead the Renewables Revolution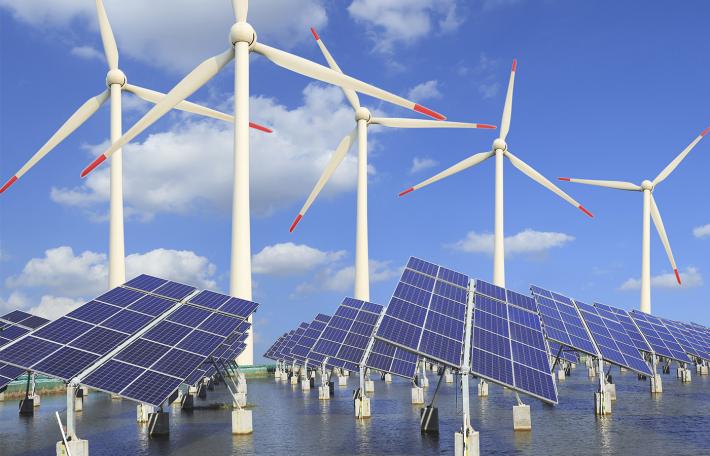 A decade or so ago, at the turn of the millennium, solar power as a viable energy source was little more than a spec on the horizon. Today, commercial and residential solar in San Diego and across America, has begun to eclipse other forms of energy.
As the Solar Energy Industry Association (SEIA) reported to The Guardian in June, last year marked the first time that more solar panel installations went live than natural gas power plants — the nation's top source of electricity (as measured in megawatts). In the first quarter of 2016 alone, the solar industry added more new capacity than natural gas, coal, and nuclear fuel combined, the association said.
Solar power now accounts for 64% of all new electricity-generating capacity, according to a recently released market report by GTM Research and SEIA. The solar industry anticipates installing 14.5 gigawatts of solar power throughout the year — a 94% increase beyond the previous record of 7.5 gigawatts installed in 2015.
With revenues from the solar industry topping $22 billion in 2015, the prospect of solar energy as an economic engine looks not just bright, but red-hot, especially in California, which leads the U.S. in solar installations. The state installed more solar in 2014 than the entire nation did between 1970 and 2011, the SEIA reported. San Diego solar shares the national spotlight, placing second in rooftop solar capability in an annual survey of U.S. cities conducted by the nonprofit Environment California Research & Policy Center, which released its findings at the end of 2014.
It's little wonder a boom in solar energy lends high-voltage appeal to companies looking to install or invest in solar technology. Rising numbers of businesses, in San Diego and beyond, are installing rooftop solar systems not only to demonstrate their standing in their communities as green citizens, but also to lower their energy bills. Learn more about the advantages of commercial solar here.
But clues to the next wave of solar power prowess can be gleaned from top companies entering the solar sphere. From tech giants to apparel innovators, the corporate cool kids are going solar — but not necessarily for expected reasons.
Why the Big Guys Are Going Solar
In a previous post, we explored the concept of distributed energy resources (DER) comprised of small energy suppliers, including rooftop residential and commercial solar panels, DER holds promise for transforming the entire energy industry. The DER concept would essentially decentralize solar energy generation and supply, shifting power from central utilities to collections of small-scale solar producers that contribute excess capacity to the electrical grid for solar power in San Diego and across the U.S.
In what looks to be its foray into the distributed energy market, in June 2016 none other than tech icon Apple filed an application with the Federal Energy Regulatory Commission to become a solar energy company. If approved, the application will launch the i-device innovator's wholly owned subsidiary, Apple Energy LLC, potentially within 60 days.
Apple has had a well-known commitment to renewable energy to power its operations. Electricity produced at its much-talked-about $850 million investment in a California solar farm contributes to its claim that 100% of its U.S. operations are powered by renewable energy sources. (In addition to solar, the company uses wind, biogas fuel cells, as well as geothermal and other renewables.)
Experts predict Apple Energy will eventually sell surplus electricity from its solar farms in both California and Nevada to grids across the U.S. The company was preceded in its efforts to produce and sell its own solar power by Google, which received a federal license to sell energy through its Google Energy subsidiary in 2010. Amazon, Walmart, and Dow Chemical have taken similar steps to join a small but growing corporate circle of solar suppliers. Even Southern California-based outdoor clothing retailer Patagonia has jumped into the electricity delivery business with a solar panel partnership set to power more than 1,500 homes.
Given Apple's innovation core, not to mention recent slumps in its i-device sales, industry watchers speculate the company might branch out beyond electricity supply (electric cars, most likely). Or, it could experiment with a means to sell solar energy directly to consumers at retail rates. Currently, private companies can only sell surplus power to existing utilities, usually at wholesale rates (although this varies by state).
In the meantime, Apple Energy and like-minded companies lack storage capacity to outstrip utility companies' capabilities and become major players in the renewables marketplace. The company will rely on current practices and trade its surplus solar power for so-called "net-metered" energy when it's needed, such as during the nighttime hours or on cloudy days when solar production stops or dwindles.
Storage of solar power looks to be yet another frontier. But here again, heavy-hitter innovators in the private sector have ideas. Electric car manufacturer Tesla is seeking to take advantage of the solar boom by acquiring the nation's largest solar panel installer, in part to combine solar energy supply with affordable, efficient battery technology in which it excels.
Bringing It Home
While the big innovators do their thing, carving out niches in the solar energy market or transforming the industry altogether, San Diego solar will continue its upward trajectory. Solar energy in San Diego has become a $1 billion a year industry. According to the San Diego Union-Tribune, within the local power market the city has overtaken Los Angeles in new residential and commercial solar installations. Beyond federal incentives for home and business solar panel installations, the city has developed innovations of its own, such as loan paybacks for rooftop solar panel installations through property tax assessments and special incentives for multifamily affordable housing.
Community support has elevated San Diego as a national leader in solar energy for more than a decade, and that trend shows no sign of slowing down. Promising new activity in DER and other advances will likely take hold here, making now the time to get in on the fast-ramping solar revolution.