Solar Support for California's Low-Income Communities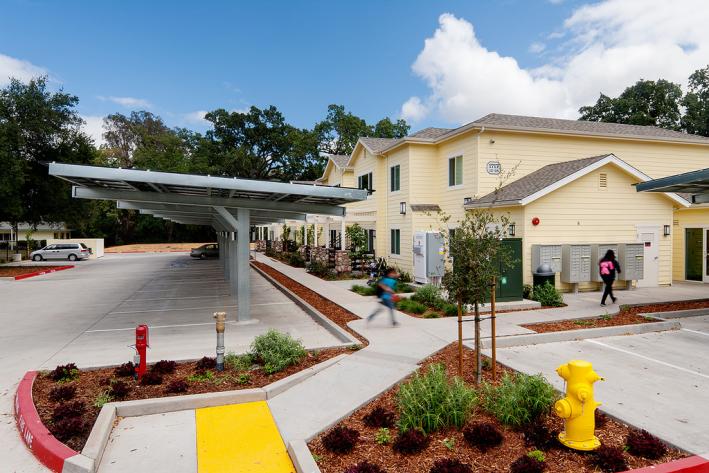 When California adopted policies to support clean energy, it recognized that going green meant green for all.
Statewide initiatives have long backed the idea that solar power should be available to residents across the economic spectrum and not just those with disposable incomes. Policymakers say the approach makes good environmental and economic sense. The more that Californians install residential solar panels for their electricity needs, the less they'll rely on harmful greenhouse gas- emitting energy. Plus, they say, the closer the state will be to meeting its goal of generating 50% of its electricity through environmental-friendly renewable sources like solar power by 2030.
Solar power has also proven to increase jobs in California, which now leads the country as the No. 1 solar state. The rising popularity of solar power and emerging solar technologies are combining to create new jobs. According to the Los Angeles Times, one of three employees in the nation's rapidly expanding solar energy industry works in California. The California Solar Energy Association says more Californians are employed in the solar industry than in the state's three largest investor-owned utility companies combined.
Advocates for greater access to renewable energy resources say solar power helps stimulate economic growth and create healthy, stable communities. But low-income residents spend as much as 15% to 20% of their household income on energy bills, according to federal officials. That's up to three times more than the average higher-income household. Lower- and fixed-income residents and families who have access to electricity bill-lowering solar technology become less vulnerable to rising energy costs and better able to afford necessities, such as food, secure housing, and healthcare services.
A push for residential solar panel installations across the state has gotten a big lift from dramatically falling prices of solar panels and federal tax incentives. Even so, lower-income families have faced barriers to joining the go-green movement. They may rent their homes, for example, or live in multiple-unit buildings. They may have trouble meeting credit requirements for financing or leasing arrangements, or they may not be eligible for tax incentives.
Government initiatives intend to level the field and place residential solar panels within the reach of more Americans. Heavy on its support for renewable energy, California has led the way in making a solar lifestyle possible for lower-income groups. It was the first in the country, for instance, to offer millions of dollars in incentives to fixed- and low-income single-family homeowners to install residential rooftop solar panels. The federal government has now gotten on board in a big way with a new push for community solar projects and more accessible financing options.
Here's a rundown of two recent federal and state efforts to ensure the light doesn't dim on lower-income Californians' ability to enjoy the benefits of solar energy.
Clean Energy Savings for All
On July 19, 2016, President Obama unveiled in a video the latest in a series of federal actions that aim to raise access to solar energy and promote energy efficiency, especially among low- and moderate-income households.
Among a number of solar-friendly programs, the Clean Energy Savings for All initiative encourages more community solar installations. The community model represents a form of distributed energy in which grouped individuals share the savings generated by a single solar panel installation. It gives apartment and other renters the opportunity to purchase small shares of the installation and split the monthly proceeds when extra energy generated by the communal solar panels is transferred to the electric grid.
The initiative also borrows from an idea that originated at Berkeley that allows homeowners to pay for solar panel installations through their property taxes.
For qualified homeowners, the Property-Assessed Clean Energy (PACE) program requires no money upfront. Homeowners receive local government financing that covers solar panel installation costs. In return, those homeowners repay the financed costs through assessments on their property tax bills. Assessments occur over a period of years or even the decades-long lifetime of a solar panel installation.
PACE financing secures a solar panel loan with a lien on the property, which, along with the repayment responsibility, stays with the home. If a PACE-financed home is sold, the new owner becomes responsible for the remaining payments via their property taxes. In cases of foreclosure, the entire amount of the financing must be repaid before other claims.
The PACE program will also be opened to veterans alongside their VA Home Loan Guaranty benefit.
Not surprisingly, California has led the pack in modeling PACE financing. According to research by Greentech Media, PACE financing covers nearly 10% of the state's entire residential solar market. In California, the program is widely known as HERO, or Home Energy Renovation Opportunity. (Ask us about HERO financing.)
California Multifamily Affordable Housing Solar Roofs Program
California came early to the idea of expanding solar panel installations beyond single homes. In 2007, the state's Public Utilities Commission (CPUC) launched the Multifamily Affordable Solar Housing (MASH) program as part of its California Solar Initiative. It represented the country's first large-scale solar initiative for multiple family housing projects funded by utility ratepayers.
To date, the MASH program has completed 372 projects, with another 214 projects either in progress or under review, according to Solar Industry Magazine. The program is now fully subscribed, meaning that applications for new projects are waitlisted.
MASH has been heralded as a great success (it has generated an impressive 24.67 megawatts of installed solar capacity across the state). Still, the costs of solar panels, however much they'd fallen, limited participation by lower-income renters. The program has served just 6,700 lower-income renters, says Renewable Energy World.
The California legislature pushed forward a fix with an expansion to the MASH initiative. The Multifamily Affordable Housing Solar Roofs Program, established in October 2015 as part of Assembly Bill 693, commits $100 million per year for 10 years to install a minimum of 300 megawatts of rooftop solar panels on apartment complexes and other multifamily affordable housing properties. Analysts predict the expanded program, the largest of its kind in the nation, will benefit roughly a third of California's affordable multifamily housing projects.
Unlike MASH, the new program doesn't rely on funding by electricity ratepayers. Instead, the CPUC will draw on state-mandated revenues collected from large industrial greenhouse gas emitters, including utilities.
The new state and federal programs come with plenty of rules, some of which have yet to be finally determined. Baker Solar Electric can help you determine your best options for making a switch to solar energy. Contact us.