Back to School with Solar-Powered Products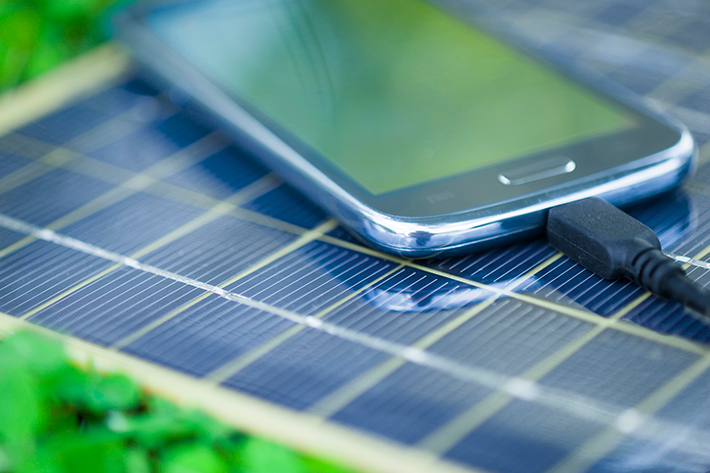 Remember when the coolest thing among all of your back-to-school gear was a solar-powered calculator? Even if math wasn't your thing, you couldn't help but be impressed by the new level of futuristic technology.
That was during the mid-1980s, when solar calculators started to become as commonplace in math class as pencils.
If your school days got underway after the '80s, you probably consider the technology behind a solar calculator about as ancient as an abacus. Considering the breakneck speed of technological advances, you wouldn't be too far off in that assessment, relatively speaking. At more than 30 years of age, solar calculators have fallen into the category of old-school tech for some time.
You'd think that we would've come a long way with sun-powered devices since pocket-sized calculators nearly singlehandedly brought solar power into the mainstream. The handheld number-crunchers demonstrated that solar panels could be counted on to efficiently and inexpensively operate any number of things, from fueling just about everything portable to powering a home.
The micro technology that made solar calculators possible spurred the development of a host of handheld devices, from mobile phones to MP3 players. But those devices are power hungry. Constant streaming and nearly insatiable memory needs require lots of juice, and everyday solar storage hasn't developed as quickly as these devices did. Plus, for the past few decades consumer appetite for green energy has seemed satisfied with limited solar-powered accommodations, like lighting our road signs or garden paths.
That's changing. Interest in renewable energy sources has risen steadily in the last few years, in part due to concerns over climate change. But sharply falling prices of solar panels and gains in solar efficiency have also made solar technology more affordable and practical in our daily lives.
Solar has become cutting-edge again, and consumer goods manufacturers are responding to the shift in solar power's popularity with new products. Just as solar calculators got their start in the classroom, many of the latest solar gadgets may take hold with the school set before they gain traction among the wider consumer population.
Since it's back-to-school season, we've put together a list of some of the latest solar-powered gear for your student. You've already stuffed the Star Wars backpack with school-year essentials or packed your college kid off to the dorm? Remember, the December gift-giving holidays aren't far away.
Solar Backpacks
It's interesting that several solar products got their start among the camping crowd, but it makes sense when you think about it. Limited access to standard electricity can make solar energy a great resource for backpackers and day hikers when they're off the grid. It seems inevitable that today's standard book-bearer, the backpack, would go solar. Several manufacturers, including Birksun, Voltaic Systems, and SolarGoPak (available through Amazon.com), offer USB charging for phones and other devices through solar panels built into the pack.
Solar Phone Chargers
Need something a bit smaller than a backpack to keep your student's smartphone fully charged? Lightweight and affordable, a variety of portable solar chargers are available to keep the current flowing while on the go. Check out TopTenReview's ratings of popular solar chargers for 2016. Or take a look at the sleek Grid2Go charger, which can power two devices at once, and WakaWaka, another from-the-campsite innovation originally intended as a solar-powered LED light source for use by campers and homes with emergency electricity needs. WakaWaka offers the added benefit of social consciousness. Buy one and another will be sent to an area stricken by humanitarian crisis.
Solar Headphones
Help your college student tune out the roommates with solar headphones that don't suck the life out of their phones or MP3 players. OnBeat, a British company, was one of the first startups to build bendable solar cells into the top of the headband to charge smartphones and tablets. Helios went a step further by merging flexible solar cells with Bluetooth technology to wirelessly power the headphones and charge devices.
Solar Reading Lamps
Who says there's only one right way to study? Your college student might forgo a night in the library when the Commons lawn may do just fine. A solar-powered reading lamp like Sunnytech will beam the books while its USB port charges devices.
Solar Bike Locks
The phone is one thing, but who knew a bike lock could be smart, too? Skylock uses sun power to connect the lock to your student's smartphone. It offers keyless access, theft detection, and even crash alerts via an app that notifies your student's trusted network of a mishap.
Solar Toothbrushes
People must brush. Why not in a high-tech way? Let your kids skip the toothpaste and the batteries and put negatively charged ions to work on plaque and tartar buildup with the Ion5 solar toothbrush.
Of course, the coolest solar tech of all could power your family's electricity needs simply and affordably while resting on your roof. Not sure where to start with residential solar panels? Check out our Buyer's Guide to Going Solar and learn the many benefits of a solar panel system for your home.