Del Cerro Baptist Church Chooses Baker Electric Home Energy for 49.725 kW System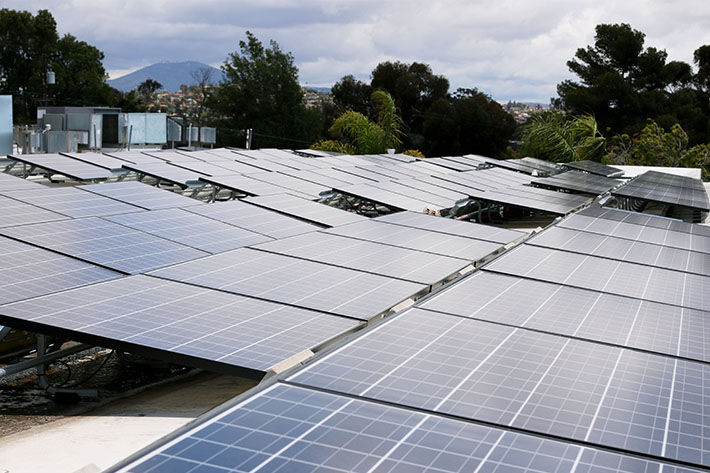 Baker Electric Home Energy designed and installed a 49.725 kW
rooftop solar system
for La Mesa-based Del Cerro Baptist Church. The installation of the 195-Hyundai® 255W
solar panel array
will produce roughly 93 percent of the church's electricity needs and save about $21,000 on their energy bill over the course of a year. In addition, the Baker installation included upgrading the main electrical service panel and the SDG&E transformer.
According to Interfaith Power & Light (IPL), a nonprofit with over a decade of experience helping congregations respond to climate change, more and more places of worship are going solar to promote environmental stewardship and enjoy financial savings. Religious organizations have traditionally lead positive change in their communities and solar is a powerful way to publicly endorse clean energy while highlighting its financial benefits.
"We did our due diligence during the selection of a commercial solar company for our project. We invited four companies to give us a presentation. Baker's presentation and proposal was outstanding," said Del Cerro Baptist Church Pastor Mark S. Milwee. "We also checked with other churches that had gone solar, and Baker's name kept coming up. Our congregation was definitely on board with our selection of Baker. The whole job went smoothly, and they still stay in touch and are helping us monitor our savings."
"Del Cerro Baptist Church is part of a national trend, in which congregations are embracing renewable energy," said Baker Electric Home Energy Director of Commercial Solar, Scott Williams. "When we met with Pastor Mark Milwee and Eldon Emig, the church's Chairman of the Building & Grounds Committee, they made it clear that their goal was not only to offset their high electricity costs, but to significantly reduce their impact on the environment. So, we designed a system that would meet the church's long-term financial and sustainability objectives."
The new Del Cerro Baptist Church
solar system
produces enough energy to power 10 family homes, and will save the equivalent annual greenhouse gas emissions of 129,650 miles driven by an average passenger vehicle. It will also save the annual CO2 emissions equivalent of 58,489 pounds of coal.