Baker Electric Home Energy Brings Solar Energy to Cathedral Catholic High School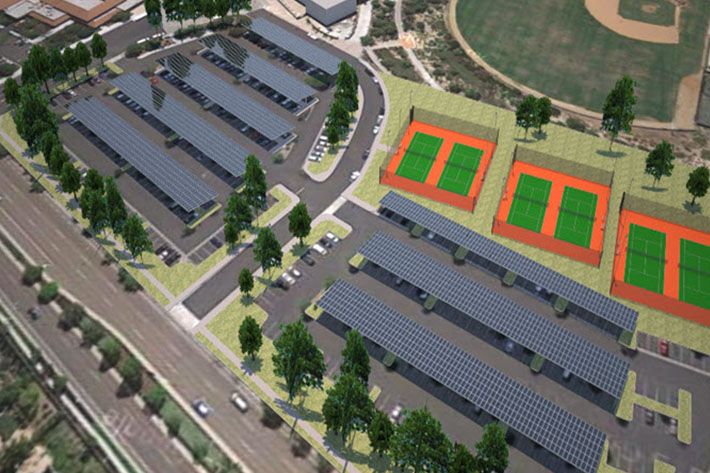 Baker Electric Home Energy has partnered with Cathedral Catholic High School to build a 1.1 megawatt solar system to help the school achieve savings of $80,000 to $100,000 per year on its electrical energy costs. The
solar installation
is projected to be substantially complete by the beginning of the 2016 – 2017 school year.
Baker will design and install 1,798 LG solar panels and 25 SMA inverters using a carport configuration. The Baker
solar system
is being created to complement the high school's building colors and façade. Eight carports will be built by subcontractor RBI Construction.
Cathedral Catholic High School has been focused on faith, knowledge, character, and responsibility since 1957. The new solar system reinforces the school's core values as it educates its students about the importance of caring for the earth and its people through the use of renewable energy and other smart environmental strategies. The project will be featured in the school's weekly CCTV news broadcast as well as in science classes.
Cathedral Catholic President Stevan R. Laaperi said, "After careful consideration, we chose Baker Electric Home Energy for our renewable energy needs. The company has a solid reputation built on the 75+ successful years of Baker Electric, Inc. That, in addition to their proven solar expertise and their previous work on our campus, made Baker an obvious choice. We spend about a half a million dollars a year on electric power. We look forward to significant cost savings as a result of this critical investment."
Baker also offered Cathedral Catholic creative financing through TRITEC Americas' power purchase agreement which gives Cathedral the option to purchase the system outright.
"The Cathedral Catholic solar project showcases an organization with a clear commitment to saving energy costs while supporting the environment and inspiring its students," said Baker's Director of Commercial Solar Scott Williams. "We're honored to be playing a key role in helping the school achieve that commitment."
The Baker / Cathedral Catholic solar 1.1 MW installation builds on the school's previous environmental endeavors of installing 80,000 square feet of artificial turf, as well as switching to super-efficient LED lighting which consumes 90% less power than old-style incandescent bulbs. The Baker-installed car chargers are available to faculty, staff, and students during the school day and to the community at large in the evenings.
"We're focusing on being a green school. We want to be responsible citizens and good caretakers of the earth. That's part of our commitment as Catholics. The savings we realize as a result of going solar will reduce our energy costs and help keep tuition increases to a minimum. This will enable broader community access to the amazing education we provide here at Cathedral Catholic," said Laaperi.