Baker Electric Home Energy No. 607 on the 2016 Inc. 5000 List of America's Fastest-Growing Private Companies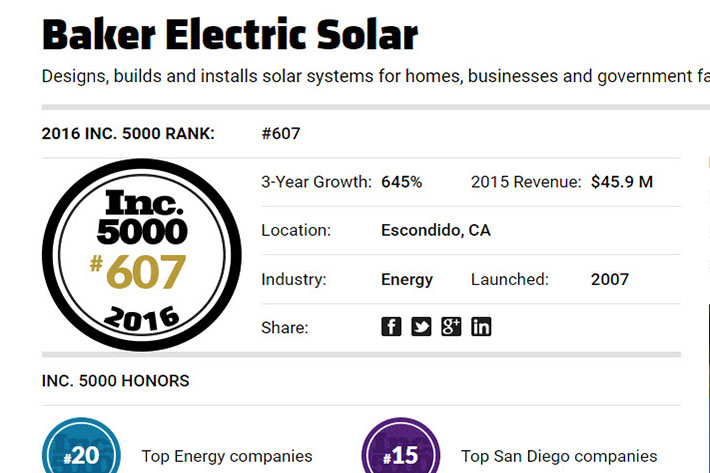 Baker Electric Home Energy is pleased to announce it ranked No. 607 on the Inc. magazine exclusive 2016 list of America's Fastest-Growing Private Companies – the Inc. 5000.
Baker Electric Home Energy's rank of No. 607 this year is up from No. 1926 in 2015. Baker achieved its rank this year by attaining a three-year growth rate of 645 percent with 2015 revenue at $48.9 million. Baker Electric Home Energy was No. 20 out of the nation's top energy companies and No. 15 out of the San Diego area companies on the list.
"The Inc. 5000 list stands out where it really counts," says Inc. President and Editor-In-Chief Eric Schurenberg. "It honors real achievement by a founder or a team of them. No one makes the Inc. 5000 without building something great – usually from scratch. That's one of the hardest things to do in business, as every company founder knows. But without it, free enterprise fails."
"This national achievement puts Baker Electric Home Energy in great company — especially when you consider that there are more than 6 million employer-based, private companies in the U.S.," said President Mike Teresso. "Everyone at Baker is extremely proud to be an honoree on this prestigious list. We're very excited about the exponential growth of our company and the renewable energy industry as a whole. Solar is making a difference in people's lives and the world, and we feel fortunate to be a part of that."
According to Inc., firms must be U.S.-based and privately owned to qualify for inclusion. Revenue requirements for the newly released ranking were at least $100,000 in 2012 and at least $2 million last year.
The 2016 Inc. 5000, unveiled online at Inc.com in September, is the most competitive crop in the list's history. The average company on the list achieved a three-year growth of 433%. The Inc. 5000's aggregate revenue is $200 billion, and the companies on the list collectively generated 640,000 jobs over the past three years, or about 8% of all jobs created in the entire economy during that period.