Baker in the community
Baker Achieves Impressive Ranking on Solar Power World's 2019 Top Solar Contractor's List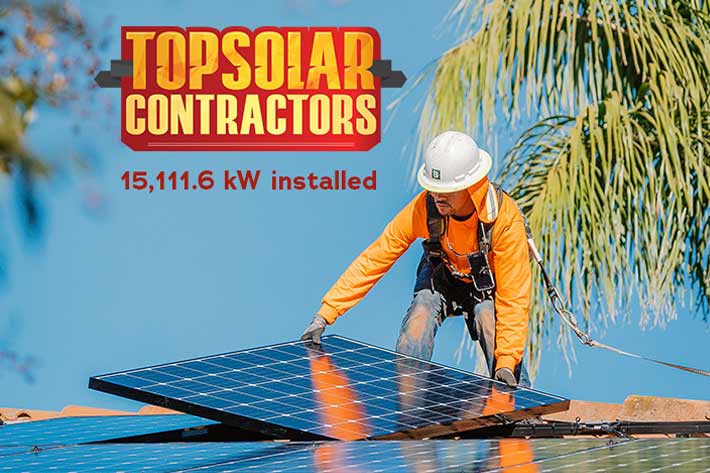 Solar Power World's 2019 Top Solar Contractors in the United States list recently came out, and Baker Electric Home Energy is inside the top 100 solar energy contractors once again against all companies in all categories – not just San Diego solar companies. For the 2019 list, based on 2018 business performance of total kilowatt performance of solar panels installed, Baker Electric Home Energy was shown to be the #3 Residential Contractor in California – impressive considering our residential solar installations are nearly all done in San Diego County, with our reach growing into nearby Riverside and Irvine County areas.
Baker Electric Home Energy president Mike Teresso said, "We're very excited that our company's growth has been recognized once again by Solar Power World. Baker's success is a direct result of our commitment to superior quality, technology innovation and exceptional customer service.  We're now the #1 local residential solar provider in our San Diego County service area and have recently surpassed the milestone of 10,000 residential solar systems installed."
Baker Electric Home Energy was ranked 80th overall out of 415 companies total on the list. Overall rank is based on companies across the United States, not just San Diego solar companies, and including all categories that Solar Power World classifies – so 80th is quite a feat for a residential-only company that builds solar PV home systems mostly in San Diego County (we also cover Riverside County and Orange County with rooftop solar systems).
Further breaking down the rankings, Baker Electric Home Energy was ranked 24th among the top California-based Solar Contractors, among companies in the Service-type category of Rooftop Contractors our rank was 9th, and among companies in the Residential-market group Baker Electric Home Energy finished 12th. In the new category of solar+storage, Baker Electric Home Energy ranked 15th.
Ian Lochore, VP and General Manager of Baker's Solar and Home Battery business commented about our energy storage category placement, "We're excited to be at the forefront of San Diego's growing home battery market. This game-changing technology allows homeowners to optimize and manage their solar power – a perfect complement for any residential energy producer."
We're also proud to promote that our parent company, Baker Electric, Inc., achieved the ranking of 17th overall and for the category by State – based on solar energy installations in each state, not the state in which the company's headquarters is located – Baker Electric, Inc. ranked #1 in Nevada. In the category of Electrical Subcontractors, Baker Electric, Inc achieved the rank of 4th, and in the new solar+storage category it reached the top three with a ranking of 3rd.
According the Solar Power World, a leading solar energy online and print magazine, over the next two years renewable energy is expected to be the fastest growing source of US electric power generation. The market for 2019 is expected to grow 14% and will include over 12 gigawatts of new solar power added in just this year; that translates into enough electric power for 2.28 million average American homes. They attribute part of this 2019 growth to the federal Investment Tax Credit remaining at its full 30% only until the end of 2019; after that the tax incentives drop over two years: to 26% in 2020, then to 22% in 2021, and then the tax credit goes away before the first day of 2022. For homeowners that means 2019 is the last best time to select among the San Diego solar companies to find the best contractor to put solar panels on your home and receive the full tax credit available.
Solar Power World's Top Solar Contractors list is published annually and covers the utility, commercial and residential markets and ranks US solar developers, subcontractors and installers based on kilowatts of solar panels installed.
2019 is a great year to go solar, and Baker Electric Home Energy sets the standard for San Diego solar companies with the highest quality of design, build, components, and customer service for a home solar electric system to provide clean energy and also save you money for many years.
For anyone looking at installing solar panels on their home's roof, or a ground mount array in their yard, we are the right local solar company to design solar PV systems specific to the needs of homeowners, each home's unique characteristics, and the changing cost of electricity in Southern California.