Solar & Home battery
8 Great Reasons to Buy Home Solar in 2019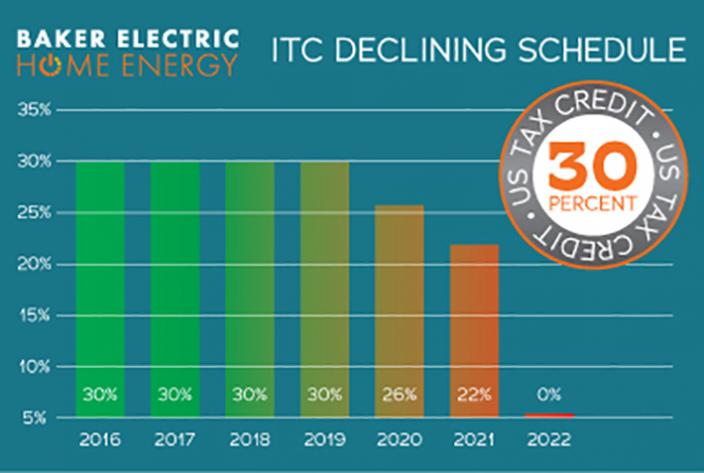 With 2019 past the halfway point, it's important to realize – for anyone considering the decision to get solar – that time is running out to capitalize on the full 30% Federal Investment Tax Credit (ITC) benefit. This federal program drops to 26% for home solar systems that are not installed, approved and interconnected with the utility grid before the final day of 2019. It may seem like there is still plenty of time in 2019 to reap the full tax benefit but installing solar panels in San Diego can be an extended process. There is concern that permitting and approvals in some communities will bottleneck as we move toward year end and homeowners realize they're leaving money on the table if they miss the ITC deadline.
We put together the answers to eight common questions. You'll get a solid overview of the ITC and learn how you can take 30% of the cost of your solar or solar + battery system off your federal taxes. And we'll break down why there is less time to take advantage of this very generous credit than you might realize. A solar system is undeniably a long-term financial benefit with positive impact on the environment. Here are the reasons to purchase now!
WHAT'S SO IMPORTANT ABOUT THE FEDERAL INVESTMENT TAX CREDIT?
For those homeowners considering solar or solar + a home battery, it can't be stressed enough that 2019 is the time to purchase! This is the final year to take advantage of the ITC at 30%. Here's an example of the significant financial benefit you could experience: The average solar system costs around $30,000 to purchase and install. That means most taxpayers can deduct $9000 from their 2019 federal income tax liability! Every year, homeowners walk away from thousands of dollars because they delay their solar or solar + home battery investment. So, Baker is ensuring we educate as many homeowners as possible about the tax credit and the reasons why it's important to become a solar energy producer this year. Once again — 2019 is the final year to get the full 30% Federal Investment Tax Credit!
HOW IS A TAX CREDIT DIFFERENT FROM A TAX DEDUCTION?
A tax credit is different than a tax deduction or write off. A tax deduction lowers your total taxable income, a credit is applied to the actual taxes you might owe when you file. There are a few limitations but in general, in 2019, 30% of the total you spend on buying and installing a home solar or solar + home battery system goes directly toward paying your tax bill! If you don't use it all on your 2019 federal tax bill, the excess credit can be rolled over to your federal taxes for the following year, for a limited time (please consult your tax professional on how rollover limitations would affect you).
WHEN DOES THE ITC END?
The ITC will decrease over the next two years and by 2022 the tax incentive for homeowners will end. So, to take advantage of the ITC at 30% requires purchasing solar or solar + a home battery and getting installed by the end of this year. Starting 2020, the ITC steps down to 26% and in 2021 it goes down to 22%. By the start of 2022, the ITC tax incentive ends. Currently there are no plans for an extension ITC so the time to act is now! Here's why time is of the essence: The actual installation is a one to three-day event, however the entire process including working with your HOA, obtaining permits and getting your utility's sign-off could take up to 90 days. After installing nearly 14,000 residential solar systems in the San Diego region, Baker is a local solar industry expert. We know how to ensure the engineering, design and installation proceed as smoothly and easily as possible. However, each home and community are unique, so it makes sense to factor in plenty of time. The key is to get your solar panels installed and operating by the end of 2019.
WHY INSTALL SOLAR NOW IF THE ITC DEADLINE IS IN DECEMBER?
Here's what's going to catch a lot of people off-guard later in the year. To get the full 30% tax, your solar system has to be fully operational, with your "Permission to Operate" from the utility before the end of 2019. Unfortunately, with more homeowners racing to meet the tax credit deadline, this process is likely to grow longer as approvals, permitting and inspections bottleneck at the end of the year. The actual installation time is often one day, sometimes up to three, but it's the 'behind the scenes' process that takes a lot longer than you might think; it can take up to 90 days to survey, approve, permit, design, engineer, install and energize the best system for your home.
WHAT IS THE COST OF A HOME SOLAR SYSTEM?
The cost of a solar system varies because each design is based on your family's current and future energy needs, available roof space and configuration and possible shading issues. Baker designs our solar systems to offset as much of your home's electric bill as possible with renewable energy that you produce and own. A purchased solar system is typically designed to pay for itself in 6 – 7 years. After that, it's money in your pocket. And because utility rates will continue to rise, just consider your total cost savings over twenty years! If you know of any other investments that can come close to that type of return with the same low level of risk (using money you would be spending toward electricity anyway) you surely would have money invested in them! And in addition to energy cost savings, some homeowners sell back their excess energy production to the utility via a billing system called Net Metering.
WHAT IF I PRODUCE MORE ELECTRICITY THAN I NEED?
During the day when your solar system is producing energy, your family uses what it needs and any excess electricity is automatically routed back to, and purchased by, your power utility. The utility reimburses you via Net Metering as a credit on your energy bill. Some homeowners have purchased home batteries like the excellent technology available from Tesla, to store and use their excess energy production. A battery provides not only back-up electricity during a power outage but allows you to use your own (and far cheaper) energy during the expensive Time-of-Use hours of 4:00 pm – 9:00 pm. Solar customers are increasingly convinced that home batteries provide the control and energy independence they've been looking for!
WHAT ABOUT TODAY'S SOLAR TECHNOLOGY?
Future technologies are interesting but can't compete with the power, efficiency and value today's solar panels offer. For example, solar roofs have gotten a lot of attention but output and cost still make them about 4 to 5 times more expensive than a traditional solar panel system. The return-on-investment is almost non-existent. Solar glass is real and a good fit for high rise buildings with a lot of glass acreage, but not a realistic option for a house. Solar paint has people thinking they'll re-paint their house, bolt a couple of wires to it and produce electricity but this is – in 2019 – a future concept and not a realistic home option.
IS THERE ANY REASON TO WAIT TO PURCHASE A HOME SOLAR SYSTEM?
There is no reason to wait and every reason to buy your solar system now! The ITC is still at its peak of 30% and solar technology components are at their best. The major improvements in residential systems took place roughly between 2010 to 2014. During that period, solar panel power production increased by about 250 to 300%. Also, renewable energy systems have increased in popularity which has led to large-scale component production and competition is keeping cost to consumers low. So, three factors combine to make this a great time to go solar: technology is nearly as good as it's going to get for the foreseeable future, component costs are low, and the ITC tax credit is still at 30%. This is the ideal time to call Baker to learn more.
Baker Electric Home Energy is a local, family-owned company built on over 80 years of electrical contracting experience and we've installed nearly 14,000 residential solar systems. More and more Southern California homeowners realize this might be one of the best investments they ever make (ask your tax professional about that, too!). The Baker Way™ of doing business is based on rock-solid ethics and values. We pride ourselves on delivering expert energy solutions and long-lasting quality. Installing a world-class solar system for you and your family is the smart thing to do, and getting it right now is the smart time to do it.
Check out this website page if you'd like us to get in touch with you.
Or give us a call at 877.578.8080
And learn about becoming a renewable energy producer and how it can save you big money for many years to come.