A heating and cooling system is the heart of your home
And like a real heart, it requires some love and care. Without that care, your heating system will be less effective at keeping your family comfortable as it ages. Poor operation can also wear out your system faster, increasing your energy costs and decreasing indoor air quality.
Does your heater need a service or repair?
If you're here because your home isn't heating like it should, look no further. That's a sign you need heating service or repair. Just give us a call — we'll diagnose the issue and offer the furnace service you need.
Other signs your system needs some TLC may include:
Increased electricity bills
Unusual noises
Cold spots in your home
A burning odor that doesn't go away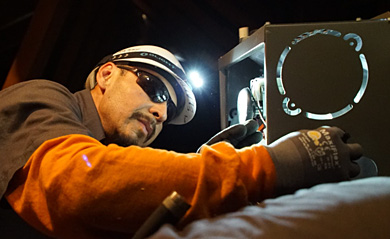 No need to wait for these to become an emergency. In fact, we recommend you don't! Let our expert technicians fix any underlying issues before they become your next expensive headache.
Our professionals are trained on all brands and models, so we can confidently handle your furnace repair, whether we installed your system or not. Each technician is also HIS Licensed, EPA Certified and well-versed in safety measures.
Routine maintenance
Routine maintenance is the best way to prepare your heating system for changing seasons, prolong the life of your equipment, and prevent expensive repairs. A system that isn't maintained will waste energy (hello, expensive energy bills!) and have a much shorter life (and that's not cool).
Half of the energy use in your home is dedicated to heating and cooling. Your whole family depends on these functions, and the air from your system impacts their health and productivity. For that reason alone, it's worth keeping an efficient and clean system.
 
When you should service your heater
We recommend a routine furnace service appointment once a year, during late summer or early fall months. Our 30-point inspection and tune-up services help you stay on top of insulation, air sealing and thermostat settings to maintain efficiency. Not only is this good for your equipment, but it could help you save up to 30% on your energy bill too! Learn about our home service plans here.
When you should replace your heater
A well-maintained heating system will typically last about 12 years. If yours is older or requires frequent repairs, a new one will likely cost you less and serve you better. Our experts can help you decide if a tune-up is all you need or walk you through replacement options that fit your budget and needs.