Roofing Homepage
GAF Solar Roofing
Solar roofing uses solar shingles instead of traditional bulky solar panels. How does that work and is it right for you? Find out here.
Solar roofing is just one of many recent innovations in the solar industry. It provides solar energy using solar shingles instead of conventional solar panels. These solar shingles serve double purposes — they generate electricity plus replace a roof's traditional shingles.
Advantages of solar roofing
Solar panel roofing tiles look similar to asphalt shingles, the most common type of roofing material. Their appeal really boils down to aesthetic value — they're less bulky and have a sleeker design than roof-mounted solar panels. For some homeowners, the look of solar panels is a dealbreaker, so solar shingles is a great solution.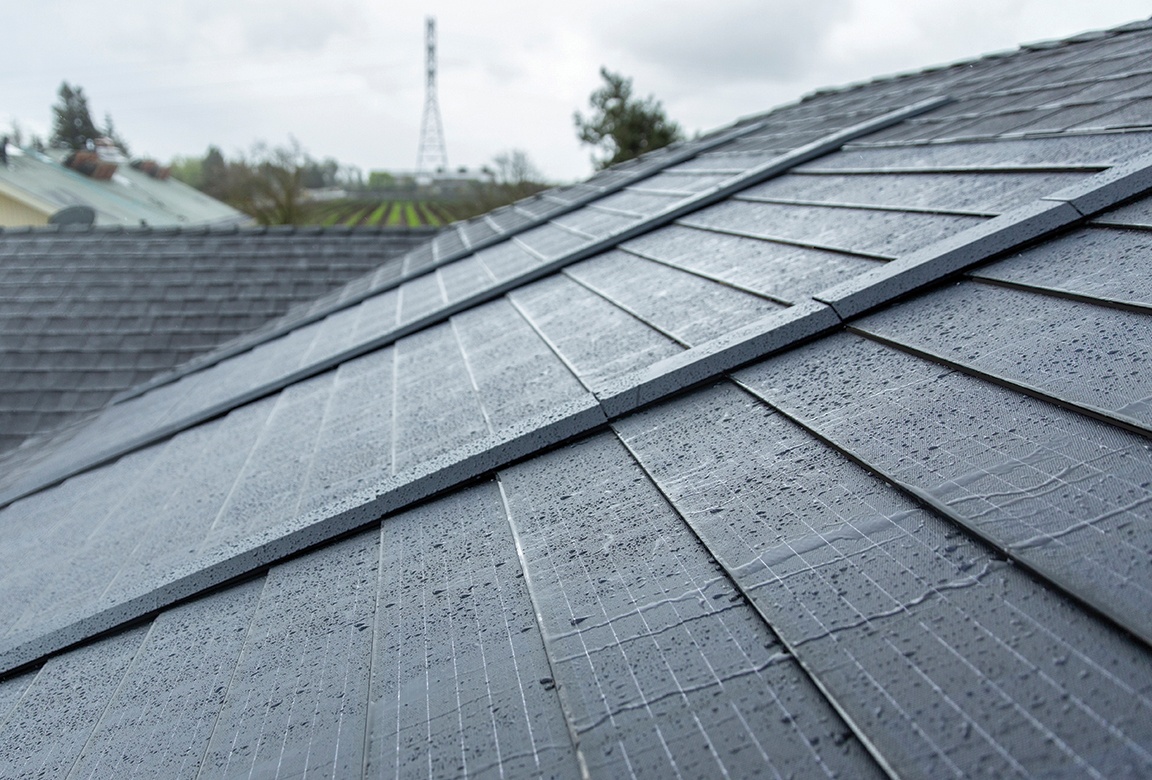 Are solar roofing shingles right for me?
Considerations include the roof's age, slope, construction, and where and how much direct sunshine or shade it gets. Since solar shingles must follow the orientation of the roof, it's important to make sure the angle will capture enough sunlight to fuel your energy needs.
If you're already in the market to replace yours, this could be a useful way to combine two projects.
These new GAF Timberline Solar Shingles are a composite shingle product. The transition from a standard composite shingle roof to the new GAF Timberline Solar Shingle roof is seamless. It would be possible to convert tile roofs to the GAF Timberline product as well , and our consultants would advise the work needed for this on a case by case basis.
Professional Consultation
Baker Electric Home Energy installs solar shingles and offers free consultations to assess your solar energy needs. We can help you determine which system would work best with your roof, home, and electric consumption.   
Learn more about how we customize solar energy systems here.  
Exploring a new roof or partial reroof? Our Roofing Experts can help with that too.  
A new look for clean energy
Baker Electric Home Energy is approved as a GAF Certified Roofing Contractor and holds the GAF Golden Pledge Warranty. This outstanding manufacture warranty is the best in the business, and Baker's roofing team of experts always recommended this to our customers. Certified™ status is only offered to about 5% of roofing contractors in North America. Baker has earned this designation by exhibiting an uncompromising commitment to the highest standards in sales, service, and installation and are authorized to offer the GAF Weather Stopper® System Plus Ltd. Warranty.
Manufacturer warranty:

GAF: 50-year Golden Pledge warranty.

Warranty is transferrable once to the next homeowner, FREE, so it might even add to the resale value of your home.

Gives true lifetime, non-prorated coverage on the roofing system + workmanship warranty of 25 years. That's 15 years longer than the average 10-year workmanship warranty.