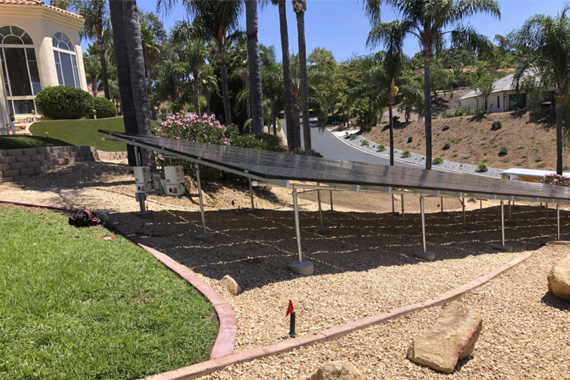 Solar products
San Diego Ground-Mounted systems
Ground-mounted solar energy systems are great if you need more power and space than a rooftop system can provide.
Think outside the roof
When your roof isn't the right fit for a solar system or you need more capacity, ground-mounted might the way to go.
What is a ground-mounted solar system?
A traditional ground-mounted solar PV system is anchored to the ground, holding several stacked panels with two rails supporting the panels. Panels can be positioned in either landscape or portrait format.
A tracking ground-mounted solar panel system includes a motorized system that tracks the sun throughout the day, making sure your panels are always facing the sun.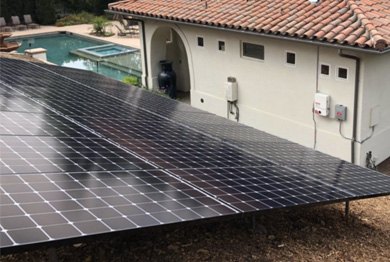 What are the benefits
Ground-mounted systems offer a great alternative if your roof isn't ideal for a solar panel system and you have some open land.
With ground mounts, we have more control over positioning and can choose angle alignment for maximum energy production. All this leads to more savings for you!
Ground mounts allow more air circulation under your solar panels, which helps them stay cool.
Maintenance is naturally easier since your system is at ground level.
What are the drawbacks?
Installation can be a bit more involved since we first need to build the structure (vs. having a roof structure already).
While you'll be making good use of it, you need to plan 25+ years in advance how you want to use your land because once you've installed your system, you don't want to move it.
Can I go ground-mounted?
One of the most common questions we hear is, "what is the footprint of a ground-mounted solar system?". This could range from the size of a car to the size of a football field depending on your energy needs. Most will fall closer to the size of a school bus.
If you've got room and you'd happy with allocating that space, you might be a good candidate for a ground-mounted system.
How do I get started?
You don't need to figure this out yourself. Our experts know exactly how to help you size your system and understand how much space you'd need for it. And when you're ready to install, we're skilled in maximizing the pitch and direction for optimal production.
If ground-mounted isn't a good option for you, we'll help you explore other possibilities, like a roof-mounted system.