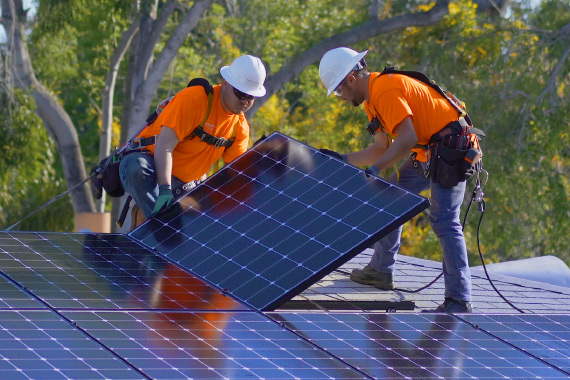 Make sure you ask the right questions
Solar energy is a great decision for most homes in southern California, but choosing the right firm to handle your design, specification and installation can be daunting.
At Baker Home Energy, we want every customer to feel100% confident they've made the right decision in choosing us as their solar partner. So we've created this resource to help you understand key considerations and provide you with some resources you'll need.
Read the official state guide to going solar
California Solar Consumer Protection Guide
The official state guide about how to select a solar supplier. We insist you read it so you're confident in choosing Baker Home Energy!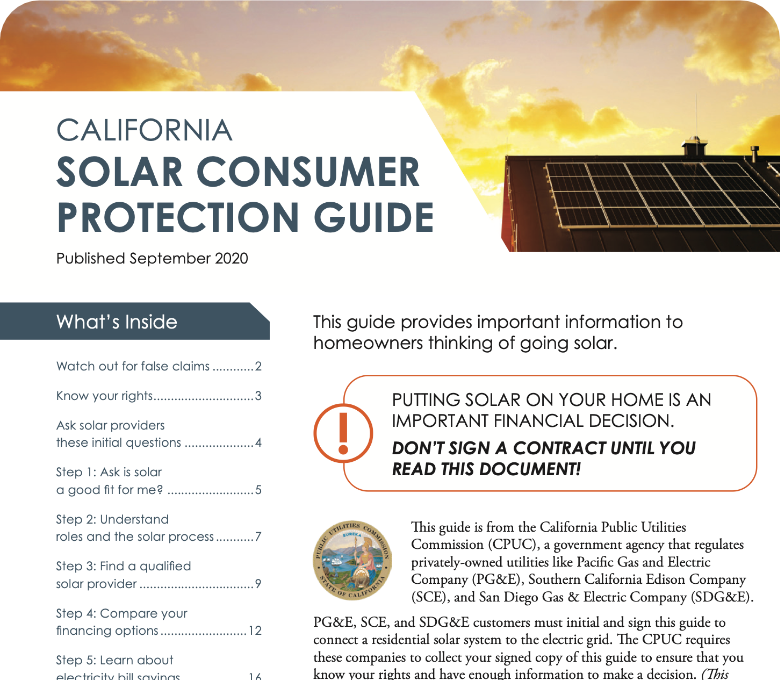 This guide was created by the California Public Utilities Commission (CPUC) to help anyone looking for a home solar solution. It takes you through the benefits solar will bring your household, what to expect in terms of solar costs, how to get solar quotes and how to understand what you're purchasing.
It's an unbiased resource and covers all key considerations. By law, you'll need to sign the guide to confirm you've read it before you purchase a system.
Baker has always done business based on these guidelines so we're particularly pleased this information is now a required step in the solar purchasing process. We believe an informed solar buyer is a happy solar buyer.
In addition to the guide, here's a list of questions every homeowner should ask when selecting a solar provider:
How long has the company been in business?
The solar industry has seen huge growth over the past three years. This has brought many new players into the solar market — some good, some amateur and some a complete scam. In this highly competitive market, many companies don't have the competence or financial stability to stay in business. When considering a solar installer, ask yourself, "Will my solar installer outlast my solar system?"
'Orphaned' systems are unfortunately common in the industry. These are solar solutions installed by a firm who then goes bankrupt, leaving the homeowner without the warranty cover and support they believed they were paying for. This is why it's so important to select a supplier with a long track record and stable finances.
Where are they based, and do they have a commercial facility?
At the very least, a solar company should operate from an office with warehouse space for storage of solar panels and equipment. In addition, the company should have internal support staff as well as at least one factory-trained technician. We advise not to partner with a company that can't afford to warehouse inventory. This important step helps identify a company with financial strength.
What are their reviews like?
Take some time to check sites like Yelp, Google, Facebook and BBB.org to read customer reviews and make sure the solar company you're considering has a positive track record with customer satisfaction.
Do they do business in any other state?
If so, be sure to search online for complaints filed in the state(s). You might be surprised at the audacity of get-rich-quick companies that move into a city or state, open up a shop, and then proceed to take customers to the cleaners with their inferior products, poor installation and service until their reputation catches up with them.
What licenses and insurance does your company have in place?
This is one of the most important questions to ask. Many companies do not have a contractor's license, and the only way you can get contractor's liability insurance and a workers' compensation policy is if you are licensed. If a company doesn't have these policies in place, you as the homeowner could be liable for an on-the-job injury.
In California, use http://www.cslb.ca.gov to check the current status of the company's license. Ideally you want a full C-10 contractor vs. just C-48 licensed.
Ask for a copy of the company's liability and workers' compensation policies before signing a contract. And never let anyone perform work on your home or business without first seeing evidence that he or she is an employee or subcontractor of the contractor you are working with, and is covered under the contractor's or subcontractor's insurance.
Are the installers part of the same firm, and are they properly trained and licensed?
When you compare solar companies, you want to make sure all of their solar installers are licensed electricians. Our parent company, Baker Electric, has been an electrical contractor for over 75 years, so we send only licensed electricians to complete your solar panel installation. Our solar installers are members of local union IBEW 569. We never subcontract out. Be wary of solar companies that do, as subcontracting solar installers can cause problems for a solar provider and for you.
Our team of solar installers even shows up to your house with their own portable toilet, so they won't have to use yours during the installation. This isn't something people normally think about when buying a solar system, but it does save you a lot of hassle.
What warranties are offered?
There are two types of warranty: product warranties and work workmanship warranties. Make sure you get both.
Product warranties vary from manufacturer to manufacturer but most solar panels are under warranty for 20-25 years and inverters are covered for 10-25 years. Each solar installer's workmanship warranty will vary in duration and coverage.
At Baker Electric Home Energy, we exceed the industry design and installation best practices. We use only premium components through every step of the process and take the extra time necessary to ensure the integrity of both your installation and your roof. We're so confident you won't have a problem with our workmanship that we cover it with a 10-year warranty.
What quality of solar panel and equipment is offered?
Not all solar panels are the same quality, and the cheapest on the market do not offer the same performance as quality panels. Likewise, the quality of the fixtures and fittings can vary widely; don't overlook these.
Choosing good quality products means years of trouble-free energy generation, so be very clear about what is included in your quote. Pay particular attention to the solar panel efficiency rating and warranty period.
Our three panel brands are top quality and are from well-recognized companies: SunPower, LG and Hyundai. We have long standing relationships with our manufacturers, so we can buy panels at great prices that we pass onto you.
Are they transparent and unbiased about the financing options?
Solar is a big investment, and most people can't afford a cash purchase. For most people who need to finance solar, a loan is the best option, though leases can work well in some circumstances. Be wary of any supplier who pushes you down a particular financing route. Some national suppliers make their money from finance rather than designing or installing the system, which they simply outsourced, so they have vested interests in the finance you choose.
At Baker we have a number of different options including loan and leasing. We will help you select an option that best fits your family's budget.
Will they take the hassle out of dealing with the authorities and utilities?
The end-to-end solar process is very complicated if you're trying to do it alone or your solar provider is only taking responsibility for part of the process. In particular, look at permitting and utility company approval.
Permitting: getting permission from your town to install your solar system is a complicated and time consuming process when you're buying a solar system. A good solar installer will be an expert in this area so they're a huge help to have on your side.
Utility company approval: this is a complicated process to navigate and you'll need to be able to understand the detailed and highly technical language of your electric company. That's not a headache we want you to have to deal with.
Will you be properly trained on the use and maintenance of your solar system?
Some solar installers slap a system on your roof and call it a day. But that's not how we operate. When you compare solar companies, look for ones that also train you on the use and maintenance of your solar system. Because we've installed thousands of systems, we have some pretty good advice on how to get the most out of your solar investment. Understanding the ins and outs of monitoring your solar panel output is important, so only compare solar companies that also teach you how to use, monitor and maintain your system.