If you've made any appliance purchases in the last 15 years, you've probably seen the iconic yellow EnergyGuide label (below)—required on most U.S. appliances—that lists the efficiency, or SEER rating, to help inform consumers' choices. The Seasonal Energy Efficiency Ratio (SEER) rating listed on your AC's EnergyGuide label tells you how energy efficient your unit is: higher numbers equal more efficiency. That number is calculated by dividing a system's cooling output by the total power it consumes throughout the cooling season (summers).
While SEER sums up an AC unit's efficiency over the length of a season, the Energy Efficiency Ratio (EER) calculates the system's instantaneous efficiency by dividing the BTU (British Thermal Units) rating by the wattage. The efficiency of central air-conditioning units is determined by both SEER and EER ratings. The higher the rating, the more-energy-efficiency the unit will be.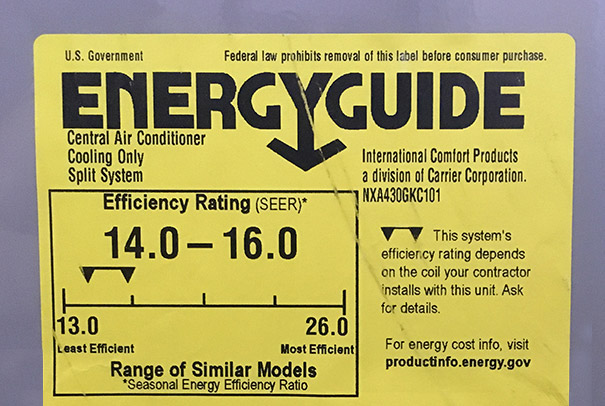 ---
As your unit ages over time, it becomes less energy efficient, and the SEER rating declines by 1 point every 4-5 years.
---
Below, we discuss the typical range of SEER ratings for AC units and how they influence prices, potential energy savings, as well as the minimum SEER requirements for your AC unit in California.
Everything You Need To Know About the SEER Rating of Your AC
A good SEER rating for your AC depends on several factors including the local climate, the size of the unit, as well as any additional features. A high SEER AC unit with features like multi-stage cooling will work better in high-humidity areas, whereas lower SEER AC units function well in mild climates in which humidity is not an issue. The following are some key points you should know about the SEER rating of AC units.
Range of SEER Ratings
Most modern air conditioners have a SEER range between 13 and 21. Since January 2006, the Department of Energy has mandated that all residential AC units must have a SEER of at least 13. ENERGY STAR-qualified central air conditioners meet the energy efficiency guidelines set by the U.S. Environmental Protection Agency (EPA) and have a SEER of at least 14.
Purchasing an AC unit with a higher SEER rating is generally more expensive than buying one with a lower rating. However, the higher upfront costs balance out with lower utility costs in the long run. The costs to purchase and install a high SEER AC unit will vary according to the size and brand you choose. In general, a dual-stage or variable-speed AC unit with a SEER of 16 will cost $300 to $800 more than a single-stage SEER 14 unit. It's worth noting that higher SEER units require no additional labor to install as most use the same air handlers. The cost of the condenser in a high SEER AC unit is what actually influences the overall cost.
Minimum SEER Rating in California
The U.S. Department of Energy first implemented energy conservation standards in 1992. Those have been updated several times, with the most recent update going into effect on January 2015. The Department has enforced minimum SEER requirements based on regions — North, Southeast, and Southwest. California—a hot-dry Southwest region—has a minimum SEER rating of 14 for both split-system and single-package AC units. Installing AC units as per regional SEER standards is the law and violations will lead to penalties.
Energy Savings with Higher SEER
AC units with lower SEER are usually single-stage and run on only one speed. The frequent turning on and off of such units in mild weather produces uneven cooling and results in higher energy consumption. A higher SEER unit AC has a dual-stage, or variable speed compressor and variable speed blower, that enable multi-stage cooling and keeps the unit running more consistently instead of starting and stopping.
The ENERGY STAR-certified air conditioners consume 8% less energy than conventional new models. Upgrading your AC unit from SEER 9 to SEER 14 can reduce your energy consumption by more than 35%. This means if you pay $100 a month for direct cooling costs, you can reduce your monthly utility bill by more than $35 if you upgrade to a SEER 14 AC unit.
When it comes to SEER ratings for AC, there is no magic number: anything above 13 is considered good, as long as it helps reduce your utility bills.
In 2023, the new Department of Energy SEER2 efficiency standards are expected to go into effect. For homeowners in California, this would mean switching to a SEER2 rating of at least 14.3 for all systems below 45,000 BTU. You will need to consider all these factors when purchasing an AC unit. Recommendations from an expert HVAC professional that stays on top of industry changes can help you determine the right SEER AC unit for your home.
Partner with An HVAC Expert to Determine the Right AC for Your Household
At Baker Electric Home Energy, we are a one-stop source for everything related to HVAC in Southern California. Whether you need to install a new AC unit, repair an old one, or schedule routine maintenance, our certified and licensed technicians are committed to keeping you comfortable year-round while improving your energy savings. Serving San Diego and beyond for almost 85 years now, we are more than just HVAC experts, we are your neighbors.
Baker Electric Home Energy provides HVAC services ranging from tune-ups to safety inspections to complete overhauls, including the most energy-efficient equipment available in the industry. For more information on the SEER rating of AC and the best system to address your home's heating and cooling needs, contact us.