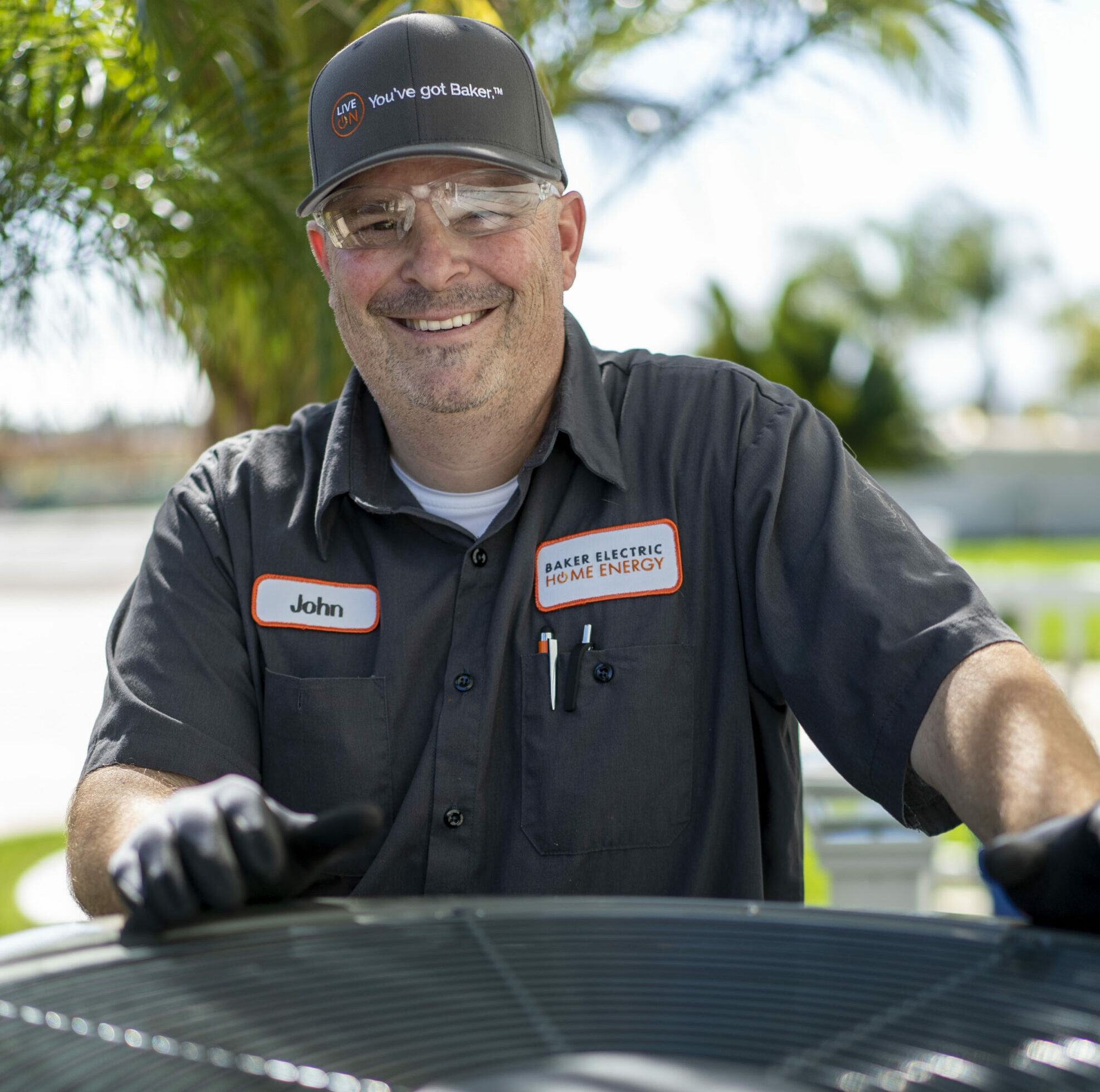 San Diego Air Conditioning Installation and Cost
AC Calculator
Find out how Baker Electric Home Energy can meet your needs with reasonable AC installation costs in San Diego. We can help turn your home into your comfort zone and save you money on utility bills. Check out our AC Savings Calculator to see how much you could save with a new system!
AC Calculator
What Does AC Installation Cost in San Diego?
Are you considering an air conditioning upgrade in your home before summer reaches its peak in Southern California? If your window units just don't cut it any more, upgrading to central air will keep your whole house cool and comfortable throughout the year. Central AC installation costs in San Diego might just surprise you—and could be a game-changer for both your comfort and your wallet. A new AC unit is automatically more energy-efficient than older systems and may be eligible for federal incentives under the Inflation Reduction Act.
At Baker Electric Home Energy, we understand your concerns about energy efficiency, noise levels, and indoor air quality when switching to a central air conditioning system. Our team of certified technicians will tailor solutions to meet your requirements for AC installation and costs in San Diego County.
We are your one-stop solution for all things related to central AC installation, repair, and service in San Diego
Benefits of Central AC Installation in San Diego County
Late summer in San Diego can be surprisingly hot, with temperatures soaring into the 80s. A central AC system can keep you comfortable indoors and offer additional significant benefits:
Quick cooling: Window and wall AC units take longer to cool an entire house after a hot summer day. Central air conditioning maintains the temperature you set on the thermostat throughout the day and provides even cooling throughout the house.
Minimal noise: Compared to conventional window and wall AC units, central AC systems make significantly less noise because the condenser unit is located outside.
Higher efficiency: A central air conditioning system uses less electricity than window or wall AC units and is more energy-efficient than stand-alone units.
Improved aesthetics: The only visible parts of a central AC system are a few air vents. Most components—including ductwork and air handling units—are installed out of sight in attics, basements, and the backs of closets.
Low maintenance: With annual inspections and routine maintenance services, central AC systems can operate at optimal levels for several years.
The benefits of a central AC installation and its costs are best realized when you have an energy-efficient system in the right size to address your home's cooling needs.
Get in touch with our air conditioning team for a cooler,
more comfortable home
Choosing the Right Central AC Installation for Your Home
Always remember that your electricity bills are heavily impacted by the air conditioning system you choose. Here are a few things to look for in a central AC installation—besides cost—in San Diego County:
SEER ratings: The minimum standard Seasonal Energy Efficiency Ratio (SEER) rating for AC systems differs by geographical location. As a San Diego resident, look for a central AC system with a minimum SEER rating of 14.
ENERGY STAR® Certification: Central AC systems with ENERGY STAR ® and EnergyGuide labels are 15% more efficient than standard models. Purchasing ENERGY STAR® certified products may also qualify you for utility rebates and energy tax credits.
Features: Comfort control, remote adjustments, optimized airflow, temperature overrides, and humidity control are some common features a central AC system might provide to keep your indoors cool.
Pricing and Warranty: A central AC system is a significant investment, so be sure to protect it with a solid warranty.
Most importantly, you need technicians you can trust to advise you on the right central AC installation and cost for your San Diego home. The technicians you choose should be qualified to install new systems, repair older ones, or perform routine maintenance. At Baker Electric Home Energy, we use only the most trusted names for home cooling—Carrier and Lennox brands—with financing options to help you make cost-effective choices to cool your home.
Baker Electric Home Energy has served the Southern California area for over 15 years and provided clean energy solutions to more than 17,000 of your neighbors. Our way of doing business, The Baker Way®, which includes delivering extraordinary service and building customer confidence, is exemplified by being awarded the Torch Award for 2021. For more information on Central AC Installation in North San Diego County, contact us.