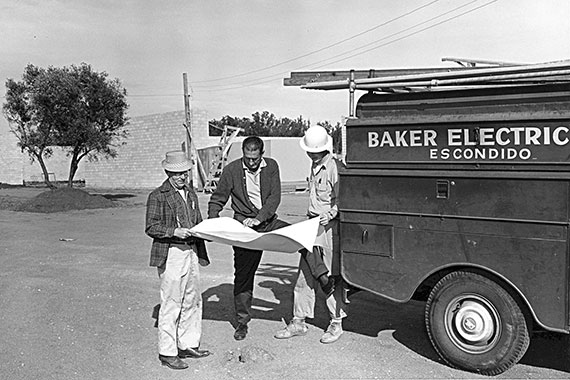 About Baker
Serving Southern California since 1938
We put our customers first, exceed industry standards, use high-quality products and offer unmatched service. We call it The Baker Way®, and it's how we've done business for over 84 years.
Electrical pioneers
Established in 1938 by Leroy Baker, Baker Electric, Inc. is a fourth generation, family-owned business that began in Escondido, California, where it's still headquartered today. A member of the National Electrical Contractors Association since 1957, we've been engineering and installing electrical systems for more than 84 years for a variety of industries in both public and private sectors.
Over the past ten years, our company has become one of the leading contractors in renewable energy technology as well in addition to having successfully installed thousands of solar powered systems across Southern California. Our commercial solar installation experience is extensive, with over 1 gigawatts (GW) of solar contracted to date. NB Baker Electric, Inc. was formed in 2007 to facilitate our continued expansion into the residential solar installation sector. We have over 20,000 residential solar customers within our San Diego County, Orange County, Riverside County and San Bernardino County service area.
The Baker Electric family of companies comprises of Baker Electric, Inc. and NB Baker Electric, Inc., which are affiliated yet independent entities that both operate under the Baker Electric and Baker Electric Home Energy brand names.
Our history
Leroy Baker graduated from the University of Nebraska and moved to New York to work for GE. After a number of years, he made the decision to migrate out west and ended up in Missoula, Montana where he served as one of only four electricians in the area. Leroy was fond of hunting and fishing and the sprawling landscapes of Montana proved to sate his desire of the outdoors.
The Great Depression affected millions around the world. Leroy witnessed the three other electricians in Missoula slowly go out of business. In 1936, he hung up his climbing hooks and left his life of stringing aerial electrical wire in Montana to move to San Diego where his wife's family lived.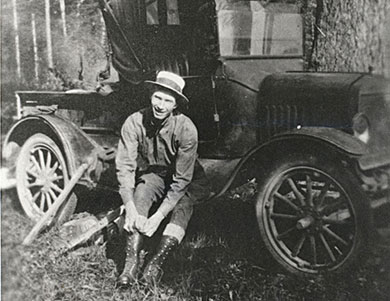 Settling in California
In 1938, San Diego County was home to less than 300,000 people, many of which traveled to the region in hopes of finding a better life in the wake of the Great Depression.
Balboa Park had just hosted a World's Fair two years prior, Bing Crosby was at the opening of the newly constructed Del Mar Fairgrounds and the San Diego State Teachers College was recently changed to San Diego State College (present-day SDSU). The city and surrounding area were booming.
Two years after arriving in San Diego County, Leroy Baker purchased a local electric company called Dietrich Electric for $4,000. While he did not realize it at the time, Leroy would soon begin the Baker legacy of excellent customer service and quality workmanship in electrical contracting.
Neville L. Baker, Leroy's son, moved to San Diego in the early 40s for health reasons and took up the occupation of electrical work at Camp Pendleton and Naval Base San Diego. With the war in full swing and America fully involved, San Diego military bases and camps expanded to accommodate the thousands of young men and women that were arriving for training. There was plenty of work to be had.
In 1942, Neville joined his father at Baker Electric where he continued to do work at Camp Pendleton and all of North County San Diego.
Approximately eleven years later, in 1953, Neville became President of Baker Electric after the passing of his father, Leroy. Neville continued to grow the company despite the Korean War's effects on the electrical market. The mid-50s were a time of great growth for the company. It was the time of transitioning from the average appliance repair and pipe and cable job to commercial electrical contracting. In 1955, Neville incorporated his small business, making Baker Electric into Baker Electric, Inc.
Becoming a Member of NECA
In 1956, Baker Electric, Inc. acquired its Electrical Contracting License. Prior to this time, the laws were loose and a license wasn't required to perform work. One year later, Baker Electric, Inc. joined the then small group of electrical contractors in the National Electrical Contractors Association.
1961 was a milestone year for Neville and Baker Electric, Inc. That year Baker began installing the electrical wiring for the Escondido Village Mall. This mall was said to be the first fully enclosed mall in California where one could stroll from one store to another without touching a door or even seeing one. This project really launched the company into the commercial electrical contracting arena.
That same year, Neville was elected President of NECA San Diego. The Master of Ceremonies. The actor-turned-politician Ronald Reagan. Of course, Reagan wasn't President yet, but after years of serving in the Screen Actors Guild, he was very involved in union relations.
After serving in the US Army, Kent Baker joined the Baker team as an Apprentice in 1960. He absorbed as much knowledge and information as he could from his father over the years until taking over as President of Baker in 1982. Following in his father's footsteps, Kent became President of NECA San Diego in 1983.
Baker Electric, Inc. started installing commercial solar panels in partnership with GE in the 90s. However, this only lasted for about four years as solar was still in its infancy. In 1994, after five years of working for a general contractor to gain outside experience, Kent's son Ted Baker joined Baker Electric, Inc. as an estimator. Ted grew into his position and learned the ins-and-outs of Baker Electric, Inc. He helped the company save money and continue to grow for years. In 2000, Ted took over as President of Baker, where he remains today.

The Legacy
Working with our neighbors and local communities has always been a big part of what Baker does. Making homes and businesses safer and best-equipped with proper electrical work while delivering amazing customer service has been the core of the company all the way back to Leroy Baker in the 30s.
Business was growing despite the economy slowing. In 2006, Baker Electric, Inc. built a new office and warehouse located in Escondido. The building is close to 30K sq ft and now serves as the company's Corporate Headquarters.
Around the same time, a demand for solar installations had come back in a big way and Baker Electric, Inc. was installing solar on new homes and commercial buildings. With so much potential for meeting the renewable energy needs of homes and businesses, Baker Electric Solar was introduced in 2007.
In 2008, with the recession in full swing, Baker Electric, Inc. celebrated 70 years of business. Despite the collapse of the housing market, Baker Electric Home Energy experienced a tremendous amount of growth around that time. How much? Well in 2009, we had the financial stability to install an 85kW solar energy system on our Corporate Headquarters, we were named SunPower's No.1 Volume Dealer in 2010, and we ranked 2270 on the Inc. 5000 for 111% growth from 2008 to 2011.
In 2014, Baker Electric Solar took a big step and moved out of the Baker Corporate Headquarters into our own 26K sq ft facility! With both Baker Electric, Inc. and Baker Electric Home Energy growing quickly, it didn't take long before we needed more space. While it was a momentous day for us, the move itself was pretty easy since our new building is just down the street from Baker Electric, Inc.
We put our customers first, exceed industry standards, use high-quality products and offer unmatched service. We call it The Baker Way, and it's how we've done business for over 84 years here in San Diego.
While we pride ourselves on having a rich history, it's the fact that Baker has always been a forward-thinking company that has really taken us to where we are and more importantly, where we are heading.