The History Behind Baker Electric Solar – Pt 2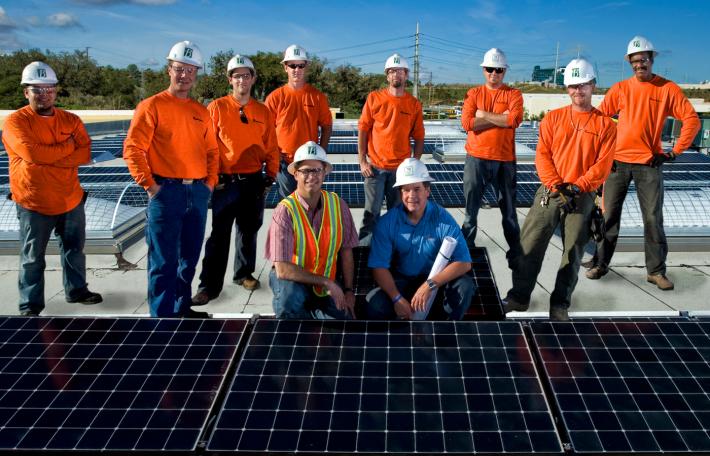 In this blog series I want to tell the Then and Now story of Baker Electric Solar and our journey to becoming a leading solar installer in Southern California. You can read Part 1 here.
Part 2 picks up in the 1990s.
First Solar Installations
Baker Electric, Inc. started installing commercial solar panels in partnership with GE in the 90s. However, this only lasted for about four years as solar was still in its infancy. Kent Baker and the rest of the team were excited to have worked with solar in such an early phase of the industry. Unbeknownst to them though, it was the company's first steps towards a future in renewable energy.
Four Generations
In 1994, after five years of working for a general contractor to gain outside experience, Kent's son Ted Baker joined Baker Electric, Inc. as an estimator.
Ted grew into his position and learned the ins-and-outs of Baker Electric, Inc. He helped the company save money and continue to grow for years. In 2000, Ted took over as President of Baker, where he remains today.
Baker Electric Solar
Working for our neighbors and local communities has always been a big part of what Baker does. Making homes and businesses safer and best-equipped with proper electrical work while delivering amazing customer service has been the core of the company all the way back to LeRoy Baker in the 30s.
Business was growing despite the economy slowing. In 2006, Baker Electric, Inc. built a new office and warehouse located in Escondido. The building is close to 30K sq ft and now serves as the company's Corporate Headquarters.
Around the same time, a demand for solar installations had come back in a big way and Baker Electric, Inc. was installing solar on new homes and commercial buildings. With so much potential in meeting the renewable energy needs of homes and businesses, Baker Electric Solar was introduced in 2007.

Now
In 2008, with the Recession in full swing, Baker Electric, Inc. celebrated 70 years of business. Despite the collapse of the housing market, Baker Electric Solar experienced a tremendous amount of growth around that time.
How much? Well in 2009, we had the financial stability to install an 85kW solar energy system on our Corporate Headquarters, we were named Sunpowers No.1 Volume Dealer in 2010, and we ranked 2270 on the Inc. 5000 for 111% growth from 2008 to 2011.
This year in 2014, Baker Electric Solar took a big step and moved out of the Baker Corporate Headquarters into our own 26K sq ft facility! With both Baker Electric, Inc. and Baker Electric Solar growing quickly, it didn't take long before we needed more space. While it was a momentous day for us, the move itself was pretty easy since our new building is just down the street from Baker Electric, Inc.
Baker Electric Solar has constantly expanded since our conception. As of 2014, we have over 250 employees, have installed over 80 million watts of solar throughout Southern California during our home, business and utility-scale projects, and are ranked 14th in the 2014 San Diego Business Journals 100 Fastest Growing Private Companies (with 204% growth).
We put our customers first, exceed industry standards, use high quality products, and offer unmatched service. We call it the Baker Way, and it's how we've done business for over 75 years here in San Diego.
While we pride ourselves on having a rich 75 year history, it's the fact that Baker has always been a forward-thinking company that has really taken us to where we are and more importantly, where we are heading.