Design Engineering Of Your Solar Installation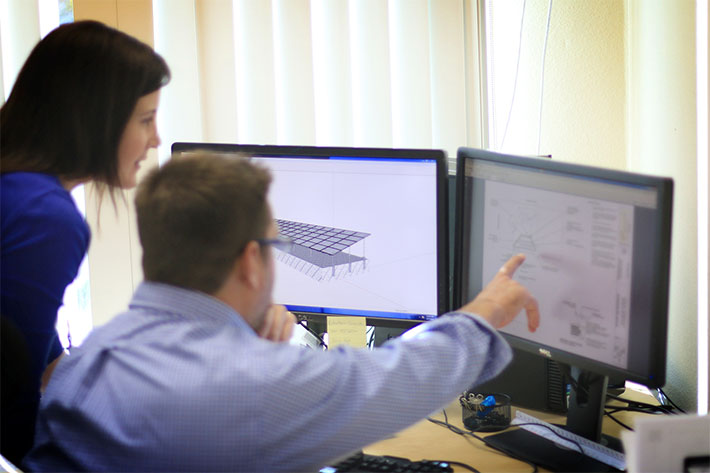 The Baker Solar Installation Process – Step 3 Design Engineering
Now that you've signed a contract and had your home surveyed, it's time for part 3 of our solar installation process. In this blog post, I'll focus on the design engineering behind a solar installation in San Diego.
The process begins after the site survey. Our engineering team takes the original designs that our solar energy consultants develop and, using CAD software, create CAD drawings for both jurisdictional permitting and potential Home Owners Association approval. Ultimately, our team at Baker Electric Solar wants our customers to get maximum efficiency out of their solar installation, so you can expect a highly personalized and customizable array for your home.
Design engineering is crucial to your installation for two reasons. The first is that you want to get the most production for the lowest cost on your roof and the second is that we want to make sure your systems will actually produce the power that we estimate.
Now let's get a little technical. There are many factors that go into the design of your system like string and wire sizing, electric code, and module layout.
String sizing is one main factor of the designer's job. They need to find the right balance between making sure the modules will produce enough volts to turn on the inverter while not producing enough volts to break the inverter. Wire sizing comes after string sizing and is important because it depends on site-specific characteristics. Code is also a major factor for designers. Solar design engineers have to be familiar with electric code in order to create certain calculations within the array layout. Lastly, the actual module layout will be a responsibility of your system designer. This is all about creating a customized layout for your system on your roof.
There you have it, the design engineering process behind your panels. Whether your home is in San Diego, Riverside, or Escondido you can expect a customized solar installation from our expert team at Baker Electric Solar that incorporates all of these important design factors.
Go Green – Save Some Green
Interested in learning more about the benefits of going solar? Give us a call at (877) 543-8765 for a free solar quote. Solar energy gives you the energy independence you've always wanted – it allows you to generate your own power so you can let go of your monthly bill anxieties and finally use electricity the way you want to, without receiving a high electric bill at the end of every month. When you purchase a solar system, you receive your ROI in five to seven years, and get to experience close to free electricity for the remaining life of your system. At Baker Electric Solar, we offer a variety of different financing options to meet your budget. And we don't do cookie cutter – each of our solar systems is custom designed to meet our individual customer's unique needs.
Solar energy isn't only good at saving you some green off of your electric bill, it's also significantly better for the environment than traditional energy sources. Solar panels convert the sun's energy into electricity without emitting harmful greenhouse gases into the atmosphere. When you switch to solar, both your wallet and the planet will thank you.