Baker, the heating and cooling experts
Installing a new system or replacing your old one can feel overwhelming, but it's not a decision you have to make alone. Most San Diego heating and air conditioning systems need replacement every 12 years. Either would need to be replaced if they are requiring frequent repairs.
Our professionals will help you expertly weigh your options and advise which equipment will best serve your home. We promise transparency the whole way and we'll treat your plan as seriously as we would our own.
Air conditioning systems
Central air systems provide cooling to your whole home and operate by pushing chilled air through ductwork. They are offered as a split-system unit or a packaged unit and are a cost-effective option if you already have ducts throughout your home. Together with your furnace, this completes your heating and cooling system and includes important air cleaning functions too.
Mini Split/Ductless air conditioners provide affordable cooling options for homes without ductwork. These units are mounted on the wall and allow you to control the temperature of the room where they are installed.
Find AC Savings Today
Heating systems
There are several ways to heat a home including: furnaces, boilers, heat pumps, hybrid, ductless mini-splits, radiant, and baseboard heaters.
Furnaces operate by moving heated air through a series of ducts. They are powered by a fuel, often gas, and are the most commonly installed system.
Heat Pumps
Stay comfortable year-round with a dual-purpose cooling and heating system. At Baker, we install new energy-saving heat pumps; or we can repair or replace an existing unit. If you are embracing solar energy to produce electricity and opting for a heat pump system, you can save money in the long run. Combining solar and heat pumps will allow you to reduce your electricity consumption in high-demand months. Baker professionals are here to help tailor a plan to meet your family's needs.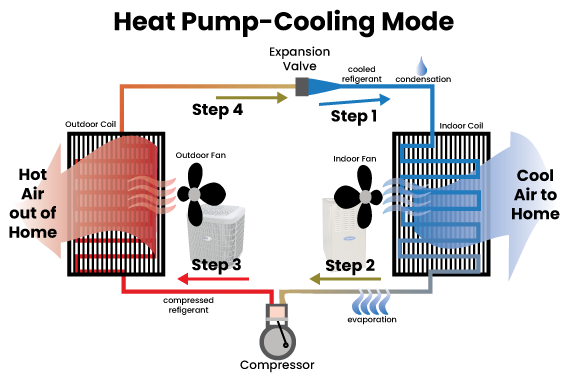 Learn More
Choosing the right system
Not sure which system you need? Not a problem. We always recommend a professional consultation before making any decisions, and we offer them for free.
For many Californians, 50% of their electricity bill is from heating and air conditioning alone! Having a right-sized, energy-efficient system is important, but so is quality. That's why we use only the most trusted brands.
ENERGY STAR® certified products are available with both brands, which means these models exceed guidelines set forth by the U.S. environmental Protection Agency. Certain purchases may qualify you for federal energy tax credits and local utility rebates.
Comfort Control options are available on many models. Ask about flexibility for optimized airflow, remote adjustments, humidity control and temperature overrides.
Smart thermostats are programmable, controllable from your phone and help reduce energy consumption. Pair this with your energy-efficient system and Energy Star estimates you'll save an extra 12-15 percent on your electricity bills.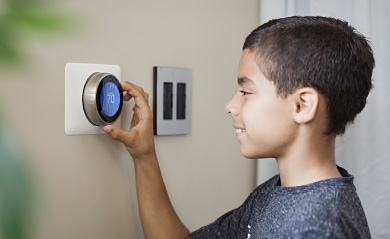 AC Savings Calculator
Pricing and warranties
Pricing will vary depending on the size of your system, equipment and other factors. Our team will cover all of this with you in detail.
We know HVAC issues happen when least expected. To help with that, we have several financing options available. Warranties and regular maintenance are a vital part of protecting your investment too. Learn about warranties and service plans.
Choosing your installer
Good installers don't just replace equipment, they build systems that fit your family's needs. At Baker Home Energy, we know HVAC installation and we know how to customize.
We'll use the size of your house, layout and insulation to determine the system size that's exactly right for your home.
Our technicians are SoCal locals with extensive experience, so we can confidently build your system to weather this climate.
We'll also make sure your comfort preferences and family needs are top priority with solutions for optimal air quality
It's our goal to save you time, energy and money, and we won't stop until we've done that.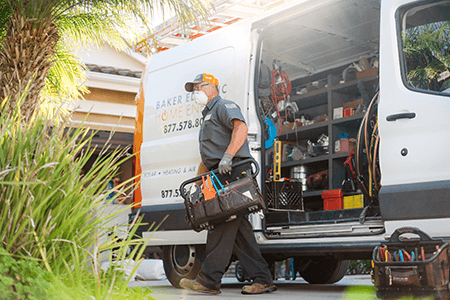 Get a quote