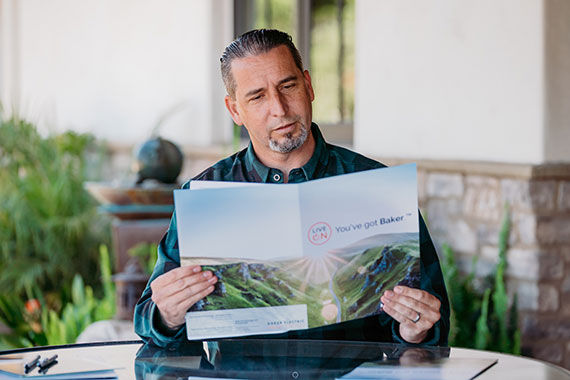 Heating and air conditioning
Southern California heating and air conditioning service plans
Regular service from the team you trust keeps everything running efficiently, so your system not only does its job but does it well.

Air Conditioning and Heating Revitalization
Air Conditioning or Furnace Tune-Up inspections ($129 each without HSP membership) help keep you comfortable. Setting an appointment for your cooling system every spring and having your furnace inspected and cleaned every fall will maximize the investment you have made in your home comfort system.
AC service plan and furnace service plan
Routine service is an often overlooked but crucial part of maintaining your heating and cooling system. A Baker Home Energy Service Plan covers all the care you need for both your air conditioner and furnace.
When you sign up for a Heating and Air Conditioning Service Plan, you're guaranteed two visits per year from a Baker Home Energy licensed and qualified technician. During these visits, we'll check your entire system and perform routine maintenance to ensure maximum efficiency and good operating conditions for the upcoming season.
Prevention is better than repair
"Is a HVAC service plan worth it?", you ask. We get it, it's a fair question. And the answer is a resounding yes. It would be silly to drive your car indefinitely without changing the oil or rotating the tires, right? It's the same with your heating and cooling system. Good maintenance protects your investment.
It will also keep your manufacturer's warranty valid; most require proof of annual maintenance for any submissions. And it gives you peace of mind that you won't be surprised with an emergency breakdown, which usually means an expensive repair.
HVAC service plan vs home warranty
Simply put, the purpose of a warranty is to provide replacement of only the parts required to get your system running again if it breaks down. A Baker Home Energy Service Plan is about taking care of your system while it's working…so it keeps working. It's about preventing emergency breakdowns and compromised performance.
Home Comfort Service Plans
All plans include both the Air Conditioning AND Furnace Tune-Up inspections ($129 each – $258 total value) then add in a whole host of extra benefits & discounts.
Benefits of a Baker Home Energy Service Plan

Savings
Regular maintenance can decrease the risk of breakdowns by as much as 95%, reduce energy bills by up to 60%, and extend the life of your system.

Cleaner air
The EPA reports that indoor levels of airborne pollutants are often 2-5 times higher than outdoor levels (up to 100 times higher in some cases). Preventative maintenance helps to ensure your vents are clean and air well-filtered for your family.

Maximized comfort
Regular maintenance helps your system distribute warm or cool air evenly and steadily, so you don't end up a with a perpetually hot or frigid zone in the house, weird smells, or random inefficiencies.

Safety
Seasonal service prepares your system for upcoming cold snaps and helps prevent the costly impacts of a heater that stops working when you need it most. It also includes a carbon monoxide check for potential hazards from a cracked or failed heat exchanger, and we'll tell you about the benefits of a carbon monoxide detector in your home.

Less environmental impact
A well-maintained system consumes considerably less fuel — and that's good for the planet. We can help you further reduce impact with a smart thermostat and solar energy — just ask!

Peace of mind
You've made a big decision with your heating and cooling system and long-term care should be part of your plan. It provides the ultimate comfort that when you need help, you've got the right team to make things as easy as possible.