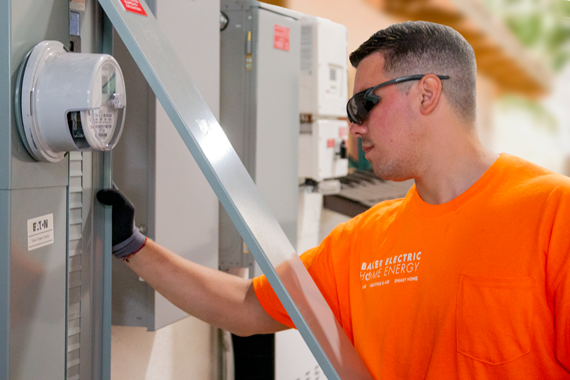 Home energy solutions
Electrical service panel upgrades
What's the capacity of your service panel? Learn why it matters and when you should think about upgrading.
What is a service panel upgrade?
An electrical service panel (also known as a breaker box) is where power comes into your home. Upgrading it allows more electric power to flow to your house.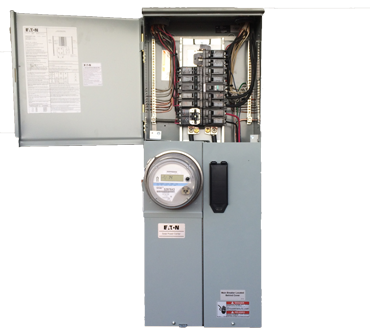 Reasons to upgrade your service panel
There are a few reasons you may need to upgrade your service panel:
1. Your home needs more power
Maybe you're adding an electric vehicle charger, pool or another large appliance. When you need more power, upgrading from 100 to 200 amps is common.
2. You're going solar
When you install a solar energy system, you need the ability to produce power at your home and backfeed that electricity. Your breaker box limits the amount of electricity that can flow through, but upgrading can solve that.
3. Yours is outdated
If your panel is older, you may want to consider an upgrade. Modern appliances have increased the average home's electrical needs, leaving older panels insufficient. Electrical upgrades ensure you can run everything safely.
4. You need a repair
Electrical repairs are occasionally needed when you have a faulty outlet or loose wiring connections. Common signs of an electrical problem include: an outlet that stops working, buzzing noises or visible sparks from appliances or outlets, and burn marks on appliances or outlets. These hazards can lead to electrocution or fire if not addressed.
With a solid history of electrical contracting experience, Baker Electric Home Energy's California state-licensed electricians can safely diagnose issues and provide effective solutions.
How do upgrades work?
Houses connect to the grid with telephone poles and overhead wires or underground service. When you work with Baker Electric Home Energy for your electrical servicing, our first step is to get approval from the local utility company. They'll specify which options are available to you based on local and national electric code.
Typically we won't need to work inside your home to complete the upgrade, which involves disconnecting all wires and breakers from the service panel, removing the metal box, putting in a new box with new breakers, and then reconnecting all the wires.
It's important to understand how much power is delivered from the grid to your home. We look at this through your main breaker. For example, if you have a 100-amp main breaker, you can draw 100-amps of power for all your appliances. The service panel might be rated for higher, so this isn't the most accurate rating to follow. Panel ratings are 100, 125, 150, 200, 225, and 400-amps for residential application.
Choosing a size
The size of your electrical panel will depend on your energy needs and availability. For a quick illustration: an AC unit, electric car, and pool need more than 100-amps of electricity coming into the house. If you plan to add a large appliance and you don't know how much it will impact your energy demand, we're here to support you.
Give us a call and we'll help you decide if you need a service panel upgrade too.