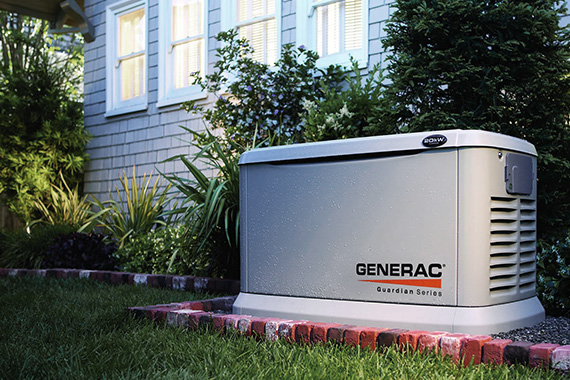 Home energy solutions
Home Backup Generators
When the power goes out, you need your home on. Prepare for power outages with a home generator system installed by the team you trust most.
Home generators are a must-have for every home in SoCal
You probably know a generator can help you emergency-proof your home and stay powered on during an outage. But did you know there's a better way to integrate that backup? With a permanently installed backup home generator system, Baker Home energy can help you achieve the power you need for complete peace of mind.
Why would I want a home generator professionally installed?
Planning for power outages isn't fun. But it's a truth we all face in California. We rely on electricity for almost every part of our lives: to keep the lights on for our children, the internet connected for our home offices, the refrigerator running cold and so much more. Baker Home Energy can integrate standby home generator systems optimized to last as long as possible during an outage to protect these people and things that matter most.
Even if you have solar panels, you should consider home generator installation because unless you have a home battery, you're still at the mercy of power blackouts. If you have solar + battery but it isn't offsetting your energy 100%, you'd still benefit from a backup generator for a truly "off-grid" solution. It can even charge your home's battery to full charge if needed.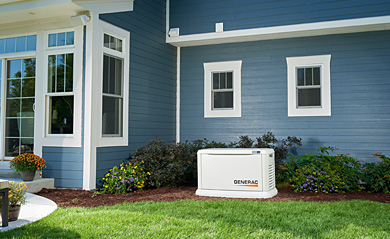 Get your backup generator today
Automatic home backup power
We're proud to be an authorized dealer of Generac®, the industry leader in home brand generators.
A permanently installed Generac home backup generator protects your home automatically. It runs on natural gas or liquid propane (LP) fuel, and sits outside just like a central air conditioning unit.
Power Directly to Your Home
Generac delivers power directly to your home's electrical system, backing up your entire home or just the most essential items.
Automatic Operation
Your family's safety is top priority when you lose power. Anything that helps you act quickly is a big plus. With Generac, you don't have to worry about starting or turning off your generator because it does that automatically, no matter where you are.
Refueling Not Necessary
A portable generator may run up to 18 hours on a tank of gasoline. But we can connect your Generac home backup generator to your gas line, allowing it to run as long as you need.
Mobile Link™ Remote Monitoring
With the Guardian Series Home Standby Generator, you'll have free access to Mobile Link, an app that connects you to your generator's current operating status, maintenance schedule, and more directly from your smartphone, tablet, or computer.
How to choose the right home backup generator
A quality generator can be an especially smart investment in San Diego. The key is to pick the right generator for your home and find a trusted provider to install it. We recommend professional installation for these reasons:
Safety First
Safety is likely one of the reasons you're considering a home generator, so it only makes sense to start with safe installation. Generators are powerful and when not installed properly can lead to serious electrical problems. If your generator operates on natural gas, it's especially important to comply with local licensing rules and guard against gas leaks.
National and local codes
Accidentally cutting corners can cause significant installation problems. A local professional will have experience with the right codes and regulations, as well as a license to perform the electrical work and help you obtain necessary permits. They'll also ensure your generator is installed a safe operating distance from your home to prevent carbon monoxide exposure.
What size generator do I need?
Generators are programmable to power a subset of your circuits (partial home backup) or your entire home (whole home backup). To choose the right generator, you'll want to think about how much backup you need. In an emergency do you plan to just keep a few lights on and power the refrigerator, or do you want to run the air conditioner too? The more circuits you plan to run, the bigger the generator you need.
Secure your power
Having a backup generator installed by professionals is paramount for safety and operation. Baker technicians will calculate your anticipated electrical loads and are trained in all safety codes. We'll help you plan the right backup to keep your family safe and put your mind at ease.
What are the benefits of a backup power supply for my home?
In our modern world, electricity isn't a luxury, it's a necessity. Sure it powers your 8K TV for a relaxed Sunday binge-watching session, but more importantly, it fuels almost everything that keeps your life functioning. So when it's gone, it's a big deal. Here are a few ways a generator can support essential parts of your life when it matters most:
Power Directly to Your Home

Food Preservation and Preparation

It only takes a few hours for an entire fridge of groceries to spoil without electricity. Not only does that hurt your wallet, but it also limits food availability during an already uncertain time. Backup power solves this problem by keeping both your fridge and kitchen appliances seamlessly operating.

Electricity for Your Home Office

If you or a family member work from home, you probably rely on Wi-Fi, your computer and your smartphone for a productive day. You simply don't have time for a blackout that could put any of those out of commission. With a home generator, you can weather an outage without skipping a beat.

Medical Necessities

Does anyone in your family depend on a medical device or refrigerated medicine? If so, this could be the biggest reason you need backup power. A home generator means peace of mind that your family can stay safe during an unplanned blackout. Plus, it can keep your phones charged in case you need to call for emergency help. Truly, your backup generator could be a lifeline when you most need it.