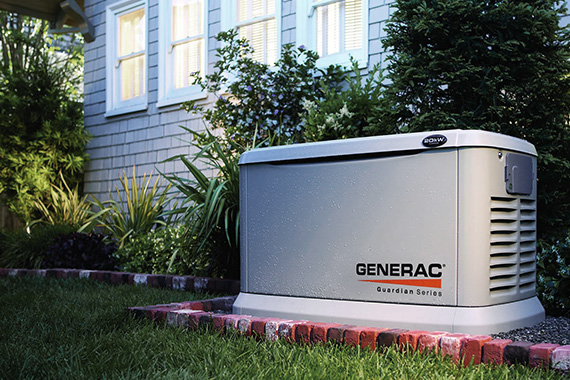 Home energy solutions
Generators
Prepare for power outages with a home generator system installed by the team you trust most.
Home generators are a must-have for every home in SoCal
You probably know a generator can help you emergency-proof your home and stay powered on during an outage. But did you know there's a better way to integrate that backup? With a permanently installed backup home generator system, Baker Home energy can help you achieve the power you need for complete peace of mind.
Why would I want a home generator professionally installed?
Planning for power outages isn't fun. But it's a truth we all face in California. We rely on electricity for almost every part of our lives: to keep the lights on for our children, the internet connected for our home offices, the refrigerator running cold and so much more. Baker Home Energy can integrate standby home generator systems optimized to last as long as possible during an outage to protect these people and things that matter most.
Even if you have solar panels, you should consider home generator installation because unless you have a home battery, you're still at the mercy of power blackouts. If you have solar + battery but it isn't offsetting your energy 100%, you'd still benefit from a backup generator for a truly "off-grid" solution. It can even charge your home's battery to full charge if needed.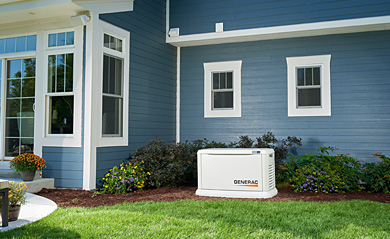 Get your backup generator today
Automatic home backup power
We're proud of be an authorized deal of Generac®, the industry leader in home brand generators.
A permanently installed Generac home backup generator protects your home automatically. It runs on natural gas or liquid propane (LP) fuel, and sits outside just like a central air conditioning unit.
Power Directly to Your Home
Generac delivers power directly to your home's electrical system, backing up your entire home or just the most essential items.
Automatic Operation
Your family's safety is top priority when you lose power. Anything that helps you act quickly is a big plus. With Generac, you don't have to worry about starting or turning off your generator because it does that automatically, no matter where you are.
Refueling Not Necessary
A portable generator may run up to 18 hours on a tank of gasoline. But we can connect your Generac home backup generator to your gas line, allowing it to run as long as you need.
Mobile Link™ Remote Monitoring
With the Guardian Series Home Standby Generator, you'll have free access to Mobile Link, an app that connects you to your generator's current operating status, maintenance schedule, and more directly from your smartphone, tablet, or computer.
What size generator do I need?
Generators are programmable to power a subset of your circuits (partial home backup) or your entire home (whole home backup). To choose the right generator, you'll want to think about how much backup you need. In an emergency do you plan to just keep a few lights on and power the refrigerator, or do you want to run the air conditioner too? The more circuits you plan to run, the bigger the generator you need.
Secure your power
Having a backup generator installed by professionals is paramount for safety and operation. Baker technicians will calculate your anticipated electrical loads and are trained in all safety codes. We'll help you plan the right backup to keep your family safe and put your mind at ease.