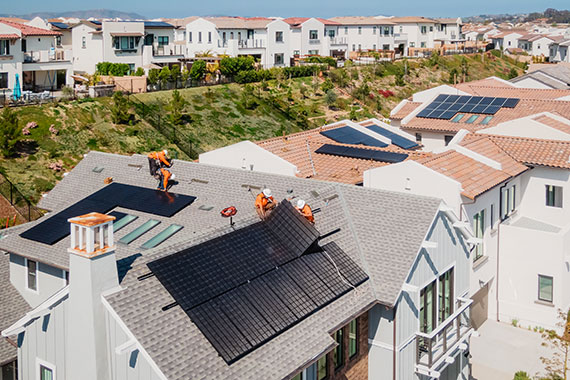 Solar products
San Diego Rooftop Solar Systems
You have a roof. You need energy. You want savings.

You need solar!
A match made in heaven
You are ready to go solar. You know all about solar panels and energy savings, and you're ready to put solar panel to shingle. Here's what you need to know.
What is a roof-mounted solar system?
Roof-mounted systems are anchored directly to your roof through a series of roof attachments, module clamps, and mounting rails. This is the most commonly installed system because for most homeowners it offers the most space-saving, sun-light absorbing solution.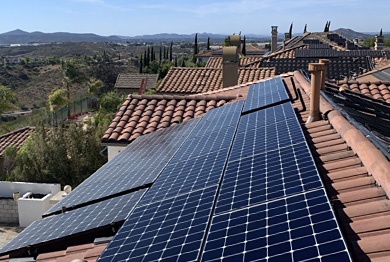 What are the benefits?
Maximizing sun exposure is the most obvious goal of your system placement, and with Southern California perfectly located for loads of direct sunlight, it doesn't matter which direction your roof faces — odds are you've got free sunshine to use.
Installing solar panels on your roof is the best way to put that empty space to work. You can effectively add a return-earning investment without taking up any valuable land space.
Installation costs are typically lower than a ground-mounted system, and your panels are less likely to experience damage from any ground-level accidents.
What are the drawbacks?
The number of panels you can install is limited by the space you have available on your roof. This would only be an issue if your energy needs require more panels than you have space for, though.
Can I put solar on my roof?
If your roof is in good condition, gets sunlight without extreme shading, and has a decent amount of space, you might be a good candidate for a roof-mounted system. Some shading can even be reduced by trimming nearby trees. Your solar panels may even offer a layer of protection from heat, UV light, rain, etc. for your roof. Not sure about your roof's condition? Ask us and we can help.
Other solar terms
You may have heard of the terms solar roof, solar roof tiles, solar roof shingles and solar roof vents. A solar roof replaces the existing roof and is known for being more expensive than getting solar panels installed. Although this option may work for some family's wallets, roof-mounted systems are the most common type of installation and can be more affordable. Understanding your options and cost saving variables is important, so contact Baker to answer your roof-mounted questions.
How do I get started?
You don't need to figure this out yourself. Our experts know exactly what to look for with your roof's size, orientation, pitch, shading and more. And when you're ready to install, we're skilled in maximizing your sun exposure while maintaining the integrity of your roof.
If roof-mounted isn't a good option for you, we'll help you explore other possibilities, like a ground-mounted system.