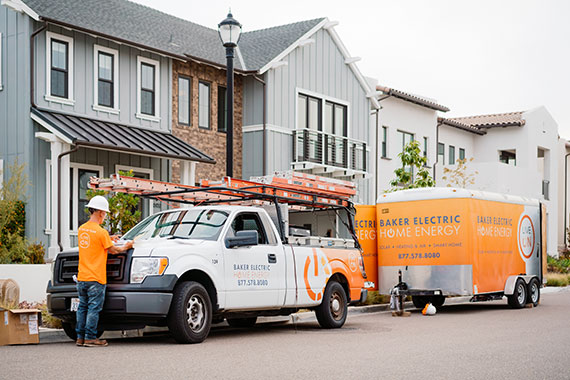 Solar Home
San Diego Solar Service and Repair
Solar systems are more than just parts. They're reliable, efficient, and with just a little care will stick with you for the long run.
Solar energy is high-power, low-hassle
One of the most loved aspects of solar energy is that solar systems generally require little maintenance. Solar panels are remarkably durable, and if your system is designed by Baker Home Energy, you can bet it's constructed to withstand the best and worst of California weather.
Monitoring your system
Once your solar system is installed, we'll show you how to monitor and track performance. You'll have access to an app where you can run review production regularly. Keeping an eye on your system is the best way to manage it.
Full visibility of your system's technical performance
On the spot visualization of solar production and self-consumption
Real-time information about your solar system operations including hardware setting, efficiency, long-term usage and more
General maintenance
As your system ages, it may need an occasional check-up. You can rely on Baker to inspect all equipment and electrical components including wiring, conduit mounts, roofing flashing, and the clamps that hold your panels in place, and handle any tuning necessary.
When you need a solar repair
If a part of your system is compromised, your monitoring app will tell you. For example, your panels may accumulate too much buildup, there may be shade growth around the array, or you may need a solar panel repair or solar appliance repair. If this occurs, we always recommend a professional evaluation – never risk your safety attempting repairs yourself.
The most common interruption we see isn't actually due to system equipment, it's due to internet connectivity. When a home network or password changes, your monitoring system and data logging devices need to be reconnected to the network. If you have any trouble with this, we're only a phone call away.