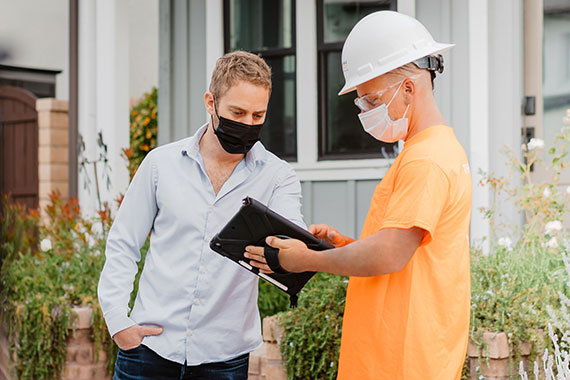 About Baker
Covid-19 and your safety
Keeping homeowners, our employees and our families safe and well.
How we keep you safe during Covid-19
During this unprecedented time, Baker Electric Home Energy is committed to reducing the risk of COVID-19 while still enabling homeowners the opportunity to obtain heating, cooling, ventilation and home electrical services. And we've put in place new procedures allowing homeowners to safely purchase and install solar or HVAC systems when needed. Our adoption of strict health and safety protocols based on CDC guidelines, is intended to protect our customers and employees while continuing to provide the services so many will need during the crisis.
Our Personal Responsibilities In the Office and at Customers' Homes
"Virtual" Consultations
Baker has made it easy and safe to consult with us about Solar + Home Battery as well as HVAC and Home Electrical Services. Phone, email, Facetime, video conferencing, etc. are all being used to successfully interact with and solve issues for homeowners. And if you need help to set up a virtual meeting, we're more than happy to assist. If an on-site consultation is preferred, we will accommodate the homeowner's request. If necessary to enter the home, our Baker representatives will wear masks, shoe booties and latex gloves. And for customer convenience, we're using DocuSign electronic signatures when needed.
Responsible Office Operations
While in the office, we hold group meetings of 10 people or less while ensuring 6-foot distance between team members.
No hand-shaking and other contact greetings.
Frequent hand washing and workstations sanitizing required.
Sanitizing Stations set up in every department.
Bathrooms and kitchen/break area are disinfected daily.
Commuting to and From Jobsites
Whenever possible, only one person per company vehicle at all times. This includes to and from home and to and from jobsites.
Vehicles are disinfected daily including seats, steering wheel, gear shift, instrument panels, door handles inside and out. Aerosol sanitizers are used inside closed cabs.
Jobsite Practices
Supervisors/crew leads are responsible for ensuring all employees are healthy and able to enter the warehouse or jobsite. Sick employees will leave the premises immediately and return home. Anyone who is asked to leave will not return to work until 24-hours after they are free from fever without the use of fever-reducing medication. The following questions are being used daily by supervisors/crew leads to assess the safety and health of their team per CDC guidelines.
Have you, or anyone in your family/household, been in contact with a person that is in the process of being tested for COVID-19?
Have you, or anyone in your family/household traveled outside California within the last two weeks?
Have you been medically directed to self-quarantine due to possible exposure to COVID-19?
Are you having trouble breathing or have you had flu-like symptoms within the past 48 hours, including: fever, cough, shortness of breath, sore throat, runny/stuffy nose, body aches, chills, or fatigue?
In addition, we will not perform work at a residence if the homeowner or any family member is sick with any of the same symptoms listed above except for medical emergencies such as electricity needed to power a critical medical device.
While at residences, we're also following these procedures:
Solar Teams will create a specific work area cordoned off with yellow safety tape.
Specific locations & practices for daily trash collection such as: paper, hand towels, food containers, etc.
All reusable PPE (Personal Protection Equipment) sanitized per manufacturer's recommendation prior to each use.
Used PPE disposed of properly. Use of reusable and disposable gloves when required. Proper disposal when no longer serviceable.
All jobsite employees are required to clean their hands often. Washing hands with soap and water is preferred and should be performed for at least 20 seconds.
Proper cleaning and disinfecting of reusable supplies and equipment.
No communal food permitted.
No common water coolers. All personnel will bring water in bottles or personal containers.
Trailers completely disinfected at end of one job and the start of the next.
When on-site, Port-a-Potties will be disinfected daily and serviced 3 times/week.
Engaging with Homeowners
If entrance to a home is required, our employees are safely attired in shoe booties, disposable gloves and a construction grade mask. The recommendation of at least 6' distance will still be maintained.
We will not accept any food/drink or other items from homeowners.
We will never use homeowners' bathroom facilities.
We will respectfully decline to shake hands.
If you or a family member are sick, we will reschedule a time to complete our work. An exception will be made if a member of your household requires electricity or some other service to support a critical medical situation.
As Community members, friends and neighbors, we look forward to serving you safely and responsibly.
If you have any questions or concerns about the items listed above, please contact our Customer Care Team at 877.578.8080.