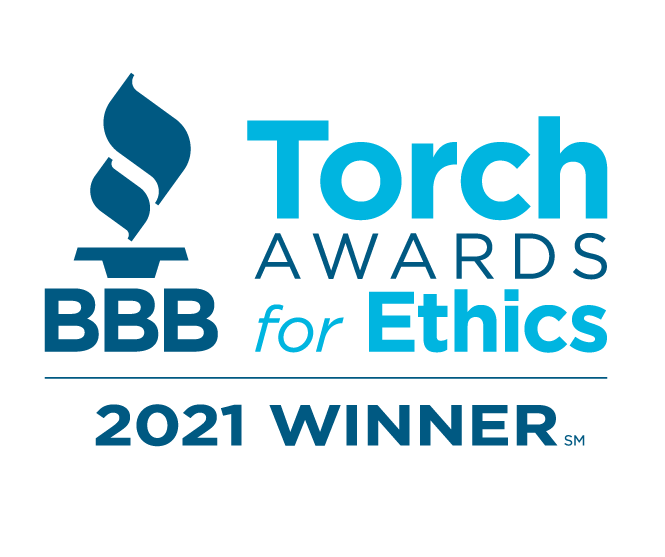 The Better Business Bureau Torch Award for Ethics recognizes companies that display integrity and ethics above and beyond and in all aspects of their business. We are proud to announce we are the winner of the 2021 BBB Torch Award for EThics.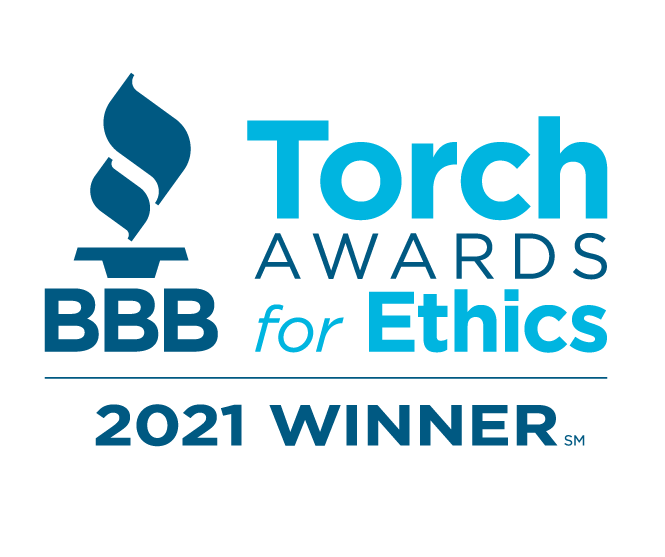 We are proud that we have been selected as the 2021 winner and have shown that we adhere to the highest level of standards and this trust is felt amongst our customers, community, and employees. Our current BBB A+ rating in conjunction with this award is a source of pride for Baker Electric Home Energy.
At Baker Electric Home Energy we are committed to delivering ethical excellence in everything we do, it is critical for the integrity of the industry in which we have established ourselves as a local leader. Our ability to build customer confidence and our employees' capacity to deliver extraordinary service is all part of The Baker Way®. Baker Electric Home Energy is a BBB accredited business with an A+ rating and was the Pacific Southwest winner of the prestigious Better Business Bureau Torch Awards for Ethics in 2019 and 2021 and the proud winner or finalist of the BBB Torch Award in the 100-499 employee category from 2014 through 2021. In addition, Baker received the BBB's coveted International Torch Award in 2017. The San Diego Business Journal ranked Baker as its No. 31 Fastest-Growing Private Company in 2017.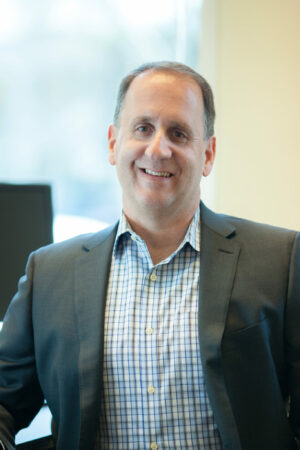 "Delivering ethical excellence is critical to the integrity of our industry, our ability to build customer confidence, and our employees' capacity to deliver extraordinary services. We call it the Baker Way. Receiving the BBB Torch Awards for Ethics validates everything we do. It validates The Baker Way and how we work together as a team to deliver for our customers, the family, and our community." -Mike Teresso, President
The reason we are the 2021 BBB Torch Award for Ethics winner is more than just who we are, it is what we do and whom we partner with. Baker has extended its ethics and compassion into the local community by partnering with amazing charitable organizations like the Jacobs & Cushman San Diego Food Bank and the North County Food Bank, TERI, Hometown Hero Project, and more. We look up to these organizations because of the inspirational work they do for the community and because they reinforce our commitment to our own internal values.
Built on over 83 years of electrical contracting expertise, San Diego-based Baker Electric Home Energy has provided home energy solutions to over 16,500 customers throughout Southern California. Known for exemplary customer service and business ethics, Baker Electric Home Energy designs, engineers, and installs solar power systems and home batteries for residences in San Diego County, Western Riverside County, and Southern Orange County. Additionally, the company provides full heating and air conditioning services and smart home solutions. Baker's goal is to enable Southern California homeowners to generate, manage and use their power to save money, enhance their family's lifestyle and protect the planet.