Solar Industry Growth is Whole Economy Growth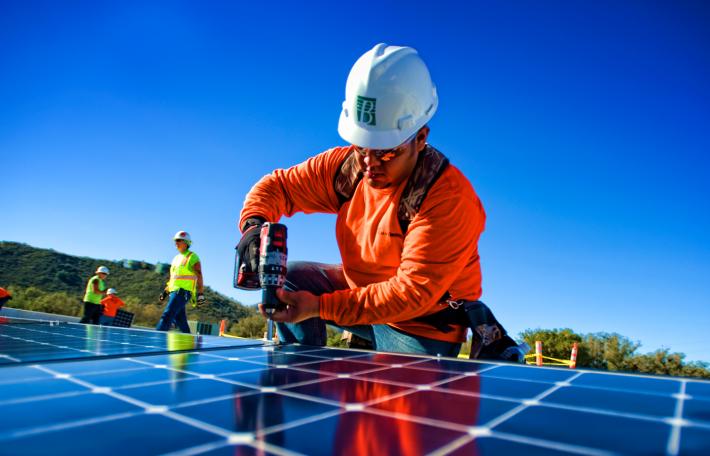 Power your home and help you save money? Solar can do that. Create new jobs and boost the economy? Solar can do that, too!
In fact, we here at Baker have been growing a lot over the last year and a half thanks to the energy we've been helping people harness from the sun. Back in January of 2014 we had a total of 48 employees. That number is up to 147 today and we're only continuing to grow!
The solar industry has experienced a ton of growth nationwide as well. 2014 served as another record breaking year in the industry, with 34% growth from 2013. By the end of 2014, the U.S. had reached an installed solar electric capacity of over 20,000 megawatts. That's enough electricity to power more than 4 million homes across America completely from the sun!
Want to hear some more good news? According to the Solar Energy Industries Association, the cost to install solar has dropped by more than 73% since the 2006 implementation of the Solar Investment Tax Credit. And in more recent years, the residential cost of installing solar has dropped by more than 45% since 2012. That's a huge decrease in cost, making solar energy more affordable now than ever!
Solar Growth Across the Nation
All of this means that the industry is growing – and quickly. The long-term research of The Solar Foundation shows solar industry employment has grown by 86% in the past five years. All this growth resulted in nearly 80,000 new domestic living-wage jobs between 2010 and 2014.
Nothing is quite as good for the economy as new jobs. The Solar Foundation's 2014 National Solar Jobs Census found that the industry continues to exceed growth expectations, and adds workers at a rate nearly 20 times faster than the overall economy. This growth accounted for 1.3% of all jobs created in the U.S. in 2014.
At the end of last year, the solar industry provided job opportunities for nearly 174,000 solar workers in all 50 states, and 2014 marked the second year in a row that the industry's employment growth was near or above 20%. It was also the second time that growth exceeded the previous year's projections.
A Solar Revolution
You might be thinking all this growth has to stop at some point, right? But the solar industry is actually expected to continue growing! In 2014, the installed solar capacity was at just over 6,000 direct current megawatts throughout the nation, but that number is forecasted to shoot up to between 10,000 and 12,000 MWs in 2016. That's a huge increase and we're excited to see more homeowners, businesses and utilities make the switch to solar to save money and mitigate some of their impact on the environment.
Interested in going solar The Baker Way? Make the switch to solar before the end of next year to receive the Solar Investment Tax Credit (ITC), which provides a 30% federal tax credit to home solar buyers, and will be no more on January 1, 2017.