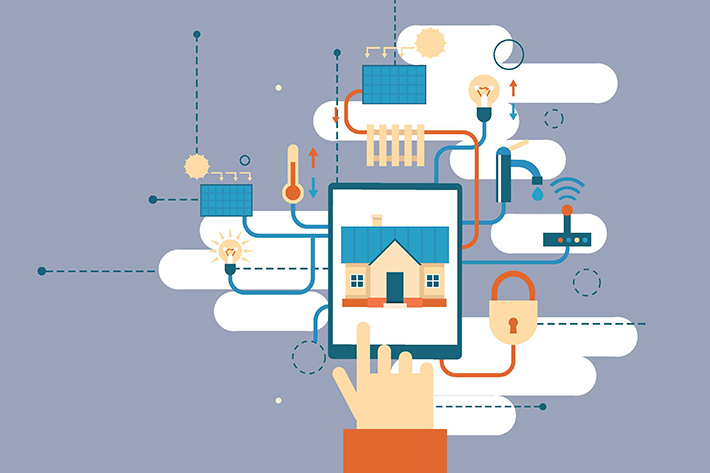 Once your solar power system has been turned on and you're generating loads of renewable energy, you can definitely celebrate knowing how much money you're likely saving. To determine exactly how much, though, you'll need to become adept at using and monitoring your solar power system.
Luckily, with insights built on 75+ years of experience and expertise acquired over thousands of installations, we at Baker Electric Home Energy can give you some invaluable advice on how to get the most from your solar investment.
Understand How Solar Panels Work
To gain the greatest solar panel efficiency, it's important to understand the basics of how solar panels work. Most home solar systems comprise three primary pieces of equipment:
Solar Panels
The most conspicuous part of a residential solar power system is the solar panels. For residential use, most solar cells are made from either crystalline silicon or thin‐film semiconductor material. These photovoltaic (PV) devices contain semiconductors that generate electricity directly from sunlight. Electrons in these materials are freed by solar energy and travel through an electrical circuit, powering electrical devices or sending electricity to the grid.
One of the most important aspects of getting your solar panels to produce electrical energy at optimum efficiency is keeping them in full and direct sunlight.
If you want to explore solar panels even more, the Solar Energy Industries Association® offers an excellent overview of the various solar technologies, and how they convert sunlight into electricity.
Solar Inverter
When exposed to the sun, photovoltaic (PV) solar panels generate electricity in the form of direct current (DC). Yet, the typical American home runs on alternating current (AC). Therefore, to be useful and supply the endlessly renewable energy they're designed to, residential solar power systems must incorporate an inverter to transform DC into AC.
The type of inverter your solar provider installs depends on the solar power system design, but could involve a string inverter or micro inverter.  If you want to learn the ins and outs of solar inverters, read our blog Micro Inverters, String Inverters, Power Optimizers.
Monitoring System
Solar panels capture the sun's rays and generate electricity, which is fed to the inverter and transformed into the alternating current (AC) needed to power your home. This AC power is fed to the main meter panel and begins registering the energy produced for the utility company per your net metering agreement. Solar monitoring systems will track the amount of electricity your solar panels have generated and contributed to the power grid.
All Baker Electric Home Energy residential solar powers systems include a system that helps you easily monitor solar panel output.
Check Solar Panel Output
To give yourself the assurance that your investment in solar panels is generating the financial benefit you expect, it's a good idea to get in the habit of regularly monitoring solar panel output. Your monitoring system makes it easy to do this on a daily, weekly, monthly and yearly basis.
There are many monitoring options available in the market. Your solar provider will install the one that suits your system best, and is compatible with your inverter:
Direct PC Connection
Using a direct PC connection your solar provider can tie your inverter to your computer using a wireline or Bluetooth® connection. Using free software from the inverter manufacturer's website, you can then easily monitor your system right from your PC.
A direct PC connection is the most economical way to monitor your solar system and enables you to compile an extensive data log of system performance.
Monitoring Display Unit
With a monitoring display unit, the information from one or more solar inverters is combined and presented for you to view in an easy to understand interface. These systems are also called wireless energy monitoring systems. While the display comes at an additional cost, many consumers appreciate the convenience, and are very willing to pay a little extra for it.
Online Monitoring of Solar Panels
With internet-based monitoring, energy output data is transferred to a router, making it available through an online interface. The main advantage of systems like these is that your solar panel output information is readily available anywhere you can get an internet connection.
How To Read a Solar Inverter
Connected to your solar inverter, each of the above monitoring methods offers a slightly different way of displaying the critical information you want to check your solar panels' efficiency and output. Which method will be installed with your system depends on system design, plus your preferences as a consumer.
After your residential solar power system is installed, make sure your solar energy representative takes the time to thoroughly explain how to read your solar inverter through your particular monitoring system.
Post‐Install Orientation
One of the hallmarks of an excellent solar provider is that they will remain engaged with you after your solar power system has been turned on, to train you on the maintenance and monitoring of your solar power system and answer any questions you may have.
At Baker Electric Home Energy, we conduct a formal post-installation information session to familiarize customers with their new system. This includes a full orientation on system usage, how to check solar panel output, and answer any questions you may have.
Don't let your solar provider skip this important step.
Review Warranties and Permits
As part of a post‐install orientation, your solar provider should also provide you with all the necessary solar permits they have obtained on your behalf, and fully explain system warranties if you own and have paid for the system upfront.
Take Advantage of Referral Programs
Once your residential solar power system is up and running you'll most likely start seeing the benefits right away in the form of a much smaller electric bill. Chances are good that your friends and neighbors will be interested in learning about your system, too. So why not get rewarded for referring them?
At Baker Electric Home Energy, we offer a lucrative referral program that provides up to $1,000 or more when you refer a friend, neighbor, family member or colleague who becomes a Baker Electric Home Energy customer. Learn more about the Baker Electric Home Energy Referral Program >>
Talk To Baker Electric Home Energy
What's the quickest way to start benefitting from solar energy? Go straight to the experts: Baker Electric Home Energy. Talk to one of our friendly, knowledgeable consultants today by calling (877) 578-8080. Or click here!